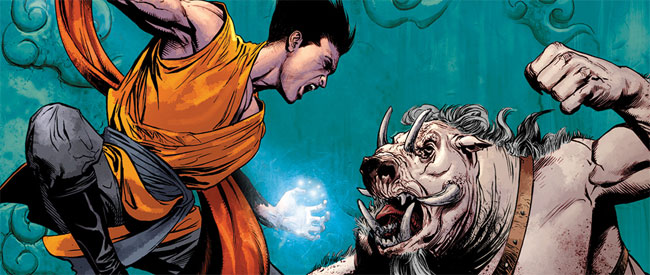 Fan-favorite artist and illustrator Doug Wheatley is perhaps best known for his contributions to Dark Horse Comics' licensed properties such as Star Wars and Aliens. His trademark attention to detail and thoughtful approach to visual storytelling is both cerebral and expressive, enticing fans to invest themselves fully in his comics.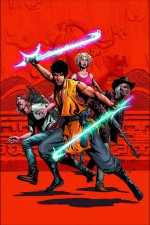 A world-builder in the truest sense, Wheatley's impressive talent is the result of long hours of study and practice. Constantly improving, his ability to tell stories is as much a result of his clean page compositions as it is his fully realized settings and characters.
For all of his work's gargantuan scope and richly detailed backgrounds, though, a genuine sense of humility permeates Wheatley's art, allowing him to tap into the emotional underpinnings of the story. It is this finely tuned balance in his work between realism and fantasy – and, on another level, thought and emotion – that is integral to his success.
Although his attention has been occupied by space operas for the last few years, Wheatley's latest project brings him back down to Earth to help build a new, more grounded mythology. Once a supporting character in Dark Horse's Comics' Greatest World line of superheroes comics, King Tiger debuted last week in his first solo series, with creator Randy Stradley teaming up with Wheatley to explore the mystic martial artist's mysterious world.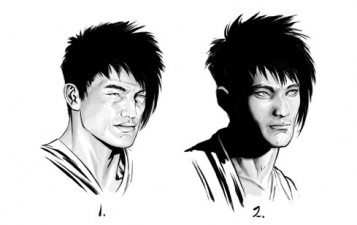 Wheatley quickly brought us up to speed via email on Tiger's new status quo and graciously provided a handful of beautiful concept sketches to give us a glimpse behind the scenes at his creative process.
BROKEN FRONTIER: We haven't seen King Tiger since the 1990s, as part of Dark Horse's Comics' Greatest World line. What's changed for Tiger in the interim and what challenges does he face in his first solo series?
DOUG WHEATLEY: First, thanks for the opportunity and all the fantastic questions!
Essentially, nothing has changed for King Tiger. And, in fact, the new series (beginning with the back-up story from last year's Blackout series) could be considered almost a reboot. If you never read those earlier stories, you haven't missed anything.
You are widely known and universally well regarded for your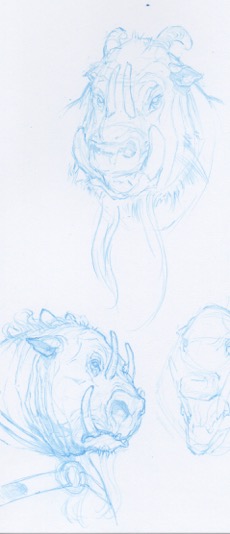 work on licensed properties such as Star Wars and Aliens. What attracted you to King Tiger? How did your artistic process change (if at all) when working on a property originating in the world of comic books proper?
Randy Stradley is the sole reason I'm working on King Tiger. I love his work; his ability to create characters that you immediately identify with and care about is uncanny. With Star Wars: Dark Times wrapping up, it seemed like a great opportunity to continue working together.
My process is the same. This book has been a terrific challenge because this universe is so new to me, it took me a while to develop context. But I have it now!
Your artwork is painstakingly detailed, from character designs to backgrounds and settings. How long do you spend on research and development before actually starting to draw the book? What sources did you refer to for your work on King Tiger?
We spent a little time with character design, but because this story takes place mainly in the "real" world, all my research was generic really – pictures of cowboy hats, city streets, cars, buildings etc. What surprised me most was the transition time. It took a while for me come back to Earth, if you will, after spending so much time in that galaxy far, far away.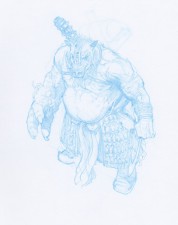 Similarly, reference obviously plays a large part in your art, but unlike some artists, your rendering never seems to feel stiff or "over-referenced". How do you know when to draw the line (so to speak!) and set aside reference material?
I use reference as reference in most cases, meaning that whatever I'm looking at is a guide rather than something I "copy". If Tiger is running in the panel, and it's a birds eye view, we're looking down at the figure from above, I will research the anatomy, look at the photo, examining the area I anticipate or am having difficulty with, and then I put away the reference and draw from my memory of what I just observed. This helps me keep the line as natural as possible, keeping the act of drawing fun.
This technique is also a fantastic way of learning, because you are "thinking" about what you're drawing – the shape, volume and character as it relates to your vision of the scene – rather than mindlessly trying to get it like the photo. There are exceptions to this rule, like when the script asks for a specific type of car, building, city, toaster, etc.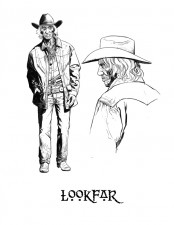 Aside from your comics work, you also work as an illustrator, recently providing some gorgeous spot illustrations for George R.R. Martin's World of Ice and Fire. What prompted you to dedicate yourself primarily to comics, rather than a career as an illustrator?
Great question, and to tell you the truth, I haven't dedicated myself to one thing or another. I think the illustration work I've been getting is a natural evolution of my study and I look forward to doing more of it, though I haven't put myself out there with the publishers yet. I loved working on World of Ice and Fire and on Star Wars Rebels: A New Dawn – it was great!
After King Tiger, what's next for you?
I begin on one of the most exciting projects I have ever had the opportunity and privilege to work on. I am a huge fan of **TOP SECRET** and can't wait to get started in October! I think the work we do on **TOP SECRET** will surprise a lot of people – it's very exciting! LOL! The announcement will be made in October I believe.