It is always tricky, from a male critic's perspective, to look at any work of art that has everything to do with a woman's body and no place for a man's opinion. One must acknowledge, at the outset, that a topic like abortion will always raise more questions than answers, but this powerful, beautiful memoir managed to do the opposite, leaving me with a sense of perspective that the most strident arguments often fail to accomplish.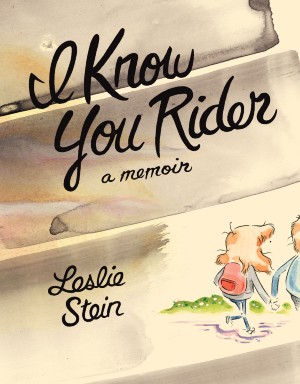 A book like I Know You Rider is timelier than ever, when one takes into account what couples and parents the world over have been forced to confront in recent months: Do we reproduce? Was having children a good idea? What sort of world are we leaving those who come after us? Why must they have to deal with a mess of our own making? Leslie Stein could not have known that a pandemic would throw all of these questions into sharp relief while she was creating this, of course, but the shadow of our state of quarantine falls on her pages, nonetheless.
The memoir opens in an abortion clinic, and spans a year in the writer's life, chronicling a difficult decision and its aftermath in minimalist, yet surprisingly moving detail. It tackles the big emotions that come into play when an unwanted pregnancy suddenly looms on an unmarried woman's horizon. She moves across time and space, jumping back and forth from the liaison that resulted in pregnancy to conversations with her mother who wants grandchildren. It gives the reader access to the rapid and powerful shifts in emotion that anyone in a similar situation must deal with, often with no support. Stein also uses art delicately, often evoking feelings with the simple use of colour.
Her title comes from an old blues song that places Stein's difficult decision as an act of freedom, empowering her to move on and tackle the next challenge that life will inevitably throw her way. She makes it clear that she doesn't see herself as a victim of circumstance, carrying on with her job as a bartender while constantly engaging with family, friends or complete strangers. These interactions help her dissect aspects of what it means to be human in a world that has unwritten rules and potential stigmas for married as well as single people.
Stein reminds us that seeing the lighter side of things is important too, and the most wondrous thing about her work is how she manages to cram so much into tiny panels rarely larger than two inches in diameter.
In a recent interview, Stein was asked about what fuels her curiosity, to which she responded that embracing curiosity seemed to be the only way to avoid becoming complacent and stagnant. As pointed out at the start, I believe a man has no right to an opinion when it comes to anything involving a woman's body. All I choose to say, therefore, is that this is a book a lot more men should be reading.
Leslie Stein (W/A) • Drawn & Quarterly, $29.95 CAD/$24.95 USD
Review by Lindsay Pereira