News this week of the new exhibition 'Love Stories' at London's Cartoon Museum. This one is extra special for us at BF as it spotlights the work of our 'Six to Watch' artist Dominique Duong with work from her Ignatz-nominated comic The Dog and the Cat (reviewed here) on display. Full details in the press release below.
Love Stories
7 May – 10 July 2022
Fall in love with The Cartoon Museum this spring.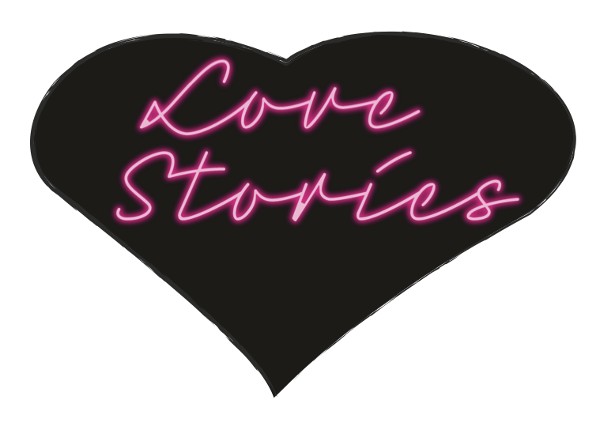 From 7 May, the nation's leading museum of cartoon and comic art is inviting visitors to rediscover their collection through the lens of love and romance.
This specially curated season of new content will include Love Stories, an exhibition of dialogues with contemporary cartoonists and comic artists on the theme of love in their work, an LGBTQ+ trail through the permanent display, a participatory Lonely Hearts art installation inspired by the romance comics of the 1940s-60s, a spotlight display of British girls comics from the 1950s-70s, two-for-one 'mate date' ticket offers and more.
The season will culminate with a special Late Night Love event celebrating London Pride in summer 2022.
Director Joe Sullivan says:
'Looking at this big universal human theme is a great way to invite fans of cartoons and comic art to discover works by the artists they love through a new lens, while also connecting with new audiences who may be new to the artform. There's something fresh, novel and relatable here for everyone.'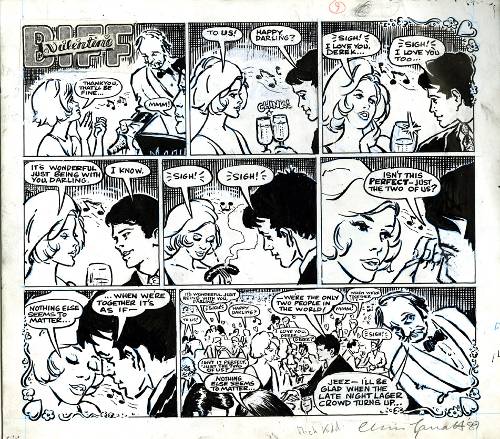 © Mick Kidd and Chris Garrett aka Biff – Biff 'Valentine' cartoon strip for The Guardian by Mick Kidd and Chris Garrett, 1989
Love Stories
This new in-focus exhibition presents an intimate display of cartoons and comic art from The Cartoon Museum collection alongside works and reflections from artists Dave Gibbons, David Shenton, Dominique Duong and Ros Asquith.
Curator Emma Stirling-Middleton asked the four artists about their exploration of romantic love and relationships in their work. Each artist selected a work of their own and work from The Cartoon Museum's collection as an anchor for their reflections.
This collaboratively curated selection of works is diverse, stretching across time and genre. Highlights include:
–       A never-before-displayed zine quilt by David Shenton exploring equal marriage and the moving personal story of his 17-year relationship with his late husband
–       The first ever American comic purchased by Dave Gibbons
–       An original page from Alan Moore and Dave Gibbon's Watchmen, the world's best-selling graphic novel
–       Original comic art by Dominique Duong
–       Original cartoons by Ros Asquith
Visitors will discover four dialogues, between artworks and between artist and curator, which are as diverse and unique as our love stories out there beyond the page, in the real world.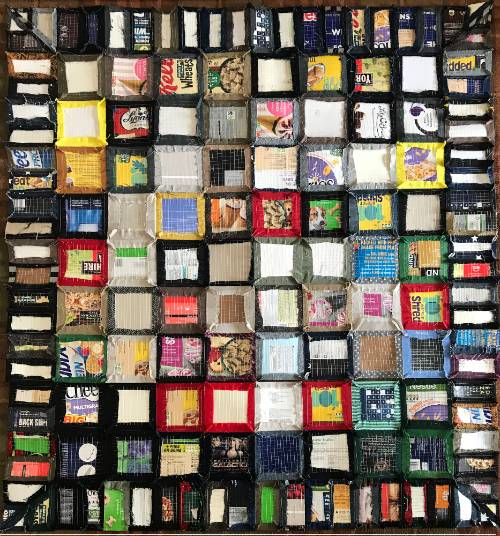 © David Shenton 'My Four December Weddings and a Funeral' zine quilt made by David Shenton -Back of quilt with pieces of food packaging used as backing support
Curator Emma Stirling-Middleton says:
'We are all the main character in our own great love story. Through our encounters with love in cartoons and comics, we learn more about ourselves, and about each other." She continues "it has been such a privilege collaborating with these talented cartoonists and comic artists and having these informal rambling conversations about art and love. It opened the door to exploring subjects and ideas neither of us had ever thought of before. I think the resulting display is something quite poignant and special.'
The exhibition will also feature a participatory Lonely Hearts art installation which invites visitors to use cartooning to find love the old-fashioned way. Inspired by the romance comics of the 1940s-60s, visitors can expect to be amused by this light-hearted interactive feature where real life meets the romantic tropes and courtship rituals of eras past.
Director Joe Sullivan says
'It's been a great opportunity for us to dig out unseen works from our Museum's incredible collection and explore them with some of the nation's favourite cartoon and comic artists in this unique way.'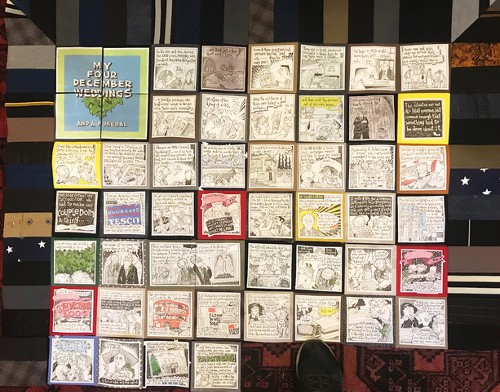 © David Shenton – 'My Four December Weddings and a Funeral' zine quilt made by David Shenton – almost finished!
LGBTQ+ Trail
Alongside Love Stories there will be an LGBTQ+ trail which reinterprets works from the museum's permanent display through previously untold LGBTQ+ stories.
The trail has been developed by collections volunteers Izzy Woodcock and Helen Woollison, as part of The Cartoon Museum's collections audit. This three-year project sees the museum's collections team collaborating with an army of volunteers to document and explore the museum's collection of over 5,600 original works of cartoon and comic art. The project includes a representation audit, analysing who is represented in and by the museum's existing collection.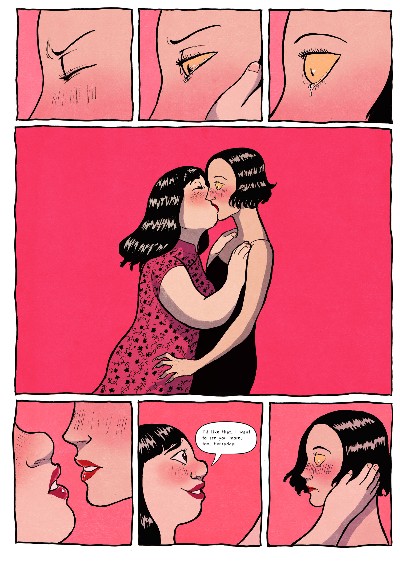 © Dominique Duong – Digitally coloured page 19 from the comic The Dog & The Cat by Dominique Duong
Volunteer and Museum Studies student Izzy Woodcock notes:
'It's been so interesting exploring The Cartoon Museum's collection and uncovering hidden stories which allow the museum to see the collection from different perspectives and to share new stories.'
Spotlight on Girls Comics
Learning Officer and comics expert Steve Marchant has curated a spotlight display of British Girls Comics from the 1950s-1970s which will be displayed in the museum's Clore Learning Studio. These works have never been exhibited before and were collected as part of the museum's HLF-funded Comic Creators project which saw the museum purchase over 500 pages of original comic art.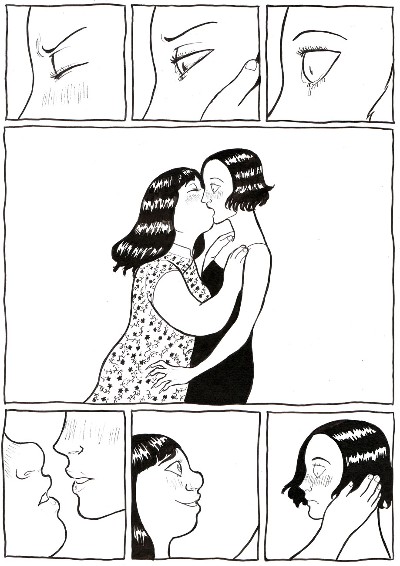 © Dominique Duong – Pen and ink on paper page 19 from the comic The Dog & The Cat by Dominique Duong
Events and offers
For the duration of our Love Stories exhibition we will be spreading the love and offering special 'Mate Date' tickets – buy one general admission ticket and get one person in for free for general admission entry to the Museum every Thursday evening for the duration of the Love Stories exhibition. (Terms & Conditions apply, please check the website for details). We will also be running a series of Love themed events which hopefully won't involve swiping left or right… sign up to our newsletter and follow us on social media for more info.
Get your Mate Date tickets here
Terms & Conditions: Mate Date tickets valid for standard late opening only – Thursday evenings, 6pm-8pm. Does not include special events (such as the Laughter Lab late). One ticket provides entry for two people. Cheapest goes free.
Love Stories, the LGBTQ+ trail and the Spotlight on Girls Comics are included in the museum ticket price, and tickets are available online from cartoonmuseum.org.
The Cartoon Museum will be launching a range of unique merchandise to accompany the season to include zines, postcards and books by the contributing cartoonists. All will be available to purchase from our online shop as well as in store.