With an all-female creative team and timed for Filipino American History Month, Clover Press and Kwento Comics' The Mask of Haliya: Heir to the Warrior Moon is exactly the kind of project we love to give a boost to here at Broken Frontier. Check out the press release below for more details and then click on that Kickstarter link to see even more gorgeous art on the campaign page.
Timed to Filipino American History Month, Clover Press And Kwento Comics Launch a Kickstarter for a Graphic Novel Inspired by Philippine Mythology
THE MASK OF HALIYA: HEIR TO THE WARRIOR MOON is A YA Urban Fantasy, by an International All-Asian, All-Female Creative Team, With An All-New Cover by Haining!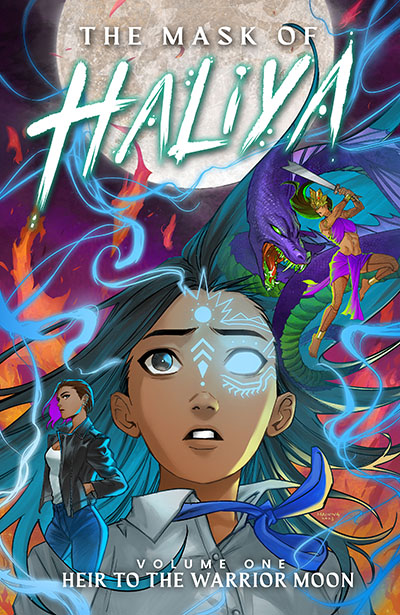 Timed to Filipino American History Month, Kwento Comics, the trailblazing Filipino-American comic book publisher, is partnering with Clover Press for a Kickstarter campaign to publish a graphic novel inspired by Philippine mythology, THE MASK OF HALIYA: HEIR TO THE WARRIOR MOON. This 200-page deluxe hardcover is a young adult urban fantasy which follows the journey of a troubled Filipina-American teen who discovers a mysterious mask at her great-grandmother's wake. The story is written and illustrated by an all-Asian, all-female creative team from around the world and the 200-page deluxe hardcover edition features a brand new cover by superstar comic book artist Haining (Spirit World, DC vs. Vampires: All Out War), and an optional slipcase. The Kickstarter campaign is now live and runs throughout Filipino American History Month.
Kwento Comics was founded by a mother and daughter team, Cecilia and Waverley Lim, who were inspired to create a solution to the lack of Asian American representation in media. Their goal in launching the company is to create lead Asian female characters on the page, while also highlighting the talented Asian women artists and writers in an industry that is heavily male-dominated.
"We realized that Asian – and specifically, Filipino – characters, roles, and mythology were not seen in film, television, or comic books," said Kwento Comics Co-Founder Cecilia Lim, "We wanted to be part of the solution and create stories that introduce Filipino and other Asian mythos to a wider audience."
"We knew that the creation of these characters starts with women who look like us, who can share our stories and shared experiences in an authentic way, and in doing so, highlight the wonderous world of Philippine and other Asian mythology in our graphic novels," said Kwento Comics Co-Founder and Chief Operating Officer Waverley Lim.
THE MASK OF HALIYA: HEIR TO THE WARRIOR MOON is the first release from Kwento Comics and is intended to be the first in a series of books published by Clover Press. The book engages with topics like mental health, intergenerational trauma, and corruption, with a major emphasis on its female characters, through the lens of female creators. THE MASK OF HALIYA: HEIR TO THE WARRIOR MOON's creative team is comprised of writer Kaitlyn Fajilan (Fruit Fly, Madeira), artist Renoida Renovilla (Creative Connections and Commons, Inc.), editor/art supervisor Jenapher Zheng (Oblivious, Borrowed Light), colorist Charlyn Duy, and co-founder/COO Waverley Lim (The Women's Project).
In THE MASK OF HALIYA, seventeen-year-old Marisol Reyes is in need of a do-over. After getting kicked out of one too many schools for strange and unsettling behavior, Mari's overbearing mother sends her to the Philippines for a fresh start. The promise of a normal life is dashed, however, when Mari attends her recently deceased Lola Talia's wake. For it's there she discovers a mysterious wooden mask that unlocks frightening visions… and terrifying abilities. So begins THE MASK OF HALIYA, where Mari must forge new allies and battle new foes, all while finding her place in a world on the brink of darkness. In the heart of Cebu, an ancient power awakens…The Mask has chosen its new heir.
"After meeting the Lims and reading their comics, I knew we wanted to publish THE MASK OF HALIYA," said Clover Press publisher Hank Kanalz. "Filipinos have played a huge part in comics' history, and I'm personally thrilled to assist in our representation on the page as well."
The supernatural, multi-perspective saga THE MASK OF HALIYA will be funded on Kickstarter. Visit the campaign here: https://www.kickstarter.com/projects/cloverpressimports/1532741954?ref=dvksra
For updates, follow Kwento Comics on Instagram, Facebook and Twitter, and follow Clover Press on Instagram, Twitter and Facebook. You can subscribe to the Clover Press newsletter here.