It's been one of the great success stories of UK comics publishing over the last couple of years and this Autumn there's more developments in store for Rebellion's Monster Fun revival. The humour comic may have a younger readership in mind but it's also been a huge hit for the nostalgists who remember the short-lived original 1970s run. Check out the new look for Monster Fun below, alongside some preview pages of the Halloween issue.
TRICK OR TREAT! MONSTER FUN'S HALLOWEEN SPOOKTACULAR 2023 DEBUTS NEW LOOK!
Across the summer hundreds of children from across the UK picked up their pencils and pens to enter the Monster Fun Draw A Monster Competition, offering the winner the chance to see their monster be drawn into a one page comic strip alongside their favourite character from the pages of Monster Fun!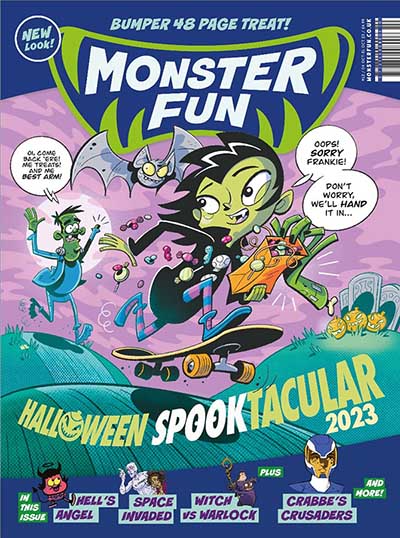 Now one lucky reader will certainly get a treat when they open the Monster Fun Halloween Spooktacular 2023 issue – on shelves 4ᵗʰ October with an incredible new look – as their monster "Smizerd", a blue wizard whose magic is all about cakes and baking, has been placed inside a Monster Fun story!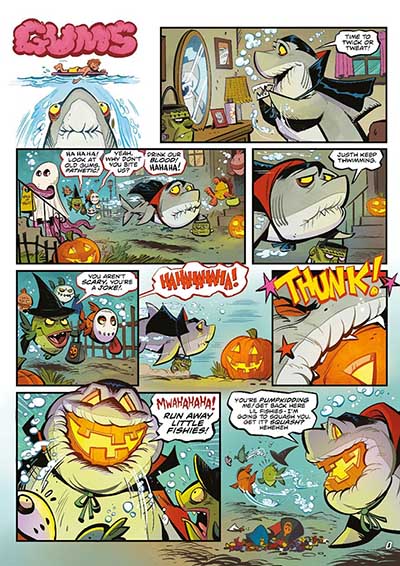 "Everyone always says it's hard to pick a winner, but it genuinely was for this competition! The amount of creativity we've seen from our readers was incredible, and we're thrilled that so many of them picked up their pens and pencils across the summer to get involved." says Monster Fun editor Keith Richardson, "Our Halloween issue is always a hit, but now we have the winners showcased in there too, it's proving to be an extra special issue for readers to enjoy this spooky season."
The Monster Fun Halloween Spooktacular 2023 will also be the first issue in a brand new design and logo, transforming the comic for the next era of monsters, mischief, and mayhem!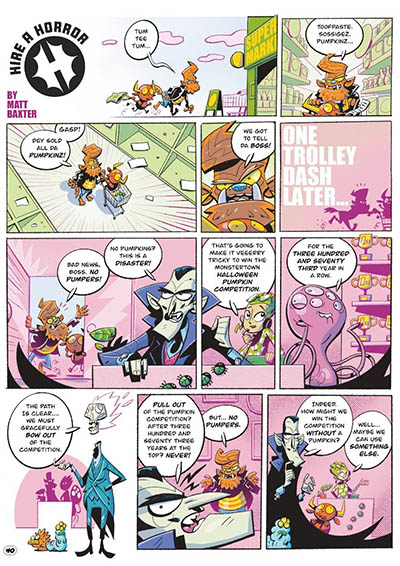 "When Monster Fun launched in April last year it was our first new ongoing comic in years. Now eighteen months on we felt it time to embrace a new look as we continue to expand Monster Fun on shelves and as a brand." Says Rebellion CEO, Jason Kingsley OBE, "Our readership is growing every month, with more and more children and families finding Monster Fun an essential reading experience. We've worked so hard to create a quality comic that is all about encouraging a love for reading, and working with one of our star contributors, Matt Baxter, this brilliant new look – paired with comic strips starring some brand new characters – should make our comic a real highlight this Halloween!"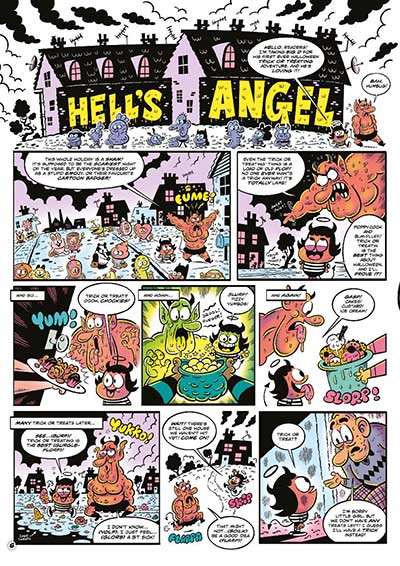 Inside the bumper 48 page Halloween Spooktacular 2023 issue popular favourites such as Kid Kong, Hell's Angel, and Witch Vs Warlock will feature alongside new characters and strips including Frankencritter, All Hallows Screams, and the debut of a rebooted Crabbe's Crusaders ready for a whole new generation of readers!
For a fang-tastic Halloween, children and parents can pick up the Monster Fun Halloween Spooktacular 2023 on shelves from the 4th October 2023 with a £4.99 one-off special price. Available in the UK from selected WHSmiths, TESCO, One Stop, and Waitrose stores – or at local newsagents. Issues can also be bought via the Monster Fun website, where back issues, international orders, and subscriptions to the comic can also be purchased.