A delightfully bizarre celebration of friendship and the bonds of music. Engagingly chaotic and pulsing with energy.
Sometimes it seems like Centrala are one of the best kept secrets on the UK comics publishing scene. Now based in London, this eclectic boutique publisher originally hails from Poland and has been in existence for around a decade. They've put out some notably diverse books from across Europe over the last couple of years with a particular focus on Polish creators.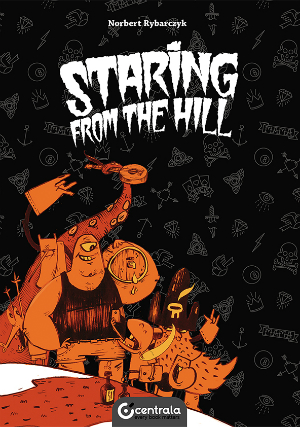 We've covered a number of them at Broken Frontier including Malgorzata Dmitruk's rural slice-of-lifer Cykle, Mateusz Skutnik darkly existential Blacky: Four of Us, the historical re-creation of Lene Ask's Dear Rikard, and the critically acclaimed account of Chernobyl: The Zone by Francisco Sánchez and Natacha Busto.
Staring from the Hill is another entry in their growing and enticingly unpredictable catalogue of books. Norbert Rybarczyk's frenetic, but also oddly pensive, short story combines the surreal and the instantly recognisable in a book that takes one step backwards from reality but nevertheless extracts something relatable from the otherworldly.
To the side of a small city of anthropomorphic creatures and mythical monster-folk sits the Hill. Here the arachnid-like Eddie and his pal Mr. Mole go to quietly ponder on the mysteries of the universe. But philosophical pursuits are not their only pastime. In the company of their group of friends they are also linked by a mutual love of music and their favourite band Ummo and the Doomsdays.
Told from a number of different perspectives we observe how the young people of the city relax, interact and enjoy their nights of leisure, all linked by that shared appreciation of great gigs and after-parties. But when strange supernatural phenomena begin to increase on the Hill, both musicians and fans must unite to deal with a terrifying invasive threat to their way of life emerging from another dimension…
On a superficial level Rybarczyk's one-shot is a tumultuous tale of horrors from beyond reality. But that's not really this amiably eccentric offering's real focus. This is a study of how we are defined by our friends, of the joy of shared experiences and of the importance of a sense of belonging. That may be encapsulated in an oddball fantasy about malevolent forces from other worlds but this book's thematic heart is in its study of a sense of comradeship in the face of powers beyond our control. A final, quieter coda to events only underlines this ideal.
Of course if you do want to simply immerse yourself in Rybarczyk's gloriously madcap characters and kinetic sense of motion then that option remains open to you as well. His panel-to-panel storytelling in the final climactic section of Staring from the Hill bursts with vitality: it's inventive, imaginative and effortlessly draws the reader into the action.
If there's one element where the audience's experience could have been improved it's in the book's translation, as there are occasional distracting spelling errors and awkward uses of English. But that's of lesser importance in the greater scheme. A delightfully bizarre celebration of friendship and the bonds of music. Staring from the Hill is engagingly chaotic and pulsing with energy.
Norbert Rybarczyk (W/A) • Centrala, £13.00 (available to buy online here)