Beginning with an introduction to the universe in the style of a history lesson Sarah Millman's NPC Tea combines gorgeous tonal colours with a fun fantasy tale to create a unique blend of storytelling; all surrounding a tea shop with its comfortable and welcoming atmosphere.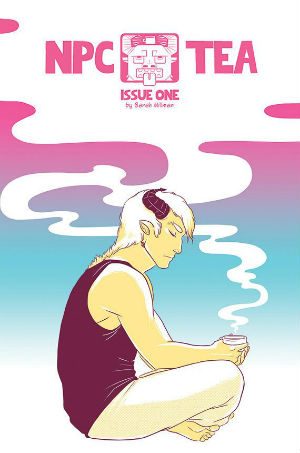 We are introduced to Hannah, one of the central characters through her interruptions to a lecture – emphasising her knowledge on the subject of the history of magic. The comic follows the events that led up to her getting a job in the tea shop 'Y DDRAIG'. NPC Tea is set in Cardiff where Sarah Millman is from, with areas of the city featuring throughout, despite being set in a fairly different universe from our own.
The relationship between real life magic and academia are explored in this issue very carefully, with Hannah acting as a kind of representation of the academic world. That relationship between magic and academics has always been an interesting theme for examination within fantasy stories.
The work mixes an overarching plot with small moments between characters, allowing the reader to position themselves in this fantasy world bursting with orcs and elves. Those smaller moments ground the reader within the world, allowing them to empathise with the characters – for example, the comic's introduction to characters Bryn and Oz in 'Y DDRAIG' is buzzing with a humorous tone, showing us particular aspects of the characters whilst carrying a wider storyline in the background.
Character interaction within this comic seems very natural, not forced at all. Each character has a distinct personality and motivation, breathing life into the story. The plot of the comic unfurls through that character interplay and feels very spontaneous.
Colours in NPC Tea are particularly noteworthy. Though generally sticking to one tone per scene, the transitions between each flow naturally and create a sense of atmosphere, as well as separating scenes which take place in different locations. The choice of colour is bright and gorgeous, matching the cover on this particular issue, giving the comic a sense of coherency.
NPC Tea's story continues to grow more complicated as the series carries on, it's definitely engrossing and well worth reading back to back if you have the time. However, the first issue perfectly encompasses the feeling of the series, with small hints at the underlying plot and lends itself to being a fitting introduction to the universe.
Sarah Millman (W/A) • Self-published, £5.00
You can order all five issues of NPC Tea to date online here. 
Review by Holly Raidl