The title for Patrick Atangan's latest project, Invincible Days, comes from a quote from The Stranger, a novel by the great French author Albert Camus:
"In the midst of winter, I found there was, within me, an invincible summer.
"And that makes me happy. For it says that no matter how hard the world pushes
against me, within me, there's something stronger – something better, pushing right back."
This is how Atangan starts his collection of childhood memories, detailing his early life growing up in California as a Filipino-American and, in particular, the loss of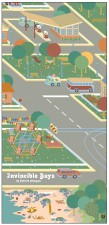 his grandmother to a long illness.
It also provides an appropriate introduction to our discussion with Atangan about his artistic process and the delicate balance he tries to achieve not only within Invincible Days but throughout his life and career.
A past Eisner nominee for his work on The Yellow Jar, Atangan nevertheless has walked a rocky road through the always-changing world of comics, with his next book potentially his last.
We talked to Atangan about his possible departure from comics, his unique artistic process for Invincible Days, and about furniture design, where he expresses himself through the sleek lines and intricate woven tapestries that are the hallmarks of his artistic vision.
Your Filipino culture weaves in and out of the stories contained in Invincible Days. It was interesting to see a different perspective on some of the traditions surrounding food, holidays, and family. What did art mean to you growing up and how difficult was it to deviate from the family trade (accounting) and embrace your passion?
Patrick Atangan: I'm the type of guy that has trouble calculating the tip, so the idea of becoming an accountant was never an option. But the idea of not making art has never occurred to me; it's the one thing I'm good at. Art has always been present in my life.
I used to spend hours sitting on the floor drawing – robots, Batman, Mr. Clean, pretty much anything I saw on TV. It was one of my first memories. In fact my dad used to bring home old spread-sheets to draw on the back.
My family didn't push me into any one trade in particular, their main concern, which still holds today, is making a proper living for myself. I seem to make a habit of moving from one fiscal-insolvent endeavor to the next.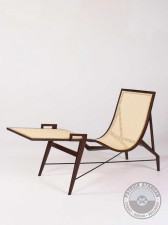 I noticed on your website that you also design some pretty amazing furniture. How does this entirely different area of design inform or compliment your comics work? Do you find there's any interplay between the two artistic pursuits or do you keep them separate?
There's a lot of history involved in all the art that I do. In my furniture I tend to gravitate toward natural woven materials and dark wood tones found in Spanish colonial/traditional Filipino design, but I contrast this with the Brazilian and American mid-century line work that better matches my own modern tastes.
My comics draw on history in much the same way. My past series [Songs of Our Ancestors] was literally an Asian art history primer, but in Invincible Days I draw on the pop culture references I grew up with. My sister had an extensive Japanese sticker collection which greatly influenced the art of the book.
You show great sensitivity to the emotional landscape around you, and some of the themes and events you depict in Invincible Days are pretty intense. How did this affect the tone of the project?
When friends read early drafts, they told me it seemed I had two different books: one with a light-hearted romantic view of childhood and the other very dark. This book was very much a balancing act. I tried to temper the heavy nature of a lot of the themes with a sprinkling of humor.
Although technically a collection of short stories, I found there was a central narrative voice tying everything together, so that rather than stories, the book felt like it was divided into chapters. Was this intentional or something that arose over the course of the ten years the book was in progress?
Yes, initially this book was meant to be a bridge for me into experimenting with long formats. Unfortunately, I am very much a product of my generation and do not have the attention span to do a proper novel, so a collection of interconnecting short stories was a bit of a compromise.
Each story both stands on its own but also weaves together with the others to form a longer narrative. They are arranged in a way that it gradually/organically tells you a longer story, a bit like getting to know a new friend, one who tells you a little about his life in bits and pieces.
You've gone on record saying Invincible Days was a project that took ten years to complete. How did your creative process change over that time?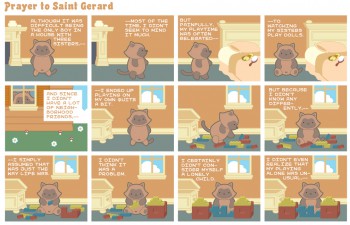 This book was one of my longest brewing projects and evolved quite a bit since its inception.
I started out interviewing friends and family for short story ideas. I wanted this book to be sort of a self-portrait, through the carefully edited childhood experiences of the people in my life.
Unfortunately, I wasn't getting many quality stories. By the end of the first year I only had a handful, so I started writing my own to supplement the book. Eventually my stories took over and the few stories I had from friends and family were sprinkled in for a bit of comic relief.
I wrote for another five years on and off, but I wasn't satisfied and ended up putting the book on the back burner. I just couldn't find a proper direction.
It wasn't until the death of my grandmother, several years after I had abandoned the project, that I started writing again. Her story was a mixed blessing of sorts – she gave me an ending, but it was one of the darker periods for my family.
Your structure remains strictly static throughout the book, using a set "camera" angle and page layout, usually in direct counterpoint to the contents of the story. How important was it for you to achieve this level of tension in Invincible Days?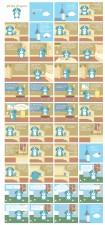 That static tension is one of the most important parts of the reading experience. One of my early ideas was to have each story presented as a serial in a weekly paper or magazine, as a single-page story with 44 panels.
I actually completed the book in this format. What ended up going to print is a smaller, more reader/printer-friendly version of my initial idea. There isn't a lot of action in my book. This is intentional.
It means something when you see a character sitting alone for five panels, but it means something greater when you multiply that by 44 panels that you can see all at the same time.
The feeling of loneliness is heightened tremendously. It's really a pity the larger format wasn't viable – I preferred to see the book that way. But I think the smaller version that went to press still had a good impression of this idea – at least I hope so.
Often, the real emotional climax to a particular story in Invincible Days occurs in what is not shown – 'Stroke' comes to mind – so how difficult was it to use restraint in what you chose to show in each panel?
One of the reasons I wrote this book was to exercise my muscles as a writer. I always saw that as a weakness in my other comics. This strict format gave me liberty to not worry about the art for once.
I set these strict style rules very early on and I followed them as narrowly as possible. The artwork is pretty much the same from one story to the next so it was automatic, and this and the short story format I gave myself allowed me to experiment with my writing and grow.
For dramatic scenes that are often hard to illustrate in a conventional manner, there is a little-used trick in cinema. If you pan the camera away from the action, often times the emotion of the scene becomes greater.
Your mind takes over and the scene becomes a lot more relatable because your imagination is more active. It's sort of like that scene in Reservoir Dogs where that snitch gets his ear cut off.
They don't actually show anything but it's remembered as infamously violent. This technique is used in horror films as well, although sadly not often enough these days.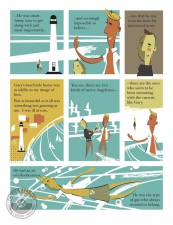 This is a book it seems you could return to in the future very easily if you felt like it. Are there any plans for follow-ups to Invincible Days?
Next is another book of autobiographical shorts, but the tone is different. I delve into my love life – a book of dating "horror" stories tentatively titled Fires Over Hyperion. It's sort of like if you imagined if Sex and the City were written by a gay Charlie Brown.
Like Invincible Days, it's all vector art, created in Illustrator, but the style is a bit of a throwback. The look is drawn from loose mid-century illustrations – Charley Harper and Mary Blair's work in particular. It should be out sometime in the Spring.
That will probably be my last book before I quit comics for good. I never really made any money from my books and I need to get on with my life. It's a shame because I love comics, I just wish I were able to make a living from it.