A young Iranian woman turns to the fantastic myths of her childhood as she struggles to live and thrive under an oppressive regime, in this raw, emotionally-complex character study.
Most of us have never lived in a world where freedom of choice isn't an option. No one here tells us what to wear, what to eat, when to pray, or who we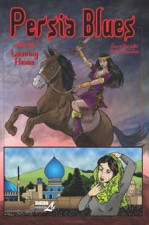 can fall in love with. We take such things for granted and, some would argue, squander our freedom on petty arguments and rampant consumerism. We exercise our ability to choose most frequently out of ignorance, not realizing there's more to living in a democratic society than selecting the best deal at your local Target.
In Persia Blues, Iranian-born Dare Naraghi and Brent Bowman remind us there are scores of people across the globe who don't have the luxury of choosing their careers, their spouses, their suppers. Thanks to a successful Kickstarter campaign and subsequent digital publication via Comixology, Persia Blues has been picked up for hard copy publication by eclectic graphic novel publisher NBM, under their ComicsLit imprint. Chronicling the struggle of Minoo Shirazi to grow and thrive under the oppression of the Iran's Islamic regime, it is a deceptively complex exploration of how the power of the imagination can help people cope with extreme situations.
Suffering from the tragic loss of her brother and mother and unable to turn to her fearful and over-protective father for guidance, Minoo turns inward to the rich mythology of her people in an effort to escape the depressing reality of her life in Iran. Faced with an absence of choice and an utter lack of self-determination, Minoo creates a hybrid fantasy world fusing ancient Iranian myth with modern American elements, where she can finally be the hero of her own story.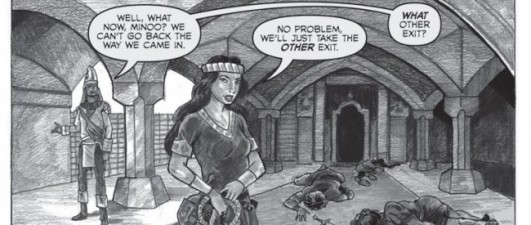 Naraghi moves fluidly between fantasy and reality, subtly intertwining the hard emotional truths of Minoo's tragic life in modern Iran with the lush spectacle and wish fulfillment of her carefully-constructed imaginative refuge. Simmering with barely contained rage and frustration, Minoo is a wonderfully complex, fully realized protagonist, who while she quite obviously doesn't have all of the answers, knows there is a better way, a more fulfilling journey waiting for her, if only she can escape the fundamentalism of the Iranian regime.
Artist Brent Bowman smartly uses two different artistic styles to illustrate the very real imaginary gulf separating Minoo's reality from the mythopoeic realm of her dreams. The sequences chronicling Minoo's journey through Iranian myth are lushly illustrated, each panel packed full of detail and weight. On the other hand, Bowman's depiction of the real world comes off flat and lifeless, lacking the fullness and finish of Minoo's imagination. While this artistic choice services Naraghi's script extremely well, I couldn't help but feel as if Bowman's real-world settings felt a little incomplete and lacking depth.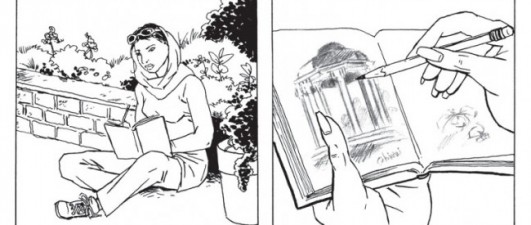 Despite this, overall Persia Blues is a fascinating and illuminating read. A raw, sometimes painful, sometimes joyous magical realist blending of gritty fact with gorgeous myth-based fantasy, Persia Blues is a timely, emotionally intelligent exploration of how one woman copes with oppression, loss, and misplaced guilt. Highly recommended.
Dara Naraghi (W), Brent Bowman (A) • NBM, $12.99, July 2013.