It is when one first looks up, after a hundred odd pages or so into Roaming, that Jillian Tamaki and Mariko Tamaki's individual skills start to become just a little more obvious. There is such a fluidity to what they do — an ease with which they hold a reader's attention and immerse one gently into their powerfully nuanced stories — that one simply forgets to stop turning pages after a while.
Another thing going in Roaming's favour is how utterly relatable its three protagonists are. They are on the cusp of adulthood, tourists in a city romanticised by Jay-Z and Alicia Keys as a "concrete jungle where dreams are made of' and 'there's nothin' you can't do." It's hard not to get swept up with the wide-eyed manner in which they approach everything from trying a slice of pizza to confronting aggressive locals. The dialogue is crisp and relatable, and these characters are so carefully etched that one gets a very clear picture of who they are and who they have been for most of their lives.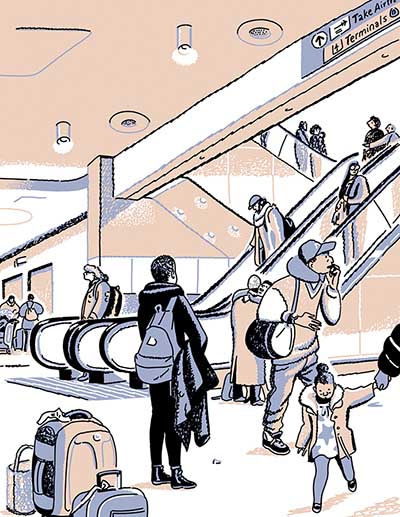 Set in the early 2000s, Roaming is about three Canadian college students meeting in New York City during spring break. Zoe and Dani have been friends since high school, while Fiona is an unexpected addition invited along by Dani. Each chapter tracks a day in their lives as they take in the sights while trying to navigate their own emotional responses to each other. There are so many feelings at play here, especially when we are privy to their conversations, because behind their façade of careful banality is a real longing to try and understand where they stand. That, ultimately, is what gives the book its power: we empathise with Zoe, Dani, and Fiona, because we have all been where they are.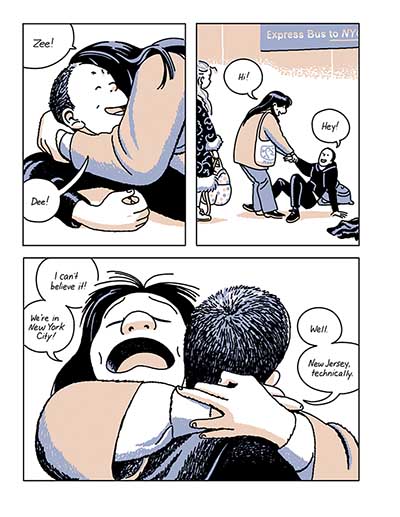 There is an interesting reference to Chaucer's Canterbury Tales early on, which draws attention not just to the individual journeys being made here, but their individual understanding of themselves at the end of the trip. They each must navigate emotional crises of their own before arriving at a moment not of clarity, but reluctant acceptance. Also peppered through their seemingly innocuous and flirtatious banter are comments on identity, race, misogyny, and sexuality.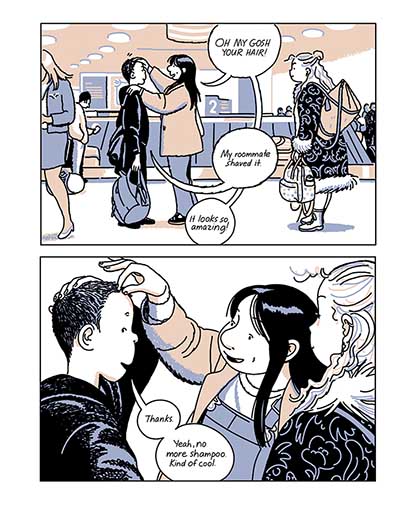 Jillian Tamaki continues to showcase her staggering growth as an artist. She does something magical here, rendering the awe and wonder of New York City with a relatively muted panel of pastels. The city becomes a character too, its iconic buildings and streets used as props against which the private lives of these tourists are laid bare. Tamaki manages to make its most familiar sights — the model of a blue whale at the American Museum of Natural History, riding the subway across and under Manhattan, visiting a Uniqlo store — seem fresh, which is no easy task. She also places the reader's gaze at the centre, immersing us in the narrative, swooping us in and out like a drone while merging private conversations with snatches of talk from the public at large. It also makes the reader work a little, to home in on where the characters are located in the book's double-spreads. The overall effect is of being privy to footage from a GoPro camera.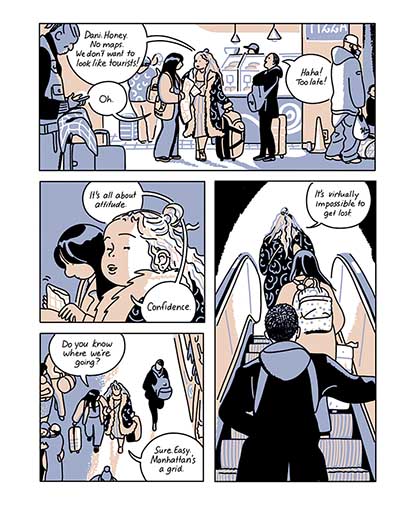 Turning the last page of Roaming, one is confronted with the fleeting illusion that nothing much has happened at all. That is followed almost immediately with the recognition that Zoe, Dani, and Fiona are no longer the people they were at the start of their vacation. We, as readers, aren't the same either.
Jillian Tamaki and Mariko Tamaki • Drawn & Quarterly, $34.95
Review by Lindsay Pereira