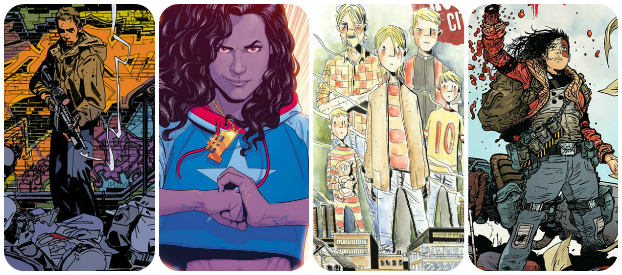 It's nearly Wednesday, and you know what that means: a fresh load of comics and graphic novels! With so many publications hitting your local comics store or digital storefront, the BF team are here to lead you through the woods with our weekly staff picks. Satisfaction guaranteed!
Comic of the Week
Royal City #1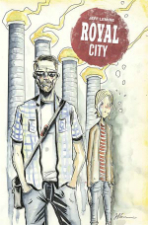 Any new release with Jeff Lemire in the credits is to be eagerly anticipated, of course, but the first book since Sweet Tooth and Trillium to feature the Essex County creator as both writer and artist has to be high on your "must-buy list" on New Comics Day.
This double-sized opening issue of Lemire's new Image series introduces us to Patrick Pike – a man whose literary career has seen better days – as he returns to his hometown and a fractured familial unit that includes his domineering mother, browbeaten father and troubled siblings. All of whom are haunted by the death of his youngest brother many years before…
Set across three decades, and exploring themes of family and environment, this looks set to be one of Lemire's most epic projects to date.
Jeff Lemire (W/A) • Image Comics, $4.99
– Andy Oliver
Extremity #1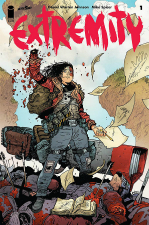 Artist Daniel Warren Johnson has been building a cult following over the last couple of years with his webcomic Space Mullet and his bootleg Star Wars comic, Green Leader. But he's about to build his audience with his new creator-owned project coming out through the Skybound Imprint at Image Comics.
As a young girl Thea was an artist and a dreamer, but now she's on a mission of revenge after the rival clan killed her mother and cut off her drawing hand. With ferocious battles between man, machines, and monsters ahead who knows where her quest for vengeance will take her?
Daniel Warren Johnson (W/A), Mike Spicer (C) • Image Comics, $3.99
– Tyler Chin-Tanner
America #1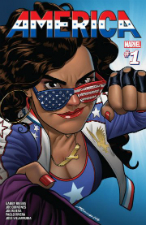 Marvel continues to expand the hidden corners of its universe with a new series starring America Chavez, the Latina LGBTQ superhero who first appeared in Joe Casey and Nick Dragotta's Vengeance miniseries. In a stroke of genius, the publisher tapped YA novelist Gabby Rivera to pen the series with artist Joe Quinones. Rivera (who goes by @QuirkyRican on Twitter) has already earned critical acclaim for her first novel, Juliet Takes a Breath, and expectations are high for this new series.
In this first issue, America heads to college to find herself–and instead finds herself facing off against extraterrestrial threats with a strange connection to her own past adventures…
Gabby Rivera (W), Joe Quinones (A) • Marvel, $3.99
– Paul Mirek
Savage Things #1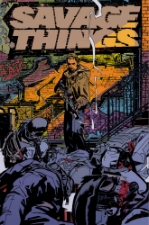 The concept of a shadowy government program creating lethal weapons from human subjects is not new to comics or popular culture — think Wolverine/Weapon X, Bucky the Winter Soldier, The Manchurian Candidate, Jason Bourne, etc. However, the idea gets a new spin this week in the lead-off issue of Savage Things, an eight-part miniseries from Vertigo.
Writer Justin Jordan (the Luther Strode trilogy) and artist Ibrahim Moustafa (High Crimes) build an action-packed story blending elements of cloak-and-dagger intrigue with a touch of the macabre. A secret government agency develops a black-ops program to kidnap children, train them for years to be cold-blooded killers, and set them loose upon the post-Cold War world to sew the seeds of chaos and eliminate threats to State security.
Realizing they've created a Frankenstein-style monster that can't be controlled, the agency decides to scrap the program and destroy the team. Easier said than done, however. It'll be the task of one man – codename Abel – to handle the dirty work and bring these savage things to heel before they can blow the whistle on this grisly scheme.
Justin Jordan (W), Ibrahim Moustafa (A) • Vertigo, $3.99
– Matthew Box
Simply Samuel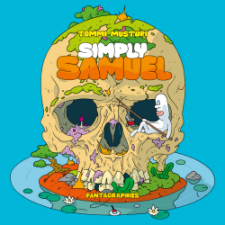 You may already be aware of Finnish cartoonist Tommi Musturi's vibrantly coloured work through previous publications from Fantagraphics Books and  kuš! comics. This week sees Fantagraphics bringing his wordless Simply Samuel graphic novel to a wider audience in a handsome hardcover edition.
Presented as a kind of existential everyperson, Samuel's exploits take the form of shorter episodes and single illustrations that ruminate on themes of individuality, solitude, personal freedom and self-determination. You can see a flick-through preview of the book on YouTube here.
Every Fantagraphics release deserves your careful consideration at the moment because, even by their own high standards, they have been putting out some consistently outstanding books over the last few months.
Tommi Musturi (W/A) • Fantagraphics Books, $24.99
– Andy Oliver
The British Invasion!: Alan Moore, Neil Gaiman, Grant Morrison and the Invention of the Modern Comic Book Writer (Softcover Edition)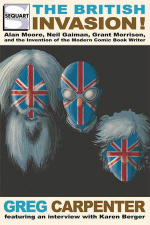 It's difficult to overstate the impact on the ever-evolving world of comics caused by the three writers name-checked in the title of this new book from Sequart Organization columnist Greg Carpenter. Alan Moore, Neil Gaiman, and Grant Morrison, each in their own unique way, pushed the boundaries of comics and re-wrote the rule book on how a writer can (and should) approach the medium.
Blending the all-seeing eye of the novelist, the penetrating insight of the psychologist, and the humanity of the poet, these writers transcended the standard "tights-and-fights" milieu of the pre-1980s era and brought comics into the modern age. In essence, they reinforced the idea of comics as a viable and valuable art-form, one capable of telling stories of real substance.
While clearly these three Brits were not the only trailblazers in the shift to a more modern approach, the author couldn't have chosen better examples to illustrate this exciting period in comics evolution. Carpenter, who has written essays on each, is well-versed in their work, in addition to having a firm grasp on literary history and criticism as a whole. And, the edition includes an interview with Vertigo stalwart Karen Berger, editor to both Moore and Gaiman, who also played a central role in the new wave comic scene of the times. This book, then, will surely be a great read for anyone on the spectrum between a love for comics history and casual fanhood.
Greg Carpenter (W) • Sequart Organization, $19.99
– Matthew Box