Saga has been one of the most commercially and critically successful comics of recent years – but are the cracks beginning to show in Brian K Vaughan and Fiona Staples' epic?
One of the first (and most painful) lessons I learned after joining the Penge Over-40s Gymnastics Troupe is that it doesn't matter how fancy your flips are: if you land flat on your tush, that's all people will ever talk about afterwards.
It matters scarce a jot how good things are at the start and in the middle; if you don't nail the landing, it can all count for very little. And, as the old saying goes, what's true in gymnastics is twice as true in comics.
Which brings us to Chapter Eighteen of Image's all-conquering space opera/fantasy/family drama Saga – the climax of the third volume.
Since the stunning flash-forward that concluded #12, we've known where this arc was going to lead us: Marko, Alana et al hiding upstairs while Prince Robot IV brutally interrogated D Oswald Heist, the author of the book that our protagonists hold so dear, for their whereabouts.
As the issues rolled along, those expectations were heightened. For a while it looked like the climax of this part of the story would see a monumental stand-off between Alana and Marko (let's just call them "Alarko") and the forces sent from each side to break up their family: Prince Robot IV and The Will (in uneasy alliance with Gwendolyn, Marko's jilted ex).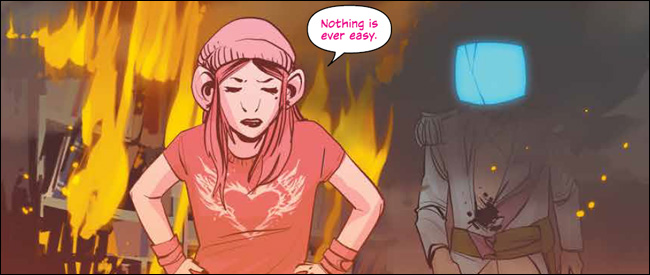 The high drama of #17 , with its examination of difficult moral choices (Marko and Alana discussing killing Hazel rather than letting her fall into Landfallian hands; Klara trying to convince Heist of the beauty of fighting to defend one's territory), and its subsequent shocking conclusion made #18 one of my most eagerly awaited issues for a while.
However, what transpired in the issue seemed to me to be slightly anti-climactic. When Prince Robot rebooted, he was suddenly – and conveniently – a compliant assistant, helping to get Klara out of the burning lighthouse.
And while the confrontation between Alarko and Gwendolyn was intense, it never really felt like anything terrible was going to happen (even when Marko made the ultimate show of faith in his wife and pushed her – and their baby – off the edge of the building).
Meanwhile, The Will found his way to hospital (after issuing what would have been some of history's most comically banal Famous Last Words), and the journos kinda got on with their lives.
One so-so issue clearly can't undo all the good work that's gone before it, but it can certainly highlight the importance of a satisfying conclusion to a story – especially in a series that puts the trappings of storytelling as front and centre as Saga does.
At this stage it's hard not to compare Saga with Matt Kindt's Mind MGMT (Dark Horse), one of the other truly outstanding comics from the past couple of years, which has also just passed #18 and finished its third arc.
However, each arc of Kindt's book has had a strong identity and an end point, whereas Saga is still leaving us somewhere in the middle of Act II – a criticism often levelled at the never-ending tapestry of Big Two continuity that a lot of us turn to creator-owned books to get away from.
I've still got every faith in BKV and Fiona Staples, but it's hard to see where the next wave of thrilling developments is going to come from. We were primed a couple of issues ago for Alana to go into 'the Circuit' – the overwrought virtual-reality superhero drama that takes the place of soap operas in the Sagaverse – but that sounds like it's going to be a downward gear-change from the on the run/life during wartime drama we've been enjoying.
Meanwhile, the peripheral stories and characters are all drifting along, from The Will's debilitation and apparent reconciliation with his sister to Gwendolyn's having to assume responsibility for Truth Cat and Sophie, and from the mystery of Prince Robot IV's whereabouts to the two tabloid journos wondering how to clear themselves of the curse that prevents them reporting on Marko, Alana and Hazel.
Saga is still obviously a first-rate title, and Vaughan and Staples are such consummate storytellers that it's easy just to luxuriate in the smooth craft of their work. However, as any gardener will tell you, sometimes you need to prune a plant fairly brutally to get it flourishing again. After two years and nearly 20 issues, maybe that time has come for Saga.
Brian K Vaughan (W), Fiona Staples (A) • Image Comics, $2.99, January 29, 2014