Sayra Begum's Mongrel is perhaps an atypical publication to come to us from the celebrated Knockabout Comics, whose reputation was built on titles with a distinctively underground and alt edge. Begum's debut book fuses autobio elements to tell the story of Shuna, a young British Muslim woman caught between the pull of two worlds.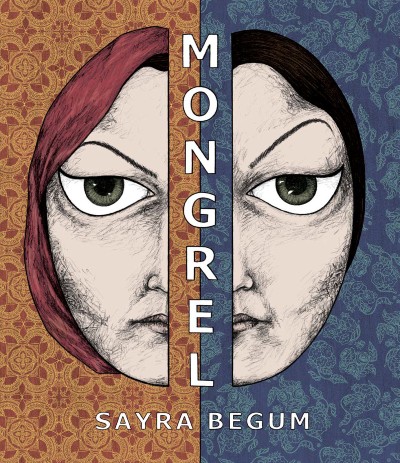 Mongrel begins with Shuna's wedding day; a moment that should be entirely celebratory and yet is overshadowed by the absence of the mother who has effectively shunned her and the father whose promised attendance has not materialised as a result. The reason is Shuna's choice of husband – David, a non-Muslim whose place in her life came as a shock to her devout parents. From this pivotal moment Begum then looks backwards, exploring Shuna's childhood and upbringing, and the effect that growing up within the overlap of two cultures has had in shaping her.
We observe Shuna's life from childhood as Begum depicts the complex relationships of her immediate family unit. Her father Abba is himself a Muslim convert, while her mother Amma is a formidable presence and Shuna's link to her Bangladeshi heritage. While Begum depicts their intergenerational conflicts with a raw candour she also underlines her parents' struggles and their commitments to the ideals of family. Each chapter of the book forms a focused section – sometimes anecdotal, sometimes more symbolic, with Begum displaying a talent for potent visual metaphor. While discrete in their individual presentation they pull together into a greater whole, segments in the richer tapestry of Shuna's tale.
Amma and Abba's story is presented as a context-setting backdrop to Shuna, and to a lesser extent her brothers' tale (one of whom is himself disowned for his relationship). Slowly we realise that life at home and life outside it become two different entities for her; her interactions with her social group and the more restrictive atmosphere of the family structure standing out in sharp contrast. The divergence of these two aspects of her existence is reflected in the representational presence of Shaitan, a malevolent force in Islamic belief, who takes on a metaphorical role as events proceed.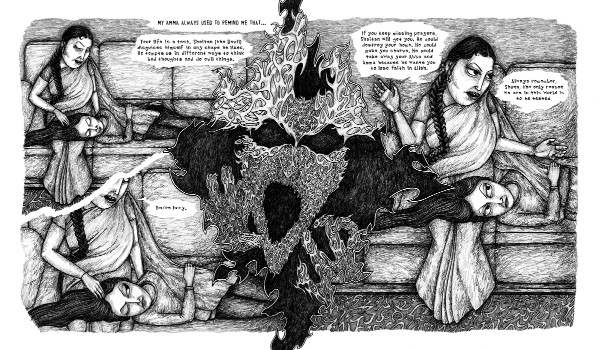 Through the lens of Shuna's specific experiences and story, Mongrel explores themes of identity, asking the reader to consider the forces that shape and define us. Visually, Begum's playful and often freeform use of the structure of the page is notably confident in composition. Panel layouts are inventive in form, shifting from sequential progression in the slice-of-life sections to bordering on a form of visual poetry in the dreamier segments. There's an often fragmentary approach to the page, mirroring links between timeframes and cultures that simultaneously emphasise both their inextricable ties and yet, paradoxically, their detachment as well.
With a sense of characterisation that strips cast members back to their most visually expressive cores, Mongrel succeeds in ensuring our investment in the various players on a far more instinctual level. Indeed there's a subtlety and a nuance here, Begum as much allowing us to experience events as much as she analyses and comments on them. There are a number of interesting storytelling choices throughout – Shuna's partner's face is a blank right up until a key scene towards the end of the book, and at one point Begum obscures dialogue, stating there are some things she is not willing to share with a reader. Intriguingly, rather than seeming coy or taking us out of the action, these devices instead underline the humanity of the characters all the more.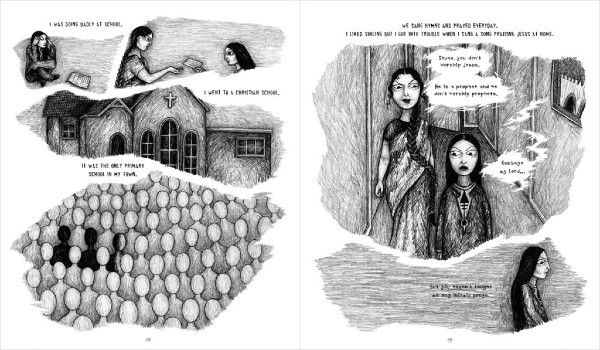 Contrasting Shuna's own mixed heritage relationship with that of her parents, and exploring the realities of living in a nexus space between two cultures, Mongrel is an impressive and assured debut work from a new voice with a keen understanding of the singular opportunities and intricacies of comics narrative. It's published by Knockabout this August but in the meantime make sure to check out the sample chapter on Sayra Begum's site here and art on her Instagram feed here.
Sayra Begum (W/A) • Knockabout, £14.99/$21.99
Review by Andy Oliver