AVAILABLE AT THOUGHT BUBBLE!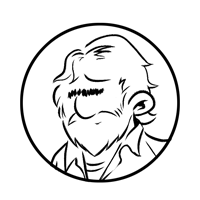 Over the last few months Nick Prolix's Bullpen Boot-Camp column here at Broken Frontier has become a very popular feature on the site. Nick's illustrated fortnightly feature looks to give the next generation of comics creators life lessons from the experiences of some of the greats of the medium and it returns to the site this Friday after a much deserved summer break.
Nick is a prolific indie creator himself and this weekend marks his Thought Bubble debut where he'll be selling his Slang Pictorial comic. Nick has provided some words about his work below as part of our ongoing Thought Bubble series of reviews and previews. Do look out for him in Leeds and if you've been enjoying Bullpen Boot-Camp at BF this year let him know!
Nick Prolix will be making his Thought Bubble debut this year and will have the first three issues of his retro comic series Slang Pictorial for sale. Slang Pictorial is a one-person anthology comic in which he has been serialising the ongoing comedy-drama The Sheep And The Wolves which charts the broken dreams and busted schemes of the residents of a fictional North London neigborhood at the start of the 1960s.
Cartoonist Roger Langridge (Fred The Clown, The Muppets, Criminy) has said of The Sheep And The Wolves, "Nick Prolix's deliberate pacing and considerable cartooning skills give the reader a sense that they are eavesdropping on the demi-monde of an unsentimentalised past London. Prolix's knack for planting telling details ground his comics with enough specificity that his larger-than-life characters are never less than totally believable."
Nick can be found at Table 169 in the Comixology Marquee where he will be tabling alongside Russell Mark Olson of the recently Kickstarted, Gateway City. His website is www.thesheepandthewolves.com and on Twitter and Instagram he is @nickprolix