Coming to comic stores next year on May 3rd and to bookstores on May 16th, Skinner is a new horror graphic novel from Dark Horse who certainly have an excellent track record in the genre in recent years. Full details in the press release below.
THERE'S NOWHERE TO RUN ONCE SKINNER FINDS YOU!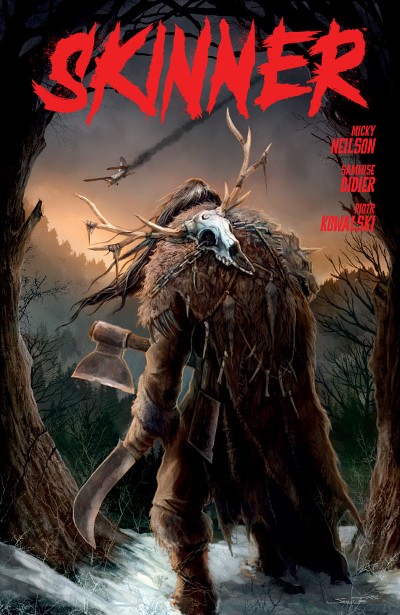 Dark Horse books presents Skinner, an original horror graphic novel from Micky Neilson (World of Warcraft, Diablo lll: Morbed) and Samwise Didier (The Last Winter, Blizzard Entertainment). Skinner features interior art by Piotr Kowalski with colors by Dennis Calero, letters by Frank Cvetkovic (The Witcher, Dark Tower: The Drawing of the Three), and cover art by Samwise Didier.
Skinner is the terrifying tale of six internet celebrities who accompany a superstar survivalist on a one-week trip deep into the remote Canadian wilderness. After their plane crashes, the influencers and their guide are stalked by a mountain man of local legend—Skinner—who tracks, murders and skins his victims. When the celebrities mount a desperate counterattack, they discover that there is much more to the Skinner myth than any of them could have imagined—a nightmare creature that can assume any form.
"Sam and I are both huge horror fans," Mickey said. "Skinner is our love letter to the genre."