It's nearly here! In just over two weeks Small Press Day returns on Saturday, August 5th. With event notifications flooding in this is going to be the biggest in-person Small Press Day since before the pandemic. Please read all the information on taking part on the Small Press Day site here for more details. After last year the Small Press Day team have also updated our statement on the ethos and values of SPD here.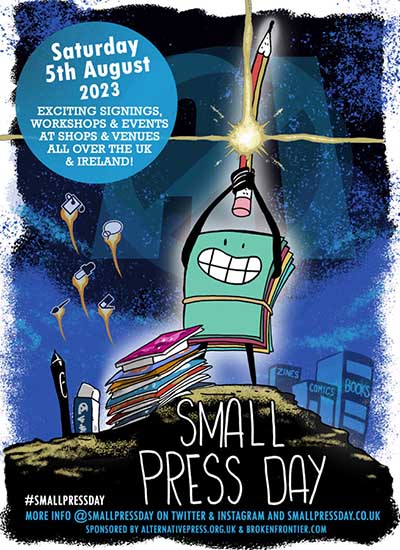 Poster by David 'Ziggy' Greene
And as a special supplement to Small Press Day this year Broken Frontier's Editor-in-Chief Andy Oliver (that's me!) will be offering a small number of one-to-one Zoom sessions with artists nearer the beginning of their comics journeys to look at work-in-progress, discuss self-publishing and the UK small press scene, and to give advice about raising your profile and getting attention for your work. These will run in the style of the old ELCAF Springboard Meetings – an informal chat with plenty of opportunity for questions – as part of our 'Broken Frontier Connects' initiative.
There will be twelve 15-minute spaces available on Sunday, August 6th in two blocks between 2pm-4pm and 5pm-7pm. There will be no charge for these meetings.  Rather than a "first come first served" booking system spaces will be allocated on an application process. Priority will be given to marginalised voices and/or work that embraces the language of comics. This will be open to creators resident in the UK and Ireland.
To apply fill in the Google form here
Alternatively you can e-mail us at andyoliver@brokenfrontier.com with 'Broken Frontier One-to-One Meetings' in the title field of the e-mail.
In your e-mail application please provide us with the following information:
Artist name (if different from given name)
Website url
Social media details 
Which bookings blocks you will be available for
Three attached images representing your work
A short bio about yourself and your practice (optional)
Any access needs to support online participation (we'll do our very best to meet these)
Applications must be received by the end of Friday, July 28th. Successful applicants will be informed the weekend before Small Press Day.
Please remember: Broken Frontier is an inclusive platform seeking to celebrate the diversity of the medium and those who work in it. This means this opportunity will not be open to anyone who is either involved in, or who associates with those involved in, anti-progressive comics groups.
Whatever you're doing, wherever you're going, and however you're celebrating have an awesome Small Press Day 2023!