There's something endearingly retro about writer Leo Healy and artist Torgo Wells' So You've Been Conquered by the Human Race. It has the feel of one of the better Future Shocks from the early golden years of 2000 AD, displaying the same dark comedy but doing so with a knowing wink in the readers' direction. Edited by Claire Napier this is, at just 8 pages, certainly the very definition of a minicomic in page count if not in dimensions.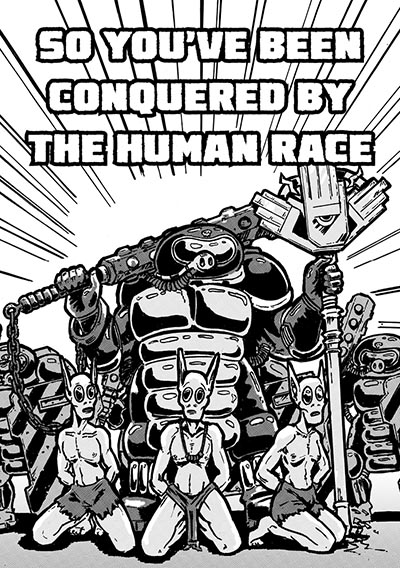 So You've Been Conquered by the Human Race takes the form of an instructional manual for alien races unfortunate to have been overwhelmed by humanity. With tips on fighting back, the social make-up of the human race, infiltration and rebellion among others, it captures the tone and rhythm of a public service publication with the bleakest of humour running through its pages. Healy provides the requisite clever twist with relish while infusing the story with a level of contemporary social commentary that is brutal in delivery.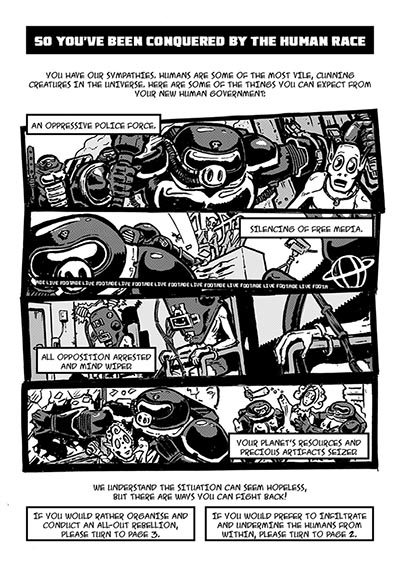 Artist Torgo Wells' cartooning actually feels very reminiscent of that era of 2000 AD with tight, claustrophobic panels that work well in conveying the oppressive nature of the human invaders. So You've Been Conquered by the Human Race is also an impressive piece of graphic design with Wells' pages simulating the layout of an official document complete with infographics and its own iconography. A welcome introduction to two creators yet to have been featured here at Broken Frontier.
Leo Healy (W), Torgo Wells (A), Claire Napier (E) • Self-published, £3.00
Review by Andy Oliver