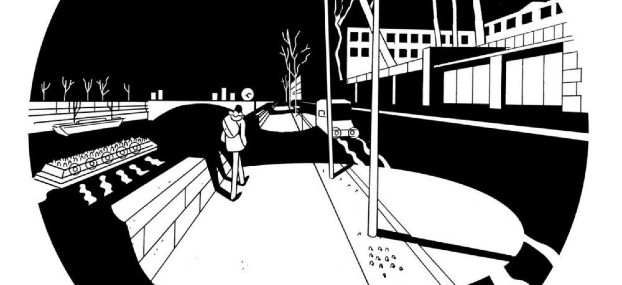 The Contradictions is a title that could fit any study focused on what it means to be young in today's world. In the hands of a writer and cartoonist as talented as Sophie Yanow, it becomes a parable of sorts, showing us how the real world can disabuse us of anything and everything we once took for granted. At the heart of this fictionalized memoir is Yanow herself, a queer American student in Paris, trying to find her place.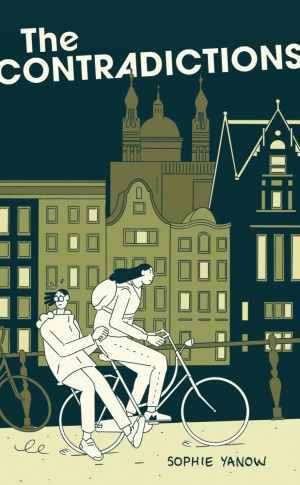 When Sophie meets Zena, a feisty vegan who believes in anarchism, she feels as if she has found someone who appears to have figured it all out — life, politics, identity, and the meaning of everything that matters. The two decide to hitchhike across Europe, as a questionable rite of passage neither fully understands, and that journey eventually prompts Sophie to re-evaluate everything Zena stands for.
There is much to be praised about this confident work, from the witty dialogue to the European minimalism of Yanow's ligne claire drawing style, all sharp angles and long limbs, each panel filled only with the amount of lines required to give it relevance. This is the kind of economy that takes years to perfect, and Yanow wears her learning lightly.
I emailed her a few questions about her influences, her long-standing role as a teacher, and why she chooses comics to portray relationships. These were her responses:
BROKEN FRONTIER: You did an AMA on Reddit a year ago and mentioned being drawn to comics because it is where women and queer people talked about their lives. Do you think it offers opportunities for these discussions that, say, a medium like cinema simply cannot?
SOPHIE YANOW: The financial barrier to entry for comics is just much lower than that of cinema. Femmes, lesbians, nonbinary folks and trans people, in particular, tend to have less access to money. Even if you're a very homonormative, coupled lesbian, research suggests that you are more likely to live in poverty than a heterosexual couple. Financial outcomes for trans folks are worse. So I think from a materialist perspective, even if you're queer but you're not in poverty, you may just have less access to the money required to make films. To make a self-published comic, all you need is some paper and a pen. You can go photocopy a zine. You can scan it at the library and put it online. Of course, you can edit and self-publish a film for a lot cheaper these days than in the past, but that's quite recent, and despite that, I would still say it's magnitudes more expensive.
Financial questions aside, films tend to have more people involved in the production. Comics tend to come from one or two people and in that regard, I think it's easier to tell a very idiosyncratic story. There is certainly queer cinema out there and I don't think it's any less "authentic," especially if there are a lot of queer folks involved in the different elements of production.
Previous Sophie Yanow offerings War of Streets and Houses (Uncivilized) and What is a Glacier? (Retrofit Comics)
BROKEN FRONTIER: As a translator of Dominique Goblet's work, would it be accurate to assume her pencil sketches influenced your own style in some way?
YANOW: I think her work is beautiful and for a time I did try making work that was more mixed media, but I couldn't get things to look how I wanted. I kept cleaning up the sloppiness, an element of her work that I find so beautiful. The visuals of my work now are more inspired by some of her fellow Franco-Belgian predecessors, the ligne claire school.
BF: You have been a teacher of art and cartoon studies for quite a while. What do you think draws students to these courses, year after year?
YANOW: I myself decided to study comics more formally at the Center for Cartoon Studies when I was stuck working on an early draft of The Contradictions. I had already been self-publishing for a while and had a book out, and I'd completed a year as a Fellow at CCS, but I wanted to become a student because workshopping in a group seemed pretty useful, and I wanted Jason Lutes to advise me on my draft. Jason is an amazing cartoonist (read Berlin if you haven't!) and teacher. I wanted his feedback. So I think people study comics for all those reasons, just like any art form or craft, and also often to find a peer group that will help hold their feet to the fire and encourage them to reach their goals.
BF: How does a place influence your work, if at all? I ask because of how you have travelled and where you have lived, from the United States to Canada and back.
YANOW: So far, my work tends to be either explicitly autobiographical or somewhat inspired by my own life, and I try to get involved in local communities wherever I am, be that artist or activist communities. Two years ago I moved back to California, and I've been living very close to my parents for the first time since I was 18. I'm not sure what will come from this.
BF: Twitter constantly proves that people seem to be more touchy than ever. Does this make you second guess your work at all?
YANOW: My guess is that if people get mad about something I've done, it will be thanks to a blind spot that I haven't had the foresight to worry about. I do want people to tell me if something I've made or done is harmful so that I can grow and not repeat my mistakes. I've had this experience while doing journalism. It isn't easy but I think it's important. That's different than getting doxxed or something, which I obviously would like to avoid.
BF: 2020 has been challenging in all kinds of ways, but it began with questions about politics and identity that haven't come close to being addressed. As an artist, how optimistic or pessimistic are you of the world we currently live in?
YANOW: At this particular moment, I think more people are waking up on issues of racism and police violence. The difficulty is often to figure out how to sustain the momentum. One of the things that The Contradictions [sample pages above] deals with is "how" we try to be activists and "good people." The story is primarily about college-aged people wrestling with this, but I think it's applicable to anyone new to activism or anyone jumping back into it. There's a danger of burning bright and then burning out. I've been doing a lot of reading about unions and I think that one key to making change is organizing: at your school, your job, your apartment building. When you reach out to your existing network and try to figure out what individual grievances are, you can build solidarity that can be put to work in a lot of different arenas. Of course, we're teetering at the precipice of a lot of scary things right now… but I think the only option is to try to create long-term power. I'm not sure if I'm optimistic or pessimistic, but I'm not nihilistic.
You can read our review of The Contradictions here at Broken Frontier. Buy online here from Drawn and Quarterly or online from our friends at Gosh! Comics here in the UK. 
Interview by Lindsay Pereira