It's almost Wednesday, and you know what that means: a fresh load of comics and graphic novels! With so many publications hitting your local comics store or digital storefront, the BF staff is here to lead you through the woods with our weekly staff picks. Satisfaction guaranteed.
Comic of the Week
Henni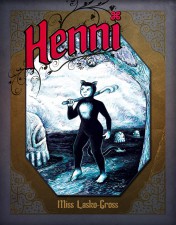 A fable-like tale with real world implications, Henni shares the adventures of a curious, young girl growing up in an oppressive, religious society where women are treated as property and blasphemy is punished by imprisonment, mutilation, or in the best cases, banishment.
After testing some of the boundaries (both real and metaphorical), Henni sets off on her own looking for a better life only to find that even in alternative societies, the one's that sneer at the barbarianism of her own culture, other forms of oppression exist, and true freedom means finding it in herself.
Written and drawn by the creator of A Mess of Everything and Escape from "Special" and published by the boutique graphic novel publisher Z2, Henni is a commentary on religion, coming of age, and the struggle for artistic expression and free speech.
Miss Lasko-Gross (W/A) • Z2, $19.99
– Tyler Chin-Tanner
Star Wars #1
When Disney acquired LucasFilm in 2012, it was only a matter of time before The House That Mickey Built pulled the Star Wars license from Dark Horse and took it to the House of Ideas.
Three years later, it's the dawn of a new age for the most epic of silver screen sci-fi franchises and its fans (just don't tell the Trekkies we said so). The new ongoing adventures of Luke, Han, Leia and Mr. Darth have been put in the crafty hands of Jason Aaron and John Cassaday, who're working closely together with LucasFilm to make sure these fresh stories are firmly embedded in the actual Star Wars canon.
Taking place between the events of Star Wars and The Empire Strikes Back, Marvel has pulled out all the stops for this launch: the publisher has created over 60 variant covers for the first issue, which together are about to sell over 1 million copies, making it the highest selling single issue in 20 years. Collectors, get ready to open your wallets! Everybody else, chillax, take out your buttery popcorn buckets and prepare to boogie Wookiee.
Jason Aaron (W), John Cassaday (A) • Marvel Comics, $4.99
– Frederik Hautain
Michael Jordan: Bull on Parade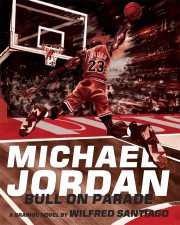 Fantagraphics is all about making the hard choices. This week they simultaneously publish the new hard-boiled Jacques Tardi OGN Run Like Crazy Run Like Hell and Wilfred Santiago's Michael Jordan biopic.
But even though I'm all about supporting European creators with my Crossing Borders column, I hate basketball, sports comics and am not interested in the life of Michael Jordan whatsoever, I'll have to go with Wilfred Santiago.
My choice is as creator-driven as can be. Wilfred Santiago was a protégé of Ho Che Anderson (remember him?) and as such is a proponent of the sort of honest, experimental and energetic kind of storytelling that can only come from life on the fringes of both real life and the comics world.
Santiago's artwork is driven and manic with odd color choices, which are all about externalizing the inner life of his characters. His storytelling is experimental without losing sight of the story and always strives for clarity – though his definition of clarity can differ from yours. His last graphic novel, In My Darkest Hour, dates from 2004, so expectations are high.
Oh yeah, Michael Jordan, he's that sports guy from the nineties with the Nike shoes, right? He's in there somewhere too.
Wilfred Santiago (W/A) • Fantagraphics, $24.99
– Bart Croonenborghs

Boom! Box 2014 Mix Tape #1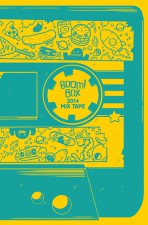 Like watching your favorite bands rip through brand-new songs at top speed, there's something thrilling about seeing what the talented creators of the Boom! Box imprint can do in just a few pages. This handsome oversized 8.5"x11" one-shot gathers artists from some of the publisher's top series as well as a handful of newcomers for a set list of strips that will surely put a smile on your face.
Noelle Stevenson, Shannon Watters, and Carey Pietsch deliver a Lumberjanes tie-in that's sure to be a highlight of the collection. Also included are a new Teen Dog tale by Jake Lawrence and a peek at another corner of The Midas Flesh universe from Ryan North, Shelli Paroline, and Braden Lamb.
Readers can also expect plenty of surprises from the original high-concept shorts debuting here, including Eryk Donovan's Teen President and Alexis Ziritt's Punk Rock Grandma. These are the kinds of stories that the constraints of monthly comics don't always leave room for, and it's great to see Boom! giving them a home to kick off the New Year.
Maddie Flores, Paul Maybury, Ryan North, Noelle Stevenson, Eryk Donovan, Becca Tobin, Jake Lawrence, John Kovalic, Shelli Paroline, Braden Lamb, Rob DenBleyker, Alexis Ziritt (W/A) • BOOM! Studios, $9.99
– Paul Mirek
Soppy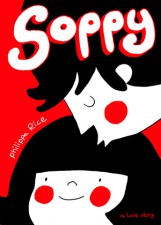 Autobiographical comics – particularly those that have their origins in self-publishing – are often unfairly castigated as being self-indulgent and frivolous. An overabundance of unremarkable diary comics over the years may have contributed to that perception but to ignore an entire genre of small press personal slice-of-life narratives on that argument would be an obvious folly. The best autobio work appeals to us because it invites us into a world of shared experience, allowing us to empathise with its protagonists on a level that can rarely be matched by genre fiction.
That's very much in evidence in Philippa Rice's Soppy, collected from its webcomic incarnation by Square Peg, this week. Rice's collage comic My Cardboard Life has been reviewed a number of times here at Broken Frontier in my 'Small Pressganged' column and, while the two share the same keenly observed commentary on human nature, they are very different entities in all other regards.
Soppy is a collection of strips that find beauty in the quieter, smaller moments of Rice and her boyfriend's life – brushing your teeth together, snuggling up on the couch, playing silly word games, or consoling one another over forgotten cold cups of tea.
This touching and tender piece of comics will be officially launched at London's Gosh! Comics this Friday, 16th January. Details here.
Philippa Rice (W/A) • Square Peg, £10.99
– Andy Oliver
Grayson #6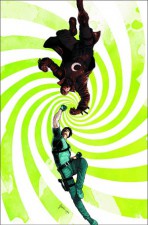 It's been clear from the first issue that writers Tom King and Tim Seeley intend to present Dick Grayson as a fully realized three-dimensional hero. They have dialed down the action when it's time to display his detective skills while taking full advantage of his circus acrobat heritage to add a unique flavor to his fights.
Last issue's trek across the desert was light on action and heavy on character development. Dick is no one's mindless agent, and he proves it through sheer force of will in getting a baby through the desert. And while a group sticks together under extreme circumstances if only to increase the odds of survival, we suspect that Dick and Midnighter are going to end up in a knock-down drag-out fight.
You bet that's what the creative team has in store for issue #6. Not much has been made available by way of previews for this issue, but don't be surprised to find artist Mikel Janin pulling out all the stops to deliver a thrilling fight.
Tom King & Tim Seeley (W), Mikel Janin (A) • DC Comics, $2.99
– Karen O'Brien
Henshin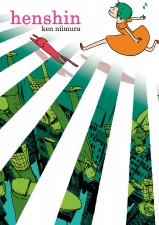 Ken Niimura won a lot of fans through his art on I Kill Giants, written by Joe Kelly, but the 13 solo stories collected in Henshin, being published in English for the first time, demonstrate a new dimension to his work.
All set in modern Japan (and reading right-to-left, in the style of that country's manga), the stories explore the eponymous concept of henshin, or transformation. Each of them shows how even the most apparently trivial choice or event can have a profound effect on a person's life, with characters ranging from a kid with strange powers to a lonely girl finding her way in the big city to a salaryman out on the town.
After last year's latest edition of the Liquid City collection, it's great to see more "world comics" in Image's line-up.
Ken Niimura (W/A) • Image Comics, $19.99
– Tom Murphy