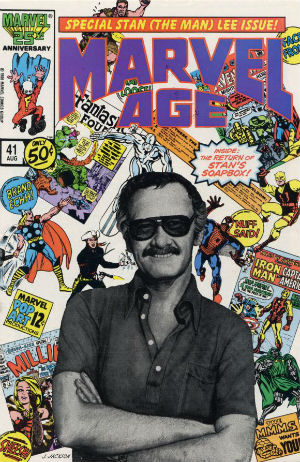 On November 12th we lost Stan Lee, and within hours the whole world knew about it. Which is no small thing, since the whole world, in general, does not read comics. Sad, but true – ninety per cent of the people we meet during our lifetimes get through the majority of their time on Earth without ever reading Asterix, or appreciating the work of Moebius, or even arguing over who would win in a fight between Superman and the Hulk.  And yet, somehow, it seems almost everyone knew Stan Lee. And a significantly large segment of that "everyone" was very fond of him. Why? Well… that's the question, isn't it?
On the face of it, Stanley Lieber was just another kid from New York, born at a time in the early 20th century when New York wasn't really a great place to be. Like a lot of boys of his generation, he started out working for family (Martin Goodman, the owner of Timely Comics, was married to Stan's cousin). Like almost all of them, he served in the forces in World War II (albeit not in a combat role). But Stan had something most of those other kids didn't, and it wasn't just a talent for writing and coming up with outrageous and engaging characters, though that's certainly what he's best remembered for. What Stan had above all else, it seems to me, was a huge personality and a belief in himself that was pretty much unshakeable — and that, more than any character or story, was what made him a success.
That big, exuberant public persona, with its gift for promotion, its catchphrases, and its talent for drawing people into what seemed like an exclusive club, making readers feel they were hearing from a friend when they read his Bullpen Bulletins or even his chatty caption boxes, was what made Stanley Lieber into the Stan Lee the world knew and loved. He was a consummate showman, without a doubt the best spokesman Marvel or any other company could have hoped for, but the sheer force of his personality made Stan more than that. It somehow, over time, made him pretty much an ambassador of the American comics industry, the person the public saw as the face of comics — and more importantly in recent years, for some, the person who reminded them that comics actually still existed.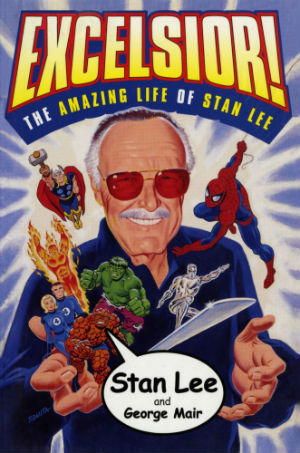 That face is indelibly linked in the minds of millions, most of them not even regular comics readers, with Marvel characters like Spider-Man, the Fantastic Four and even Deadpool (a character whose creation he had no actual part in) thanks to the regular, seemingly obligatory but always anticipated and appreciated cameo appearances he made in the movie adaptations of their adventures. He appeared as a variety of characters in those movies, but he also appeared as himself in series as diverse as The Big Bang Theory, The Simpsons and Chuck, as well as hosting shows like Who Wants to Be a Superhero?. And he never seemed to be taking himself too seriously, which is almost certainly a big part of why he was regarded with such affection even by those who hadn't read a comic in decades, if ever. The concepts Stan worked on transcended the comics page, and so did Stan. He helped usher generations into worlds of limitless imagination, which will live on long after him.
Ultimately, Stan Lee was loved because he was Stan Lee. He was a success, not just because he could write, but because he believed he could succeed. Not a bad legacy for just another kid from New York. But then, it's amazing what a little self-belief can do.
Article by Tony Ingram