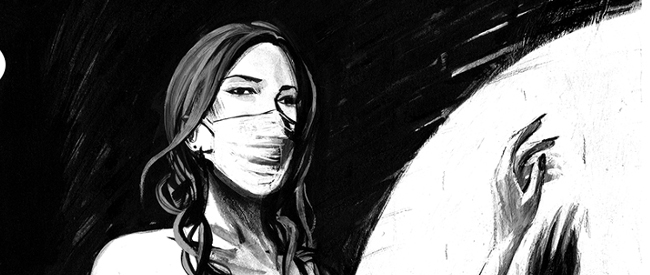 A young woman finds her new apartment overrun by a mysterious infestation. In the badlands of the Wild West, a gang of robbers on the run find themselves facing more than just the law. And a man haunted by missing years yearns for answers—until the bloody memories start returning.
This is the domain of Split Lip, Sam Costello's long-running horror webcomic anthology which recently celebrated 10 years of publication. During that time, Costello has collaborated with both established and up-and-coming artists from around the world while carving out a niche in the darker corners of horror fiction.
To celebrate the anniversary, Costello has turned to Kickstarter to produce What Lies Inside: The 10th Anniversary Split Lip hardcover featuring some of the finest stories from Split Lip's history (with several retoned and relettered exclusively for this volume). Like any limited edition worth its salt, the book will also feature a heaping helping of bonus material, including original art, writers' commentary, and interviews.
Almost a decade after Editor-in-Chief Andy Oliver's first interview with Costello, we caught up with him via email to discuss the changing landscape of horror comics, finding collaborators on the internet, and what stands out in a decade of exploring horror's weirder side.
BROKEN FRONTIER: Congratulations on celebrating 10 years of Split Lip. Is there anything of which you're particularly proud while looking back on this period?
SAM COSTELLO: Thank you! Looking back, there's not a single thing I'm proud of; I'm just proud of Split Lip generally. Creating anything is hard, lonely, frustrating work—things I now know from experience. So, just getting to 10 years—almost 600 pages of comics—feels pretty good.
It feels good, too, to see the current successes of that artists I worked with early in their careers. Kyle Strahm, Felipe Sobreiro, and John Bivens all work with Image these days on things like Spread and I worked with them back in the day. Sami Makkonen is all over Deadworld at IDW and did three Split Lip stories. TJ Kirsch who's drawn books for Oni has a couple of Split Lip stories under his belt. So do UK stalwarts David Hitchcock and Gary Crutchley (to say nothing of Split Lip's inimitable cover artist, Shane Oakley), and indie up-and-comers like Savannah Horrocks and Trevor Denham. It's really cool to be able to go to the comics shop and buy something drawn by someone who worked on Split Lip.
Ultimately, it just feels good to have done this work, to have put Split Lip out into the world—and to be about to turn towards the next 10 years of the series.
You note that Split Lip is better described as "weird fiction" than straightfoward horror. How did you first fall in love with this genre and its possibilities?
It's been a gradual development, accompanied with the gradual realization that there is something called weird fiction that's distinct from horror. I've loved horror as long as I can remember. I bought a Tomb of Dracula comic at a yard sale when I was 5 (my parents made me return it, but still). I was reading Stephen King at 10. It's just always been in my bones and I've stuck with horror ever since.
As time has gone on, I've sometimes found the genre a little too formulaic, too limited in its emotional palette, too conservative and regressive. Not always, and not from all creators, but sometimes. That led me to looking outside the genre for work that combined the creepiness of horror with the expansive view of the world and examination of human lives that the best literary fiction offers. That led me to weird fiction. The first real weird fiction I remember reading was Kelly Link's short story collection Stranger Things Happen, which is just a terrific combination of weird, creepy, scary, odd, and affecting.
What I like the most about weird fiction, and what it offers Split Lip, is that it lets me leave the tropes of the horror genre behind. Genres are at least in part made up of their tropes. Tropes help us orient ourselves art, tell us "the rules" of the world we're visiting. But they also limit what happens in stories, how they end. Weird fiction eschews many of horror's most limiting tropes. That means that stories don't have to end with the death of the monster, if that's not what the story's about. If the story is really about the main character's childhood, or their relationship to aging, or the instability of the self, weird fiction can use the monster to give those ideas concrete form and nuanced examination.
How did you select the 13 stories for this volume?
The book is divided into 4 sections, corresponding roughly to Split Lip's major themes: the supernatural, monsters and creatures, tragedy, and the danger posed by relationships with other people.
The supernatural and monsters and creatures are likely pretty self-explanatory. Tragedy may not be a word you expect to see in horror, but it fits. The root of many horror stories is tragedy—the dissolution of a family, the death of a child. This is where weird fiction is more helpful to me than horror. In weird fiction, I can play up the tragedy instead of the horror.
Lastly, the dangers of relationships, and the essential unknowability of even the people we're closest to, is the original, core theme of Split Lip. I couldn't leave that out. Once I identified those themes, I picked these 13 stories from the Split Lip archive to embody each theme.
One constant throughout Split Lip's history has been its diversity of artists from around the globe. What is your process for working with so many unique creators? How closely do you and the artist collaborate during the actual art creation?
God bless the internet, you know? Without it, Split Lip really wouldn't be possible. I've found artists on message boards (in the old days), on social media, via introduction from acquaintances and friends. None of it could have happened without the Internet.
The collaborative process is an interesting one. I usually write full-script style and like to have a story written, edited, and at least a second draft done before I even approach an artist. But that's not the only way I work. In some cases, I've essentially written a short story and let the artist decide how that translated to panels and pages ("The Tree of Remembrance," on which Nelson Evergreen did all the heavy lifting). For "Cured," I added all of the imaginative scenes that illustrate the sheriff's fears after Erik Rose sent me the penultimate splash page as a lark and I loved it.
Artists have also had a major hand in designing characters and breaking down pages in ways that I hadn't envisioned—and that really improved the story. In "See No Evil," which is in the 10th Anniversary book, Trevor Denham took the spirit of the pages and added his own design elements and layouts to really bring the story to life. His page 3, for instance, is amazingly striking, but doesn't exist in the script in that form. I'm so grateful he took the reins there!
Ultimately, I see artists as the experts on how to tell the story I've written and give them the latitude they need to make the best comic. I want to make sure we're not changing the meaning or tone of the story, but otherwise, I want to follow their vision. After all, it's their vision and their talent that makes me want to work with them in the first place!
The past decade has seen the growing popularity of new channels for digital creators, namely social media and crowdfunding. How did you choose Kickstarter to fund this limited edition, and what lessons are you drawing from your past online success?
Choosing Kickstarter was partly an economic necessity, partly a desire to experience the process. In the past, I've used print-on-demand to publish softcover books and gotten great results. But to celebrate this milestone in the life of Split Lip I wanted to make something really special and lasting. That meant using offset printing and hardcover binding. The upfront cost required for that—close to $6,000—is beyond what I can afford out of pocket. And I didn't want to end up storing hundreds of books in my basement while I waited to sell them.
With those considerations in mind, Kickstarter seems like a natural fit. Obviously it's an amazing way to reach a huge audience—an audience that likely hasn't heard of Split Lip for the most part. And there's something special, almost magical, about a group of strangers coming together to help usher something like this into the world. That's pretty amazing and an exciting thing to be part of.
You've mentioned before that you began Split Lip because you weren't "seeing the kind of horror that [you] liked" in the industry. Do you feel the market has changed for this type of horror fiction since then?
Yes, definitely. I don't claim a role in that change, but I'm glad that it's happening and I've been around to see it. Think back to 2006. It's hard to imagine the comics industry of that time embracing creators like Josh Simmons or Emily Carroll the way they have. Those two would be successful in any era, of course: they're both comics geniuses and genius finds its place. But the industry of 2006—or, really, 2003-2005 when I was writing and preparing to launch Split Lip—was more like the 1990s. It was still superheroes and vampires and stories we'd read versions of many times before. I think it's inarguable that the industry has really flowered into something new since then, something broader, more inclusive, more diverse and interesting.
Another good example of this is someone like Junji Ito, the manga-ka who created perhaps the greatest horror comic ever, Uzumaki. His first work, Tomie, was published by ComicsOne in the early 2000s. It was then re-published by Dark Horse around 2006 or 2007 (as part of the "Museum of Terror" series). Neither company sold enough of those comics to continue wth more volumes. Now, though, Viz has brought out hardcover omnibuses of Uzumaki; another Ito series, Gyo; and will be publishing a complete Tomie late this year. In the past, the market wasn't ready to support Ito's work in numbers that made it economically viable. That's changed now, which makes this a great time to be reading weird comics.
After the Kickstarter, what's next for you and Split Lip?
Writing new comics! Preparing for and promoting the Kickstarter has taken all the time that I'd normally spend writing comics over the last couple of months. I've been making notes for close to a dozen new stories but just haven't been able to sit down to write. That's about to change.
Not only will new stories be coming soon, but I'm also going to be experimenting with a slightly different approach for some of those stories, something a bit like flash fiction. I've been thinking lately about how not every scary scenario fits the demands of a full-length narrative, but that doesn't make them less scary or less fun to be scared by. So, over the next year, readers should expect to see me trying out the horror-comics equivalent of flash fiction for some stories. Until then, I hope everyone will give the 10th anniversary Split Lip Kickstarter a look!