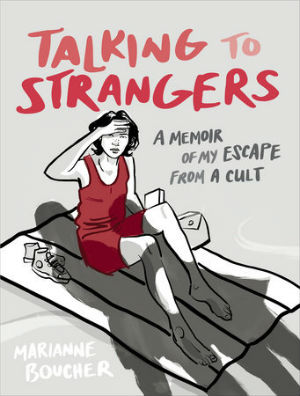 I had no idea what a deprogrammer was until I read Talking to Strangers. It sounded like the kind of title one would give a computer technician, which is why Marianne Boucher's acknowledgments page, where she thanked a 'friend and deprogrammer' with the unlikely name of Blake Sonic, was intriguing. She also cited a book called Let Our Children Go, published in 1976 by who I found out was the 'father of deprogramming', Theodore Roosevelt Patrick, Jr.
The term refers to the act of changing a controversial belief system, or a means of freeing or retraining someone to abandon allegiances that may be harmful. In simpler terms, it describes those who help people get away from cults.
Another thing that came as a surprise to me was that there are a lot more cults than I knew existed. A lot of these have been made familiar to millions of us over the years, of course, and thousands of books documenting the lives and times of famous leaders such as Shoko Asahara, Jim Jones, Charles Manson, and David Koresh occupy bookshelves the world over. Closer to our time, the controversial belief system that is Scientology has managed to turn a lot of worrying information into clickbait.
What Boucher does, with her powerful memoir, is nudge the curtain aside to reveal how mundane a cult really can be until it starts to take over one's life.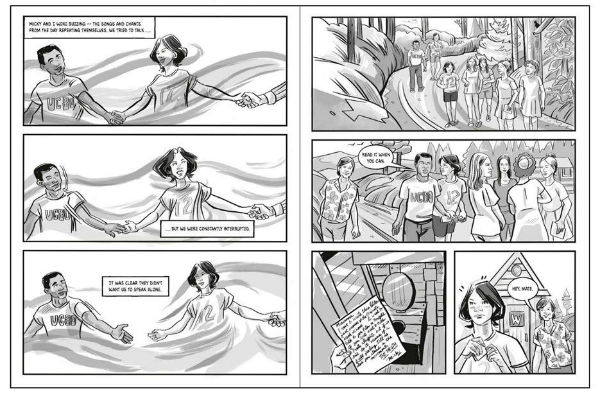 In 1980, as a young figure skater visiting California, a random encounter on a beach propelled her into a life radically different from what her parents had in mind while raising her in Canada. What those strangers on the beach offered Boucher seemed like a world away from the drab world she occupied, and she soon plunged into a way of life that separated her from everything and everyone she knew. In time, predictably, what felt like a cocoon and a mission of saving the world was revealed to be anything but.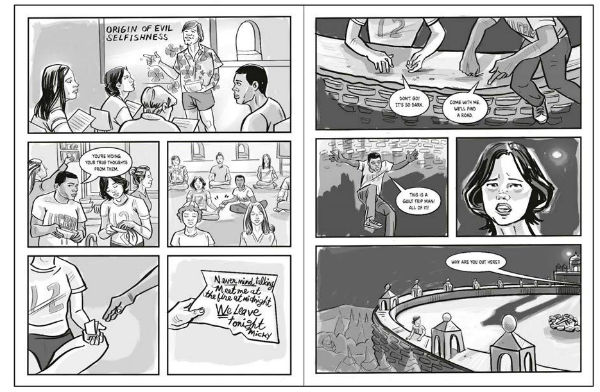 There are knowing signs strewn across these pages, given that a reader is aware of what the memoir is about. The drama, then, comes from the act of initiation and the sense of dread that slowly turns a place of love and affection into one devoid of all trust and comfort. Boucher illustrates in black, white, and grey, which forces her to rely on dialogue to propel the action. This sometimes seems stilted and takes away from what is otherwise a well-written cautionary tale. That is a quibble though, given that there isn't enough writing from the inside, as it were, to show why cults continue to be so inviting and compelling to those who belong to them.
I turned the last page and thought about what Boucher had been through. It prompted me to do a bit of research myself, which turned up an interesting piece of information concerning the infamous Ted Patrick. He was convicted of conspiracy, kidnapping and false imprisonment in 1980, the same year a teenage Boucher took her first step into a cult.
Patrick was sentenced to a fine, and a year in prison. I like to think this may have made Boucher smile knowingly.
Marianne Boucher (W/A) • Doubleday, $25.00
Review by Lindsay Pereira