Part of the final line-up of books to be published by US indie micropress Birdcage Bottom Books (and currently crowdfunding on Kickstarter here) Desmond Reed's The Cola Pop Creemees: Opening Act follows the misadventures of the titular psychedelic band in a series of multi-strip stories. The group comprises of de facto leader Ralph Jonathan, joker Wallace T.J., the artistic Mona Gertrude, the unsure Gil Christopher and the ever anxious Henrietta Susan. And, to add to the madcap nature of the book, all five live in a hand-shaped house with each finger being one member's personal quarters.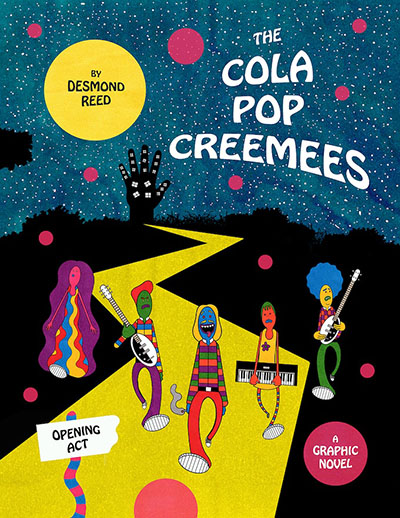 Each of these main characters is depicted with a physical elasticity, ensuring they stand out as eccentrics in a world of otherwise more recognisably realised humans. Over the course of the seven storylines we observe the group together and solo in tales that focus on their band practice, their antics attending a wedding, flashbacks to the past, flashfowards to the future, festive celebrations, and struggles with depression.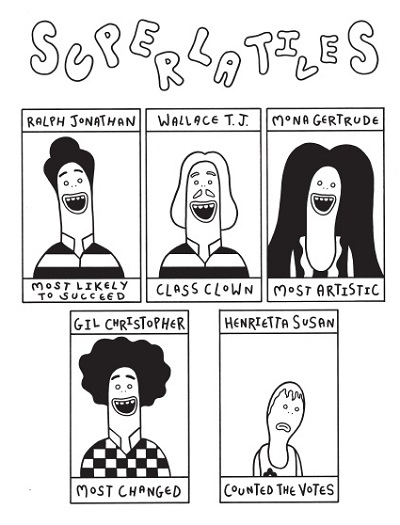 Perhaps Reed's greatest accomplishment here is to insinuate some very profound insights into the human condition into what initially may seem superficially like a quirky collection of whimsical humour. Through the assorted members of the Cola Pop Creemees Reed provides examinations of subjects like toxic relationships, alienation, family dynamics, bereavement and loss, mental health struggles, and unfulfilled love, in an often humorous but no less insightful way. By framing these explorations in terms of the amiably bizarre and endearingly idiosyncratic he succeeds in forging a deeper empathetic link between reader and page.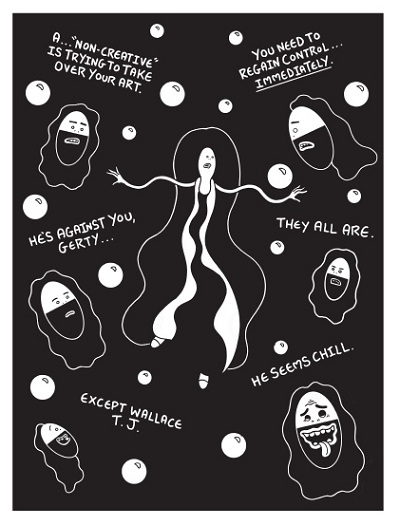 I am loathe to use phrases like "deceptively simple" because they seem such facile reviewer-speak fallbacks but Reed's visuals do embody those words to an extent. The sense of design here, the clever construction of black and white contrast, and the constant switches between traditional sequential panels and more open, flowing pages could easily be missed under the clarity and accessibility of his cartooning. Formal tools are also used with an astute eye to establishing tone and mood, particularly lettering tricks and playful shifts in perspective.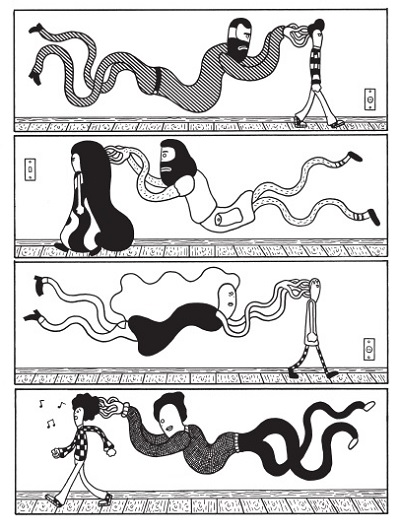 Reed confounds expectations by dramatically changing the mood and tempo across stories from the slacker japery of Wallace T.J. on one end through to the powerfully poignant depiction of Henrietta Susan's depression on the other. To that end, in less than 250 pages, The Cola Pop Creemees manages to make the reader so invested in this oddball cast that a second outing feels essential.
Desmond Reed (W/A) • Birdcage Bottom Books
Currently crowdfunding on Kickstarter here
Review by Andy Oliver