In The Listening Post, Stephen Goodall expands the mysterious world of his Institute of Marine Research webcomics with an intriguing, atmospheric opening issue.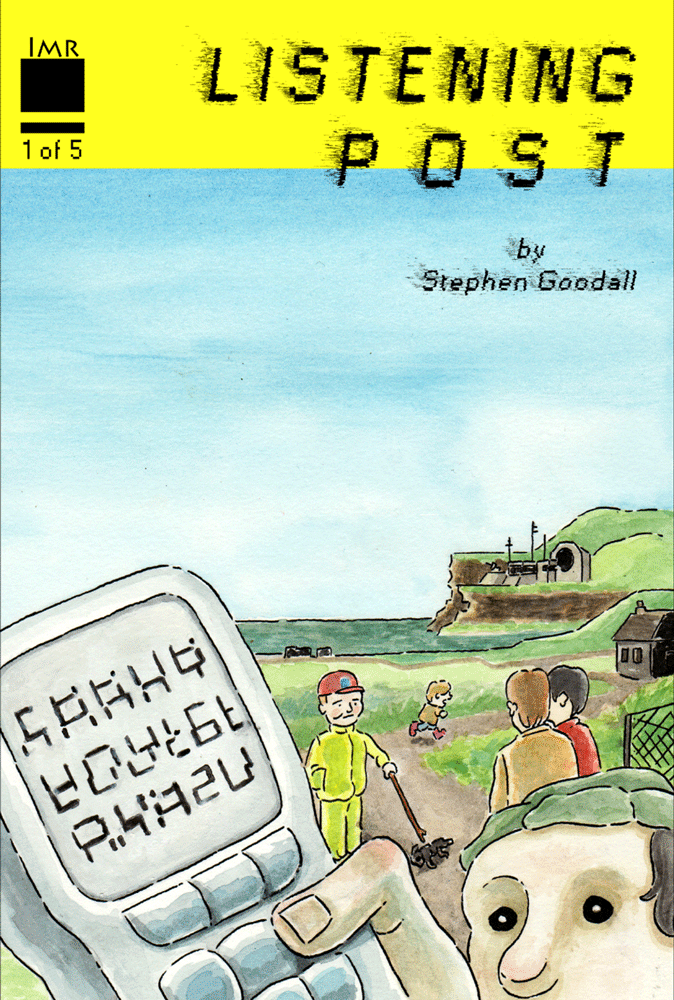 As you might have gathered, we get a LOT of small-press submissions to Broken Frontier, and we wish we had the resources to cover a lot more than we do.
However, one way of getting to the front of that queue is to dangle a menu of inspirations and influences in front of us that includes Nigel Kneale, Iain Banks, Hannah Berry, Matt Kindt and Jamie Delano's Hellblazer.
The Listening Post #1, by writer/artist Stephen Goodall, is the first issue of a "folk horror/hauntology" five-parter that fits into the wider continuity established around the mysterious Institute of Marine Research, in Goodall's web series of that name.
Set in the present day on a remote Scottish Island, it focuses on the exploits of a gang of bored local kids, "the New Toun Team", and particularly their de facto leader Paige, an isolated adolescent at odds with her parents and set apart from the others by her impending adulthood.
As we follow the kids' efforts to entertain themselves – instantly recognisable to anyone who grew up in a dreary provincial town – Goodall subtly weaves in several strands of mystery: where has the NTT's former leader Donald run away to? What are the garbled, alien-looking text messages Paige keeps receiving? What has happened to Joseph Stein, the mainlander who has gone missing on the island? What hold does the mysterious IMR exert over the island and its inhabitants? And what goes on behind the high fences of the Listening Post itself?*
As far as I can tell this is Goodall's first print issue, and it's a skilful exercise in rolling out elements and atmosphere rather than rat-a-tat plotting; he manages well the transition from the sporadic pacing of a webcomic to the more orchestrated page-by-page structure.
Goodall's art style isn't the tightest you'll ever see, and initially at least it seems a bit less impactful that the sharp monochrome work of the webcomic (which – Caledonian connection aside – also reminded me of the oblique stylings of Douglas Noble). However, things get steadier as the comic progresses, and the book is enhanced considerably by the adept use of watercolour, enhancing the soft feel of an exposed, elemental setting.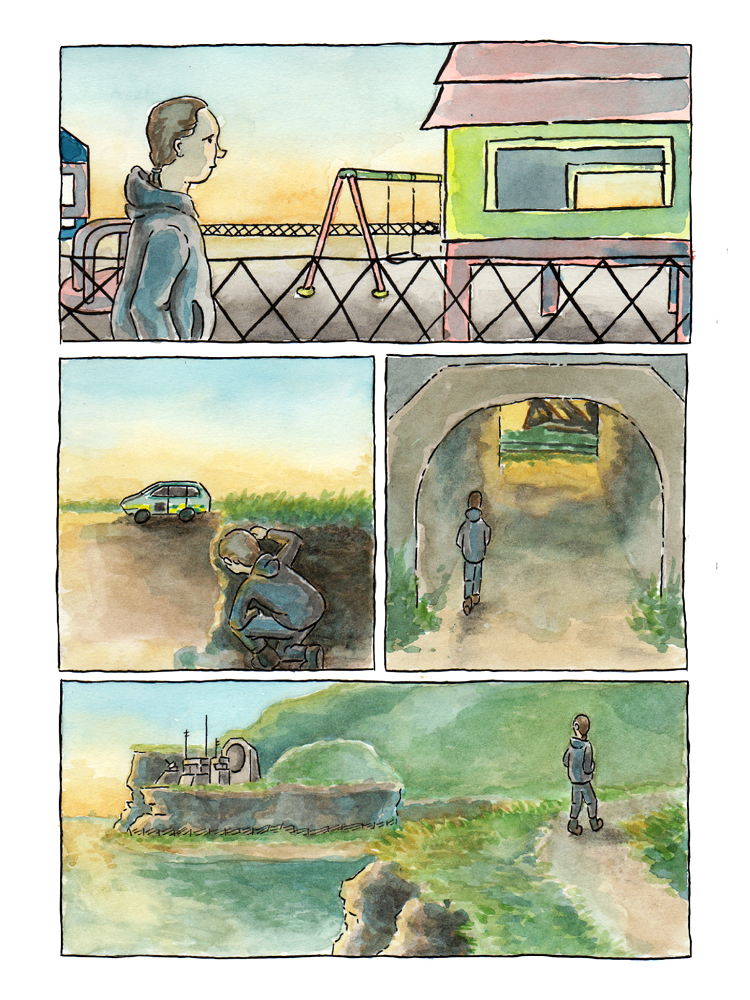 (Here's one for the older heads out there: apart from the influences listed by Goodall himself, one comparison that struck me while reading The Listening Post was Chris Reynolds' criminally overlooked work on Mauretania Comics in the 80s and early 90s.** The two share a distinctive tone of narrative austerity, a sense of institutional mystery and a heavy emphasis on location and surroundings.)
This is an engaging first issue that builds in strength as it heads for a dramatic conclusion. Stephen Goodall is creating an intriguing body of work around The Institute of Marine Research: pop your headphones on, stick on Boards of Canada and take the plunge.
*And if you're a fan of Oliver East's fence work, you'll find much to admire here.
**If you're unfamiliar with Chris Reynolds and Mauretania Comics, this essay by Seth from The Comics Journal is a good place to start. Thankfully, much of Reynolds' work is still available (in print and digital form).
Stephen Goodall (W/A) • Self-published (available here), £4 (print), £2 (PDF)