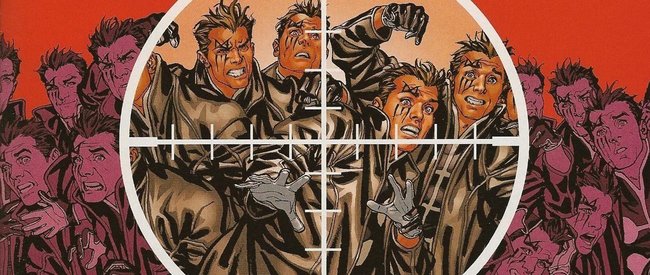 In many ways, Peter David's X-Factor series was more about Jamie Madrox than it was about anyone else on the team. The series came about following the critical success of Madrox, a five-issue miniseries by David. Jamie Madrox, the Multiple Man, was at the heart of the book before it even started. Madrox was a team in himself, gifted with the ability to make duplicates of himself, he was an army waiting to happen.
His dupes were also an emotional powder keg, each dupe representing a part of himself. The duplicates were unpredictable in the beginning of the series. As the series went, the dupes became more nuanced and represented Jamie's growth as a character. X-Factor was the coming-of-age story of Jamie, one multiple at a time.
The X-Factor (#1)
The very first duplicate we got to know was The X-Factor. Jamie's friend and X-Factor teammate, Rictor, was threatening to kill himself after he lost his mutant abilities. Jamie sent what he thought was his optimistic side dupe to reason with Rictor.
Unfortunately, he actually sent his X-Factor side, that wild crazy youthful side that just wants to see the world burn. As The X-Factor Dupe finally talked Rictor down, he then pushed Rictor off the ledge of the building.
The Libido (#10)
One drunken night Jamie walked into a wall and accidentally created a duplicate of himself. That night he and his duplicate had sex with his teammates M and Siryn. When Jamie reabsorbs a duplicate he takes that duplicate's memory with him. Because of this, he had no idea which woman he slept with and which one the dupe slept with.
This, of course, caused more problems for Jamie, as both women were understandably pissed at him. His team was slowly unraveling around him.
Agent Madrox and Reverend Maddox (#13-16)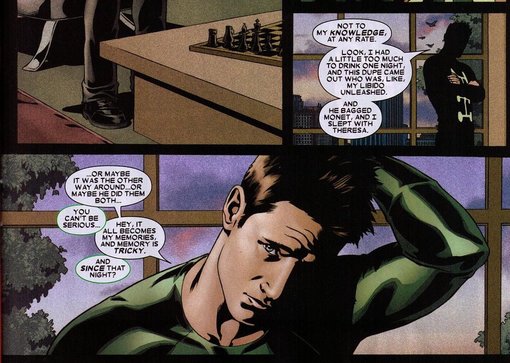 A short time later, Jamie and the rest of the team went to Doc Samson for some mental counseling. That fan-favorite "Re-X-Aminations" story, leads to the multi-part "Multiple Issues" story. Jamie sets off to find long-lost duplicates and re-absorb them. An emotionally distraught Jamie literally sets off on a journey to find himself.
What he finds are basically two possible futures for himself when he finally grows up. First is Agent Madrox, the no-nonsense, all-business S.H.I.E.L.D. agent. A superhero.
The second is Reverend Maddox, the version of himself who has found both religion and a family. The version that has settled down.
While Jamie is not ready for either future just yet, he absorbs the agent but leaves the reverend to live his life.
Sean Madrox (#39-50)
The mystery of who Jamie slept with and who the duplicate slept with is fully revealed when Siryn has her baby. She names the newborn Sean, who Jamie is allowed to hold in the delivery room. But upon contact with the baby, Sean is absorbed into Jamie. The baby was a duplicate all along
In shame Jamie runs away and winds up in a crazy future to save his teammate Layla Miller. Unaware of his adventures in the future, the X-Factor team continues on without him. His friends hate him. He has reached rock bottom.
Meanwhile, in the future, Jamie is able to save Layla and in doing so, rights some of his past mistakes.
#200 and beyond
From there, the series actually shifts focus from Jamie to give his teammates more time in the spotlight. Jamie is forgiven and welcomed back on the team.
He starts a relationship with Layla, has a near-death experience, and finally grows up enough to take back leadership of his team, after being temporarily ousted as leader. But his story still isn't quite complete.
Jamie Madrox, husband and father (#245-262)
Ironically, as the rest of his team comes crashing down around him, Jamie is able to pull himself together. He loves Layla and the two decide to get married.
In what can be seen as one final metaphor for his fear of growing up and commitment, immediately after marrying Layla, Madrox gets transformed into a mindless demon.
The final issue of the series has Layla fearing the worst as her new husband is tied up to keep him from killing her. She just found out that she is pregnant and fears having to raise this baby alone. In the end, Jamie is able to become himself again long enough to pray for a miracle. He reverts to himself and it's at that moment that all of his duplicates are finally able to work together in unison to defeat one last threat.
He's no longer broken and unsure of himself. He is complete and whole. He is Jamie Madrox, husband and father.