An actual year without comics festivals and cons may only be a matter of months in real terms but somehow it's felt like decades for all of us whose world revolves around the next date in the seasonal comics calendar. Thought Bubble have today announced their hope of returning to a physical event this Autumn if circumstances permit, no doubt making many think wistfully of November 2019 and the last major comics event in the UK. Full details in the press release from the TB team below.
THOUGHT BUBBLE FESTIVAL ANNOUNCE 2021 DATES
CHUCK PALAHNIUK, GAIL SIMONE, G. WILLOW WILSON & SCOTT SNYDER AMONG FIRST NAMES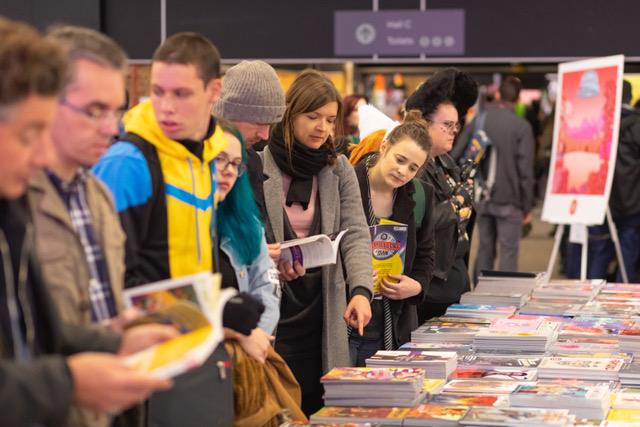 Credit: Andrew Benge
THOUGHT BUBBLE FESTIVAL 8th – 14th NOVEMBER 2021
–
THOUGHT BUBBLE COMIC CONVENTION HARROGATE CONVENTION CENTRE 13th & 14th NOVEMBER 2021
​https://www.thoughtbubblefestival.com
Thought Bubble, the UK's largest comic art festival has announced this years' event will take place between the 8th – 14th November 2021 and shared an impressive first wave of guests scheduled to appear at the annual comic art convention. Following a successful move to a digital event in 2020, the festival organisers hope to be able to return to a physical convention by Autumn 2021
Thought Bubble Festival brings a week-long celebration of comics to Yorkshire, ending with a huge comic convention which will return to Harrogate Convention Centre in November for a weekend filled with over 350 comic-creating exhibitors, guests, panels and much more. Thought Bubble has announced the first of their guest list this morning with some of the biggest names in the medium already scheduled to appear; including acclaimed writer ​Gail Simone, known for her incredible work on DC's ​Birds of Prey​ as well ​Clean Room, Secret Six, Welcome to Tranquility, The All-New Atom, Deadpool, Batgirl​ and​ Wonder Woman. ​Joining Gail in Harrogate will be comic legend ​Scott Snyder ​, a writer known for ​American Vampire, Detective Comics, Batman and Swamp Thing​ as well as ​Chuck Palahniuk, author of the award-winning and seminal book turned film turned comic series ​Fight Club,​ and award-winning comics writer and journalist ​G. Willow Wilson​, known for work on ​Cairo​, ​Air​ and relaunching M​s. Marvel​ with the Marvel Comic's first Muslim lead character.
The festival and convention will be teaming up with presenting partner ​comiXology ​once again, working with the digital distributor giant on special appearances, comic debuts, panels and more. Now in the sixth year of their working relationship, comiXology's generous support and collaboration has helped Thought Bubble through a difficult year.
Tickets for Thought Bubble Comic Convention are on sale now with tickets for under 12s, carers and over 65s totally free! Tickets give access to all events within the comic convention; panels, workshops, guest signings as well as the three huge halls of comic exhibitors.
The safety of guests, exhibitors and fans remains Thought Bubble's highest priority​ and the festival will not take place if the safety of attendees is in question, or if the restrictions in place impede the running of the friendly and welcoming festival that people know and love.
With safety being so important, the festival team are working closely with Harrogate Convention Centre and organisations, including the Association of Independent Festivals, the Association of Event Organisers and the Association of Event Venues. This pool of experts means Thought Bubble can consult specialists on​ safety measures and learn about the latest technologies that can be used to heighten safety. The aim is ​to ensure that any event hosted is not only fully compliant and safe, but comfortable, relaxed and enjoyable for everyone.
In the event of cancellation, all ticket holders will be offered a full refund or the option to carry a ticket over to a new date. Thought Bubble would like to thank the comics community for their generous support and encouragement through a very tough time and the festival is committed to navigating the next few months in as open and honest a way as possible.
More information on guests, exhibitors and safety measures will be shared over the coming months.
–
Chloe Green, Thought Bubble Festival Manager:
"It's difficult to put into words how much we miss Thought Bubble, we feel lost without it! The digital comic convention in 2020 was a lot of fun but it will never replace a physical convention; we wanna see your faces (and your comics!) and we know a lot of you feel the same. We are treading extremely cautiously… but with this line-up already it's difficult not to get excited."
Martha Julian, Thought Bubble Assistant Director:
"It's hard not to get giddy about the possibility of a physical show this year. We are making plans for an incredible 2021 event, while receiving expert advice on keeping our audience, exhibitors and guests safe. We are beyond grateful to everyone for their support in 2020, we feel extremely lucky to be in a position where we are planning a festival that has our best guest list ever, with more to come! To everyone buying tickets, please know that you are helping us through a really tough time and we can't thank you enough."
Gail Simone, Scott Snyder, G. Willow Wilson, Chuck Palahniuk, Ronald Wimberly, Sara Alfageeh, Babs Tarr, Rafael Albuquerque, Emma Ríos, Sanford Greene, Marc Bernardin, Zainab Akhtar, Cecil Castellucci, James Tynion IV, David Aja, Becky Cloonan, Jack Teagle, Ram V, Alice Oseman, Hamish Steele, Charlot Kristensen
For full programme, guests and events please visit: https://www.thoughtbubblefestival.com
–
Press Quotes For Thought Bubble:
"The highlight of the year for comic, animation, games​ ​and film fans across Yorkshire and beyond."​ -​ The Big Issue
"So many cool guests! We got up to some really cool stuff"​ – ​WhatCulture
"this is a weekend in the comics calendar that is as much about the people attending as their chosen art form and that sense of comics community was evident throughout" ​– ​Broken Frontier