As fan-favourite writer Gail Simone starts a new Tomb Raider series for Dark Horse, is it a comic by a woman, about a woman, for a woman?
When I read articles on comics like Tomb Raider that begin with, "usually I avoid videogame tie-ins", I have to smile. This is because cross-selling was the whole reason for the creation of the comic book. The funnies of the late-30s were stuck to the side of cereal boxes or given away at gas stations so that children would nag their parents into an unrelated purchase.
Then, when Superman started to leap tall buildings in a single bound, a shiny S began to appear on everything from lunchboxes to jars of peanut butter. And so the comic book became the conjurer, not the mere assistant, of this clever trick – a cynical exercise to make the gullible part with their hard-earned cash.
But this is too simplistic a portrayal of the comic book industry (and others). Despite its commercialism, something fantastic occurs that confounds pretentious critics and prompts Marxists to shut their eyes and pretend it isn't happening. Characters like Lara Croft become ingrained in our common cultural psyche not just because of clever advertising, but because she means something to us.
Lara is a trailblazer; a woman in a man's world, whose good looks are not to be denied but whose deadly accuracy with a weapon is not to be denied either. She is an old-fashioned adventurer, made from the same mould as men such as Allan Quartermain, Indiana Jones and Doc Savage. And this is all made possible because those tasked with flogging merchandise – the comic book creators, animators and game makers – call upon their artistry to make something of merit.
For 75 years now, creators have utilised folk-culture and mixed it with modernity to explain to us exactly what it means to be human, using an adventurer like Lara Croft or a meta-human like Superman to narrate the tale. So let's not be snotty about Tomb Raider being based on a video game. Lara Croft has every right to be in print. There is no excuse to write her wrong.
At this moment, few writers understand this magical process as well as Gail Simone. This is because she approaches her craft as a fan; she knows how a generic comic book can lift the soul because she experiences these giddy satisfactions as a reader. A character in her hands becomes an exploration. She presents us with the relationships that – as a fan – you always suspected must be there.
She is also a master at putting that character into an unusual situation to bring out his or her hidden depths. Furthermore, her personal experience with Lara Croft makes Gail Simone an obvious choice. As a gamer, Simone has expressed 'feeling fortunate'  to be writing Lara – a female game character who led the way for others. So Gail Simone is entering the world of Tomb Raider in that time-honoured comic-book tradition of turning the commercial into something more special.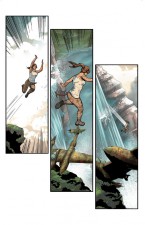 The first issue certainly shows promise. The comic continues the story from last year's reboot of the Tomb Raider video game, and the people and situations Lara references could be a mite confusing for non-gamers. However, the action focuses on the present, with an allusion to the past, so much of what follows does not require any gaming knowledge. And it's not as though Lara goes round smashing crates to find weapons, or that she dies a dozen times to be followed by panels that state "GAME OVER".
Anyone familiar with Simone's work will feel at home in Tomb Raider. It has her trademark emphasis on the personal, featuring a Lara Croft who is fiercely loyal and whose overriding quest is not treasure but helping a former team-mate. Croft also deals firmly with a chauvinistic male guide, by communicating her readiness to use a weapon to shut him up and by subjecting him to a bizarre cataclysm of nature that suspends the first issue on a cliffhanger. This all means that fans of Tomb Raider should feel at home with Simone; Lara's characterisation seems to be in safe hands.
Does it make a difference that Lara is being written by a woman? As much as I am tempted to state that Tomb Raider is written "by a woman, about a woman, for a woman", the larger part of me rails against this. After all, am I reviewing this comic in a cultural landscape where "man" still means one thing and "woman" another? Where a male reader is less interested than a female one in knowing that Lara has team loyalties? Or that a person in possession of a vagina cannot delighted by blood, guts and violence?
I think not. Our personal tastes are just that: the result of many influences – biological, environmental and spiritual. Besides which, Simone is completely at home with both bloody violence (as seen in Red Sonja) and horror (Batgirl #27/Gothopia). Although gore is not evident in #1, one has to conclude that – Croft being Croft and Simone being Simone – the bloodsplatters will come.
The "action" in this issue is focused in the final panels, but the tension builds nicely towards that ending. It is a well-edited piece; none of it is flabby or redundant, and it is well-paced. The characters are introduced in such a way to make you understand their significance, all of which revolves around our heroine.
For those who favour artwork, I must praise the design of Croft as depicted by Nicolás Daniel Selma. She is pert and pretty but not overburdened by bouncy large breasts; she looks good but realistic. Other than that, the artwork is not the high point of this comic. There are no fancy tricks: Tomb Raider is just one woman taking on the world, which really is as good as it gets.
Tomb Raider has thus made a promising start, which was only to be expected from a super-writer such as Gail Simone. The choice of a female writer is totemic – an excellent signal that things continue to change in the comic book and gaming landscape.
However, I am disappointed to have to write all this, because we seemingly have to keep repeating that women read comic books and play video games. Am I – a female reader – merely the figment of someone's imagination? Because if I am, I'd wish they'd imagine me about a million pounds richer than I am now. For me, Tomb Raider – in the hands of Gail Simone – has the potential to go all the way to make Lara Croft a comic book star.
 Gail Simone (W), Nicolás Daniel Selma (A) • Dark Horse Comics, $3.50, February 26, 2014