Operatic, magical, and ultimately deeply human, Kurt Busiek's fierce imagination once again builds an enchanting, visceral realm, made all the more real by Benjamin Dewey's lush, detailed art.
Some comics stay with us forever and some we dismiss the moment we turn the final page. More often than not, the comics of Kurt Busiek resonate with readers long after we've read the last panel.
Whether he's working within the confines of a shared superhero universe or blazing new imaginative trails in realms of his own devising, the creator of properties such as Astro City and Arrowsmith never fails to enchant his audience with a striking combination of exquisite craft, truly visionary world-building, and a startling insight into the human condition.
It's no wonder, then, that he attracts some of the most talented artists in the industry to his projects. Carlos Pacheco, Alex Ross, and Brent Anderson have all fallen under his spell over the years.
With Tooth and Claw, Busiek stays true to form, paired with future superstar artist Benjamin Dewey (I Was the Cat). He ventures into the genre of high fantasy with his inimitable flair for big ideas and functionally realistic fictional universes, as well as his unparalleled understanding of the literary archetypes that people them. Fanboys and critics alike may be clamoring for a return to Arrowsmith, but there's nothing like those first few steps into a brand new Busiek creation.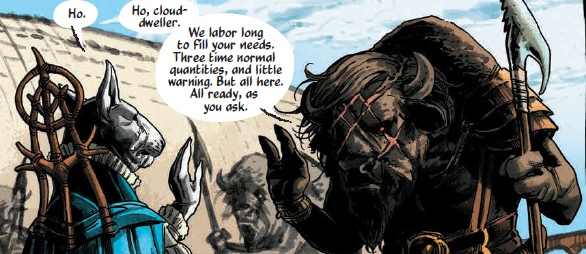 A finely tuned introduction to the fantastic world of Tooth and Claw, this first chapter in an ongoing series chronicles the fall of an entire city, when a rogue yet powerful cabal of mages, wizards, and shamans seeks to stem the rampant dissipation of the realm's magic by bringing their most fabled champion into the present. Although the cost is heavy for many of the Seventeenth City's inhabitants, including the story's young narrator, Dusty, the spell is successful.
So too is the spell Busiek and Dewey weave for their audience. Founded upon a unique system of magic ten years in the making, Tooth and Claw's secondary fantasy world seems like it could really exist on some alternate plane of existence, where the higher animals rule and humankind is nowhere to be seen.
As always, Busiek brings his "A" game to the story, crafting not only a believable, highly spiritual society, but also an immediately likeable protagonist in Dusty. Mirroring our own sense of whimsy and wonder, Dusty is the perfect vehicle through which to explore this strange new realm. His hunger for knowledge and thirst for adventure awaken in the reader the yearning to examine every hidden corner and gleaming facet of this lush and complex universe.
All of this and we haven't even touched upon the stunning, richly detailed art of Busiek's latest collaborator, Benjamin Dewey, whose work here is truly a revelation (aided by the colouring of Jordie Bellaire, who gives the magical action a phantasmagorical sheen).
Dewey's ability to realize visually such a sweeping work of high fantasy is only outshone by his talent for rendering emotion in faces that were never constructed to relay feelings of loss, sadness, or youthful joy.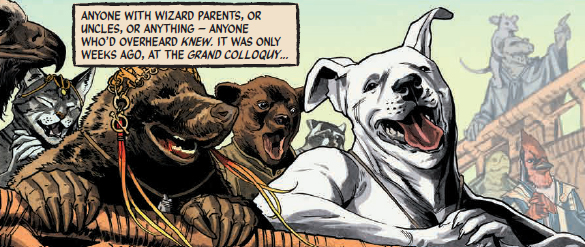 More than your typical anthropomorphic talking plush toys, the animals populating the world of Tooth and Claw look and feel real. Although they may be able to walk upright and exhibit an eloquence most human beings couldn't dream of, they lose none of their underlying bestial traits. This is a testimony to an attention to detail on a level most creators never approach in their careers, and provides an inherently solid foundation from which the audience can comfortably suspend their disbelief.
Huge and sprawling yet never sacrificing complexity for pacing and craft, Tooth and Claw is a sheer joy to read, providing an easy escape for those of us seeking strange new worlds to explore. A truly immersive reading experience, this is a comic you might not want to return from any time soon.
Kurt Busiek (W), Benjamin Dewey (A) • Image Comics, $2.99.