TREASURY OF BRITISH COMICS WEEK! If you grew up as a comics fan in the 1970s in the UK you'll no doubt have a version of this story to tell. With pocket money limited, and the newsagent shelves absolutely crammed full of weekly anthology comics of every genre imaginable, it was a near impossible choice to select just a couple of gems from the bursting treasure chest of comics wonders. Racked among those comics was a magazine weekly called Look and Learn which was full of the most beautifully illustrated articles on history, science, geography and literature. Its comics content though was extremely limited so it was never even a consideration on the weekly comics shopping trip. Despite its educational focus, though, we all secretly yearned to be able to read each issue of Look and Learn. Because within its otherwise far too worthy pages was one of the most spellbinding strips in the history of UK comics – The Trigan Empire.
My gateway to this amazing use of the form was through friends whose parents banned comics from the house but made an exception for Look and Learn, and I would voraciously read multiple chapters of The Trigan Empire saga on visits to their houses. Initially published as The Rise and Fall of the Trigan Empire, the strip's original home was in the pages of Ranger in 1965 before it moved to Look and Learn the following year. It was set on a planet called Elekton with similarities to our own; a world where super-science was employed by civilisations that resembled ancient Earth ones, with flora and fauna that was sometimes familiar and sometimes totally alien.
The word "epic" is much overused in comics commentary but there is no better description for this near two decades-long saga. Written by Mike Butterworth and illustrated by Don Lawrence, The Rise and Fall of the Trigan Empire has been collected by Rebellion's Treasury of British Comics line in gorgeously presented editions. Two bumper compilations have been published so far with a third coming this summer.
The central player in these first two volumes is Trigo of the Vorg tribe, whose fears that the militaristic Lokan Empire will wipe out his people are the catalyst for the formation of the Trigan Empire. The Rise and Fall of the Trigan Empire Volumes I-II is the story of Trigo's struggles to unite the peoples and lands of Elekton, and deal with threats both from within and without, both environmental and political. Other key players include his loyal brother Brag and the wise Peric of the Tharv people who becomes trusted scientist and advisor. As these stories progress and the characters noticeably age, Brag's son Janno and his friends the blue-skinned Keren of the Daveli people and the more eccentric Roffa are often pushed to the forefront.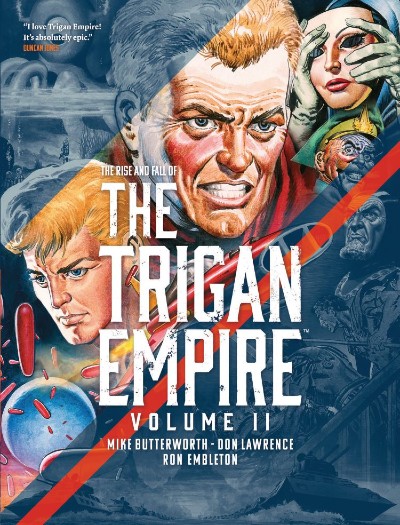 Don Butterworth's story is the richest example of world-building you will ever find in comics. Alongside the main cast we slowly explore and immerse ourselves in the many civilisations and societies of the planet, encountering its wondrous natural phenomena along the way. Politics, customs, traditions and cultures are all intricately realised, with the sprawling environs of Elekton becoming ever more involved with every new serial's completion. Lost cities are discovered, alien spores threaten the environment, treacherous despots briefly usurp control of the empire, and great quests are embarked on. It's rip-roaring adventure that 50-plus years later still holds the reader mesmerised.
Of course the success and popularity of the strip hinged on an artist who could bring Butterworth's vision of Elekton to life and Don Lawrence's visuals are simply stunning. Superlatives are wholly inadequate when it comes to the artist's unforgettable classical painted artwork. That pages of this quality were being delivered on a weekly basis seems inconceivable now. Every strip is crammed with detail, every panel is a beautiful composition in itself, and every new instalment is a testament to Lawrence's fertile imagination.
Let's consider another much overused word in comics commentary – "masterpiece". The Rise and Fall of the Trigan Empire doesn't just encompass the word masterpiece, it dwarfs it in its splendour and magnificence. If you've never read it before then you need to move it to the top of your bucket list immediately. This is one legendary comic that lives up to all the decades worth of hype and these glorious reprint volumes are a long overdue gift.
Mike Butterworth (W), Don Lawrence & Ron Embleton (A), Chris Weston (Hardback CA) • Rebellion/Treasury of British Comics, £19.99
Review by Andy Oliver