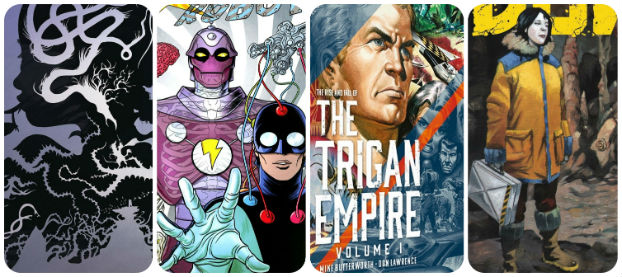 It's nearly Wednesday, and you know what that means: a fresh load of comics and graphic novels! With so many publications hitting your local comics store, comics event or digital storefront, the BF team are here to lead you through the woods with our weekly staff picks. Satisfaction guaranteed!
Comic of the Week
The Rise and Fall of the Trigan Empire Vol. 1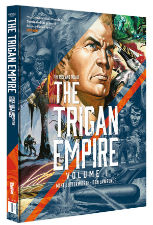 For many, this is the big one in terms of Rebellion's impressive Treasury of British Comics line of classic reprints. After all, for some of the older readers among us The Trigan Empire comic strip was the sole reason we picked up the educational kids weekly Look and Learn in the 1970s.
Co-created by writer Mike Butterworth and artist Don Lawrence The Trigan Empire is set on the planet Elekton, a world where many of the societies bear familiar resemblance to ancient Earth civilisations. Full of political intrigue and world-building brilliance, the stories are arguably best remembered for Don Lawrence's stunning painted artwork. A must-buy piece of British comics history this week.
Mike Butterworth (W), Don Lawrence (A) • Rebellion/Treasury of British Comics, £19.99
– Andy Oliver
X-Ray Robot #1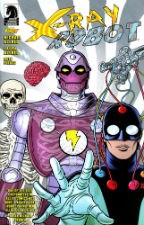 We've not had a proper look at this new series from Mike and Laura Allred yet, so unfortunately we have not the foggiest idea what it might be like…
Only kidding! Of course we know! We can safely expect the kind of full-blown, high-energy pop sci-fi, with the eyeball-ticklers turned up to 11, that no-one does quite like the Allreds.
This is the story of Dr Max Wilding – a scientist and family man who longs (like some of us used to) for a more interesting life. Be careful what you wish for, Doc. As he conducts a new experiment at work, a robotic figure crashes through the fabric of reality and claims to be his 277-year-old self.
As can easily happen in these situations, Max and the robot soon find themselves on an interdimensional mystery tour through the past and the future to save the universe from 'the Nihilist' – an entity from another dimension that wants to take everything back to the way it was before the Big Bang.
(Also, keep 'em peeled for a couple of smashing music-related variant covers – including one by Chris Samnee and Matthew Wilson that will make readers of a certain vintage chuckle out loud.)
Mike Allred (W/A), Laura Allred (C), Nate Piekos (L) • Dark Horse Comics, $3.99
– Tom Murphy
Starship Down #1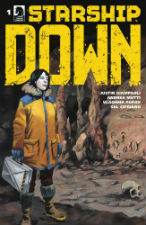 The first instalment of this new Dark Horse science fiction series is largely an exercise in scene-setting and establishing premise. But by issue's end you'll get an idea where this series is going with a neat twist that will take the narrative off in a very different direction in #2.
An alien spaceship is discovered under the Siberian ice where it has rested for millennia. Cultural anthropologist Dr. Jocelyn Young finds herself at the centre of an investigation that involves US Naval Intelligence, Russian forces and the Vatican. An intriguing opener that leaves us well and truly hooked at chapter's end.
Justin Giampaoli (W), Andrea Mutti (A), Vladimir Popov (C), Sal Cipriani (L) • Dark Horse Comics, $3.99
– Andy Oliver
Pretty Deadly Vol.3: The Rat
After a three-year hiatus, last summer saw the welcome return of this rich and lyrical horror series. For its third five-issue outing, the focus moves forward from the carnage of World War One to the golden age of Hollywood – a place where the bright lights are matched by dark shadows.
The springboard for the story is the death of Clara Fields, whose broken body is found in the hills above LA. Her uncle Frank – a fraudulent medium who styles himself as 'The Conjure-Man' – takes it upon himself to investigate her death, and before long he is accompanied by Ginny, the Reaper of Vengeance, who has her own agenda. Complications ensue.
Each of the creative team makes an essential contribution. Ríos and Bellaire bring DeConnick's terse scripts and elaborate myth-making to life with immersive, fever-dream storytelling, while Clayton Cowles captures the book's many voices with clarity and invention.
Despite the self-regarding 'questions for discussion' at the back, the world-building and atmosphere of Pretty Deadly make it read like The Sandman that doesn't have to try so hard. It's great to read a mainstream comic that isn't in thrall to generic conventions and which sees each of its creators bring their best work to the table.
Kelly Sue DeConnick (W), Emma Ríos (A), Jordie Bellaire (C), Clayton Cowles (L) • Image Comics, $14.99
– Tom Murphy
Cowboy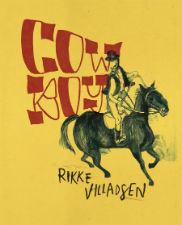 What happens when a Danish writer and illustrator decides to take on a quintessentially American subject? Cowboy answers that question, and the answer won't make everyone happy. Every expectation that the title conjures flies out the window in this surreal take, where gender lines blur and women get a lot more space than they have traditionally been allocated in the Spaghetti Westerns that once dominated this genre.
There is homage here, but also an argument. Is it disturbing? Yes. Should it have been done? Absolutely. Breaking barriers and forcing one to look at the familiar in strange ways has always been the hallmark of great art. Rikke Villadsen deserves accolades for this one.
Rikke Villadsen (W/A) • Fantagraphics Books, $19.99 
– Lindsay Pereira