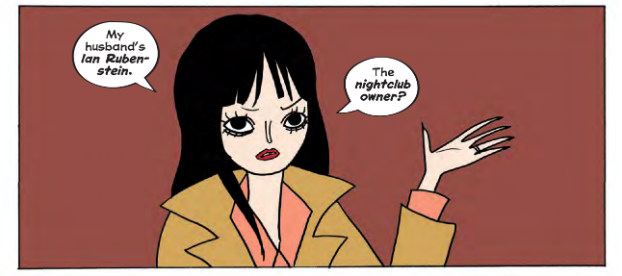 Love is a universal migraine, 
A bright stain on the vision
Blotting out reason.
Well, that's what the poet Robert Graves had to say on the subject – although if he had to endure the Hallmark horrors of a contemporary Valentine's Day, he might have felt the pain a little lower down.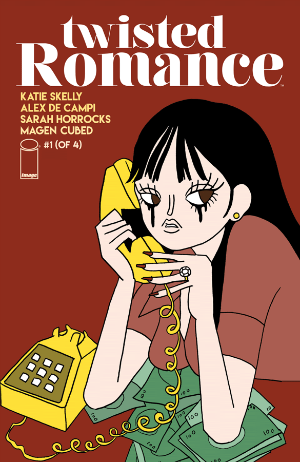 And if you're already feeling shell-shocked under the barrage of heart-shaped bullets, writer Alex de Campi and her posse of collaborators might have just what you need: Twisted Romance – a rapid-fire four-part anthology comic, put out weekly for the duration of February, which takes the historically rich but currently neglected genre of romance comics and plugs it into the mains.
Each of the four 48-pagers will follow a set layout: a main comic story written by de Campi; a back-up prose story; and a shorter back-up comics story. And the format works very well in this opener. To put it in terms accessible to the widest possible audience, it has the flavour of a much-loved 12-inch single by The Smiths: three very different pieces fitting together to create a neat little unit of pop culture.
The main feature here sees de Campi hook up with the utterly poptastic Katie Skelly, whose stylised retro takes on genre fiction have been delighting readers for a few years now. Set in Studio 54-era New York, 'Old Flames' focuses on the shadowy operator of Heartbreak Incorporated, who – for a fee – will break up relationships.
Hired by the wife of a philandering night-club owner to put the kibosh on her hubby's latest fling, our man slips past the velvet rope and hits the club – where he is confronted by an unwelcome face from his past.
De Campi conjures up a neat mix of the supernatural and the urban and gives our protagonist and his adversary a strong sense of history. However, the real gift here is another 20-plus pages of Skelly's joyous work. Like the best comic stylists, she creates a unique but almost tangible universe; reading her work, it's possible to just immerse yourself totally in Skellyworld. Here, she captures with abundant charm the beautiful people and the anything-goes atmosphere of the era. Also, despite the apparent simplicity of her line, she has a gift for etching extreme emotion on the faces of her characters.
Changing the pace nicely, next up is 'Leather and Lace', a short prose story by Magen Cubed featuring her species-queer monster-hunters Cash Leroy and Dorian Villeneuve, who have to get to grips with both their own relationship and some, um, horny devils on the edge of town. Magen Cubed writes with a brisk, economical style, and putting the brakes on to read the story makes you realise how quickly you usually find yourself whizzing through the average comic.
Rounding off the issue is Sarah Horrocks's expressionistic short comic 'Red Medusa on the Road to Hell'. In comparison to the easy charm of Katie Skelly, Horrocks makes the reader work a little harder. The piece is a look at obsession that puts a dark spin on the notion that love is stronger than death. It has a vivid nightmarish feel, using the saturated, lysergic approach to colour that characterised her earlier work The Leopard.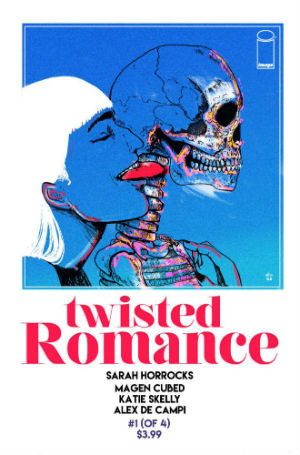 'Red Medusa…' feels a little like a fragment of a larger infernal odyssey – we aren't given much context – but its raw immediacy gives the reader a jolt that belies its short length.
There's been a sense of late that something might be going a bit stale at Image Comics – possibly reflected in their ejection from the Best Publisher throne in the most recent Broken Frontier Awards. However, while thrusting Twisted Romance into the hands of Wednesday Warriors every week for a month might be a challenge for even the most determined comic-shop custodian, these four issues should compile a tidy body of work that will hopefully bring a number of exciting and deserving creators to a much wider audience.
Alex de Campi (W), Katie Skelly (A); Magen Cubed (W); Sarah Horrocks (W/A) • Image Comics, $3.99
Review by Tom Murphy