Sometimes a cover is so very striking that it immediately captures your attention and positively demands your further attention. Such was the case with Ian Simmons' Unicorn, Hunted when I was first browsing through the offerings from this year's ShortBox Comics Fair. From composition to bold colours, through to its sense of considered design, it's an undeniably enticing single image.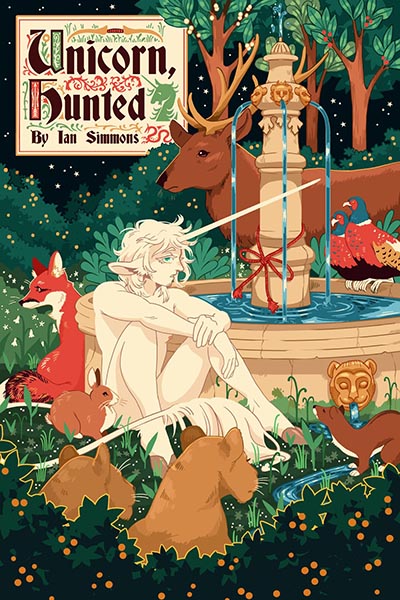 Indeed, that sense of design is a major contributing factor to Unicorn, Hunted's mood and tone, with the colour schemes of the medieval manuscript-style, scene-setting, early pages echoing throughout the rest of the narrative. Simmons gives us a fantasy story that is more akin to fairy tale than grand sweeping epic; one that provides a new but familiar twist on the theme of the repercussions humanity faces when it messes with preternatural forces it should leave well alone.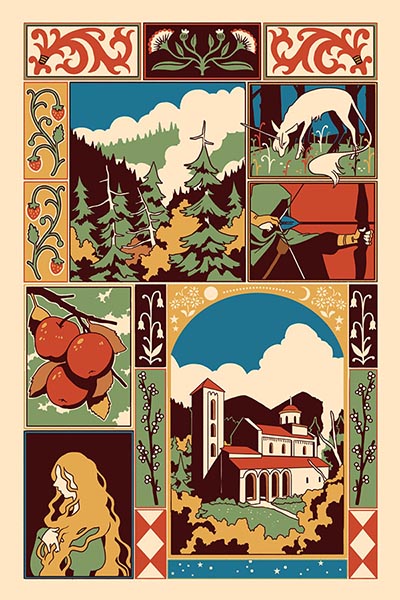 While travelling through a deep forest Haelan discovers an isolated abbey and its sole occupant, the acolyte Gwendolyn. With its dedication to the worship of unicorns this locale is a fortunate find for Haelan, who sports a single horn from his forehead, as Gwendolyn believes him to be a human incarnation of a unicorn. But Haelan has a dark secret of his own which will threaten his newfound peace in this remote sanctuary…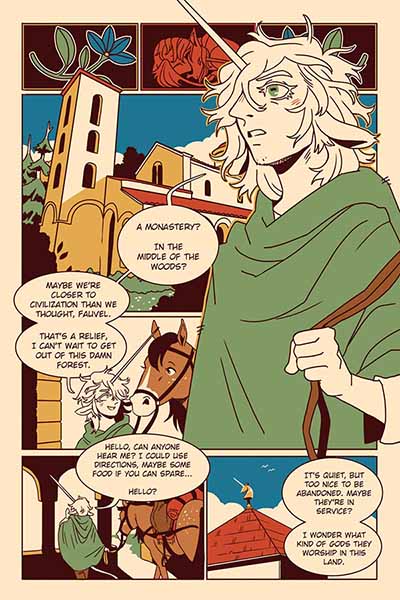 Simmons' two-hander has a feeling that it is building up to something ominous throughout, and when the revelations come they make for a satisfyingly grim finale. Characterisation is strong with the likeable and seemingly naïve Gwendolyn showing fierce inner strength by story's end, and the two cast members' emotional states are communicated as much through their physicality and expressions as they are by their dialogue. A special mention for Simmons' lettering choices to finish on here which, especially towards the end of the story, play a huge role in emphasising the fantastical elements of the tale. A moral lesson in fantasy form that, yet again this year, has given me another new artist to check out from the ShortBox Comics Fair line-up.
Ian Simmons (W/A) • ShortBox Comics Fair, £5.00
Review by Andy Oliver