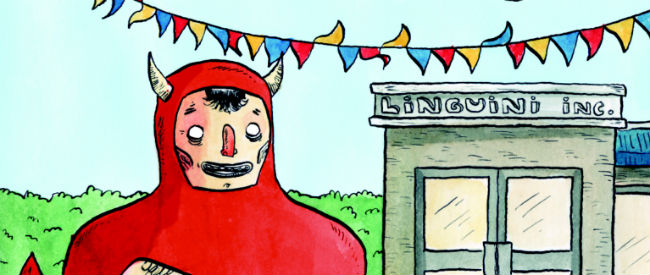 After a successful Kickstarter, Montreal's Editions Pow Pow have launched a series of English translations of their graphic novels. And with laughs and winces in equal measure, Samuel Cantin's Vile and Miserable suggests that a major new player might have arrived.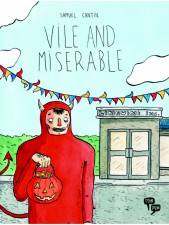 It seems to me a bit of an anomaly that given its heritage and location, the Francophone comics scene in Quebec has remained something of an inaccessible enclave to us linguistically challenged Anglos.
At the heart of that scene is Editions Pow Pow, a company founded in Montreal in 2010 that has published more than 20 graphic novels. Earlier this year the company launched a Kickstarter to fund the translation into English of three of its books. The campaign was such a success that the Pow Pow Press was born, and they even hit the stretch goal of adding a fourth title to the list.
And I'm very happy that I supported the campaign, as the first of the four books that I've read – Vile and Miserable by Samuel Cantin – is a razor-sharp and often uncomfortable dark comedy that will leave readers – particularly men – cringing as much as laughing.
Subtitled "A sorry adventure of Lucius Vile", its protagonist is an demon trapped on Earth who runs a second-hand bookshop in a used-car showroom. However, behind that absurd set-up is a work that ultimately generates an unexpected amount of emotional impact to go with the chuckles and the winces.
In fact, rather than the supernatural caper you might expect, the guts of this book have more in common with the sort of gruesome unpacking of the male psyche you'd expect from dramatists like David Mamet or Neil LaBute, complete with scalding, propulsive dialogue. Lucius's demonic nature isn't even really addressed until 50 pages in.
While largely played for laughs, the characterisation here – especially that of the complex Lucius himself – is almost forensic. And despite a narrative diversion that lays out a whole new scatological basis for the war between heaven and hell, Lucius's heritage ends up more than anything as a metaphor for a particular type of combative, closeted masculinity.
A natural loner, Lucius has his foundations rocked when his boss, car dealer Sylvio Linguine, hires an assistant to help him shift a hot consignment of stolen books.
Later, sensing his client's mounting sexual frustration (something of which the reader has already been made vividly aware), Lucius's horrifyingly inappropriate psychiatrist sets him up on a date with a friend of his 16-year-old 'receptionist'. This leads to some of the book's most uncomfortable scenes, as he decides to demonstrate how he thinks "real players play the game".
We remain in Lucius's head as he comes up with a variety of strategies to get what he wants from the sincere and vulnerable Lucy – and inside Lucius's head isn't the nicest place to be.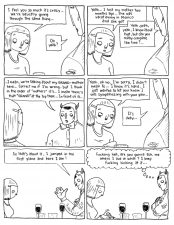 It's a real tribute to Cantin's skill that as much as Lucius lives up to his surname, it's still possible for the reader to get a sense of his pain and feel at least a twinge of empathy for his sense of isolation. (Not discounting how genuinely repulsive his behaviour has been and how particularly demeaning for the women on the receiving end of it.)
Daniel gradually becomes the voice of Lucius's long-buried conscience, and by the unexpectedly cathartic climax, you feel that with a new connection with the human race and a sense of self-acceptance, there might be a flicker of hope for him.
All of this complexity is delivered through Cantin's highly individual cartooning, which could be characterised as 'dirty but clean'. His line work is clear, but with enough texture and style to bring out the grotesque in his cast – human and demon alike. Most of the scenes are dialogue based, often using repeated viewpoints, but Cantin's work contains such animation (and the dialogue is so compelling) that the pages never feel static.
Given the importance of the dialogue, the quality of the translation should also receive a shout-out here. No translator is credited, so I assume Cantin handled it himself, and all flows beautifully – it has none of that slightly stilted awkwardness you can sometimes get with translated work.
I'm so pleased that Pow Pow Press are managing to bring their work to a wider audience, and I hope that Vile and Miserable and the other three books (Mile End, Vampire Cousins and For as Long as it Rains) mark the start of a long and successful list.
Samuel Cantin (W, A) • Pow Pow Press, $22.95, May 2015