Benjamin Fraser, professor of Spanish and head of the Department of Spanish and Portuguese at the University of Arizona, recently published a monograph on how comics represent cities. His book, Visible Cities, Global Comics: Urban Images and Spatial Form (University Press of Mississippi) examines comics from across the globe to arrive at insights on what they have to say about urban life.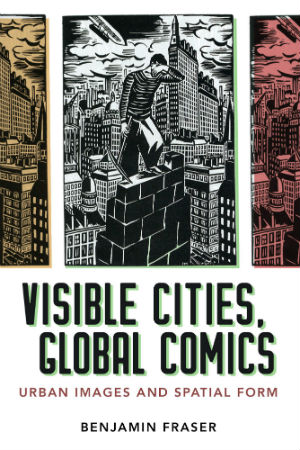 We reached out to Professor Fraser with questions about why he chose to focus on links between urban geography and spaces within the comics panels.
BROKEN FRONTIER: Your research reflects a fairly wide range of interests, from urban studies and media culture to mobility studies and continental philosophy. What prompted this specific monograph?
BENJAMIN FRASER: I wanted to explore how the city appears in comics from around the world, and, in the process, to make a point of how multidimensional comics scholarship can be. Hillary Chute's Why Comics? is a recent book that does a great job of this, and she even has a section of it devoted to cities. I have been really inspired in this project by Comics and the City, edited by Jörn Ahrens and Arno Meteling, and also Jason Dittmer's Comic Book Geographies. Dominic Davies's Urban Comics: Infrastructure and the Global City is now out, and it is equally phenomenal.
I think that even within the category of urban comics there is too much to explore in a single book. I was really excited to write Visible Cities, Global Comics precisely because of how expansive and inclusive, how interdisciplinary the idea of the city really is. Jane Jacobs thought of city as a living organism or a meeting place for difference, Lewis Mumford called it a social theater, Henri Lefebvre lauded the urban as a lived space that was at odds with the social practice of urbanism… I explore some of this throughout the book. Whatever perspective you take, you really can't exhaust what cities are. They become symbols of larger power structures and ideas, they are sites for social struggle and the contestation of capital, they can aid in the creation of possibilities for individuals and communities or they can be planned to limit and restrict social action. I really wanted to emphasize the breadth of these themes, and so this book moves quickly from one topic to the next, one comic to the next.
BF: Is there a particular comic or graphic novel that you find particularly intriguing, in terms of what it has to say about modern urban life?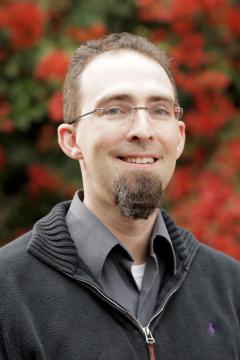 FRASER: It's hard to answer that question… there are just so many ways to approach the relationship of comics to the modern urban experience. I think the comics creators whose work I examine in the book really showcase that diversity. For example, chapter one explores the theme of street life, urban wandering, the spectacular city, and—with attention to Sophie Yanow's recent War of Streets and Houses—urban activism. Chapter two is centered on the city portrayed as a site of enjoyment, Henri Lefebvre's idea that it exists as a use value, outside of what he called the bourgeois science of urban planning. Chapter three shows the other side of that—how social life and the human passions are constrained by large-scale urbanism. Chapter four follows up on Ian Hague's work on tactility, which I think is still an underexplored topic in comics. And chapter five explores our collective fears of the city.
Rather than provide an extensive reading of any individual comic, I wanted to create vignettes, and I wanted those vignettes to be grounded in urban theory, with references to previous comics criticism where applicable, and with close readings of an image or set of images. All that said, I am trying to think of a single answer to your question, and I'd have to say that, in this moment, the work of Ben Katchor stands out. Chapter three deals briefly with the premise of his work Cheap Novelties: The Pleasures of Urban Decay [example below]. The way his two-row strip takes on photography and the object world, along with urban wandering and considerations of temporality—his strips really push us to focus on the more contemplative aspects of the lived urban experience—that's really incredible. As you can see reflected and critiqued in early twentieth-century comics of Winsor McCay, the city is promoted as a spectacle, as a surface. And by contrast Katchor's strips really dwell in the depth of the urban experience.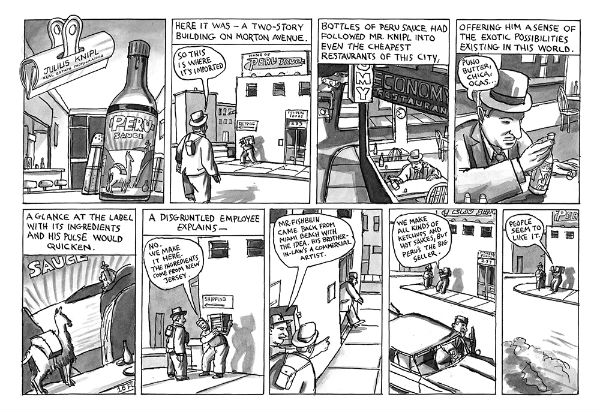 BF: Another monograph you wrote in 2019 focused on Spanish underground artist Pere Joan. What drew you to his work?
I first became interested in Pere Joan's work through a very original comics adaptation [bel0w] he did in 2011 of a fragmented prose novel called Nocilla Experience (2008) by Agustín Fernández Mallo, an author born in La Coruña, Spain.
There was something in Pere Joan's graphic style, in how he approached the process of adaptation. His visual rendering made this literary text—to me at least—seem a very different work entirely. He was forging his own thematic nuances. He was developing connections across pages somewhat differently than in the original prose. It made me want to learn as much as possible about the comics form.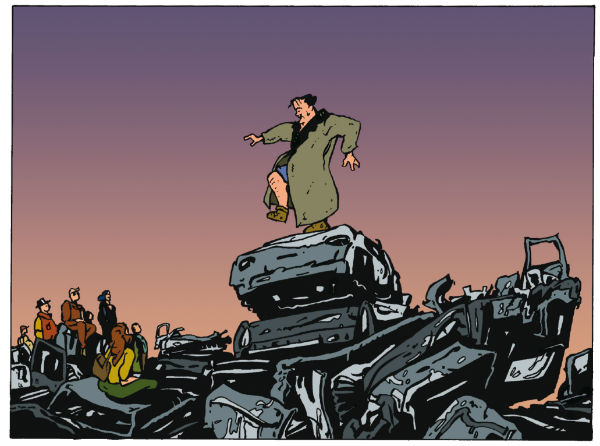 My PhD work was in Spanish literature and cultural studies, and I've always been interested in bridging what might be called 'disciplinary' concerns with broader interdisciplinary trends and conversations. Pere Joan was born in Mallorca, he produced zines in the mid-late 1970s in Barcelona, and later on, he famously ran the important magazine Nosostros somos los muertos with his friend and co-editor Max. He is fascinated by landscapes, and by cities too I would say, the monograph on Pere Joan is in some ways an extension of the same interests in spatial theory that drive Visible Cities.
What made me think it was time for a monograph on Pere Joan was not only his iconic status in Spain, but also the interest in comics and graphic novels had been starkly on the rise in the twenty-first century Iberian studies—I'm thinking of books by comics scholars Ana Merino, Gema Pérez Sánchez, and Pedro Pérez del Solar in particular. Samuel Amago and Matthew Marr edited a book this year called Consequential Art that includes some really path-breaking essays in Iberian comics readers may want to check out.
Sophie Yanow's War of Streets and Houses
BF: How would you account for the rise in popularity of comics studies in the West? Also, comics occupy a larger space in the public discourse than ever before, thanks to the ubiquitous presence of DC and Marvel. What does that say to you about audience needs today?
I agree with you that comics studies are definitely on the rise. Here are a few unorganized thoughts. I would say that comics are out-of-sync, in a good way, with contemporary discourse. There's the idea some have that the increasing speed of contemporary life has led to a perceived shorting of our attention spans, an idea that is accepted all too easily I think.
Comics are a compelling counterexample – they are an immersive experience requiring high levels of sustained attention. Their narrative complexity even invites re-reading. Digital comics are now prevalent—in the book I write about Raquel Córcoles in Spain, some regard her as a pioneer of webcomics. But I think some would probably say that the tactile nature of print comics has something to do with their popularity, too.
Regardless of format, I think comics creators today are narrating some of the most compelling stories about the social value of human difference, about what is at stake in the struggles still unfolding in our cities and in our shared world. These are stories that folks of all ages are reading. So this question of audience you raise is important. If you look the best work in comics today, what you see is a great contrast with the perception that comics and graphic novels are only for children. This stigma is still out there, even if the larger history of comics doesn't support it. Comics were officially defined this way—as being for children–through the late 1960s in Spain, for example. Of course, today, you have someone like Spanish comics artist Paco Roca whose graphic novels include La casa [The House] and Arrugas [Wrinkles], which deal with: adult children grieving for the loss of their father, and the onset of Alzheimer's disease-related dementia, respectively.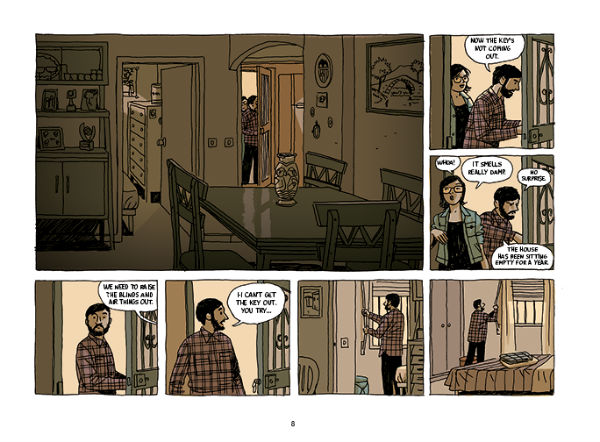 Paco Roca's The House – reviewed here this week here at Broken Frontier
The Marvel and DC universes I think may indeed be productive overall for comics markets, but I'll leave that debate to others — in my book I really wanted to avoid the superhero comics and showcase independent, small press creators to the degree possible. I kept the final list of titles focused on those comics that are somewhat easily available in English in order to maximize readership, but the world of urban comics is so much more vast than this and there's more work to be done.
Visible Cities, Urban Comics is available to buy online from University of Mississippi Press here
Interview by Lindsay Pereira