It's not the first time that the worlds of 2000 AD have come to audio with Dirk Maggs producing a Judge Dredd series for BBC Radio in the 1990s and Doctor Who specialists Big Finish producing a number of original stories featuring Dredd and Strontium Dog on CD between 2002 and 2009 (the latter with Simon Pegg in the title role!). News today from Rebellion of a return to that cross-media approach as their graphic novels join their prose books in an audiobook collaboration with Penguin Random House.
Rebellion & Penguin Random House sign graphic novels and fiction audiobook deal
Increasing demand for science fiction audio leads Penguin Random House partnership with Rebellion
Penguin Random House has partnered with leading comics, fiction, and video game publisher Rebellion. The partnership will see Penguin Random House produce and distribute audio versions of their latest fiction titles alongside classic graphic novels from the #1 bestselling 2000 AD imprint.
New research from Harris Interactive indicates that science fiction is one of the leading audiobook genres, with 30% of those surveyed listening to science fiction in the last 12 months. However, the latest research from Bookstat, revealed at the recent Futurebook conference, has indicated that traditional publishers are only capturing half of the overall demand, which supported Penguin Random House's decision to invest in this area.
Richard Lennon, Audio Publisher at Penguin Random House, said:
"This is a really exciting new partnership which helps us reach even more listeners in this hugely popular and ever-growing section of the audiobook market. We're looking forward to helping tell some of Rebellion's incredible stories and to creating some truly groundbreaking recordings, particularly as we explore turning some of British comic book history's true greats – Judge Dredd, Slaine and Rogue Trooper, to name but a few – into audiobooks for the first time."
Ben Smith, Rebellion's Head of Film, TV & Publishing, said:
"Rebellion is the UK's leading comic book publisher and home to Hugo and Nebula award-winning fiction from our Solaris and Abaddon imprints, and as such we're delighted to partner with Penguin's forward-looking audio team. Their appetite to bring both our fiction and our landmark graphic novels to the audiobook market is tremendously exciting. We can't wait for the public to listen to the incredible stories in the works."
Penguin Random House will produce and distribute audio versions of around 30 titles a year from the Rebellion frontlist, which covers genres including science fiction, fantasy and horror, and will include works from authors such as Chuck Wendig, Katherine Addison, Derek Künsken and Adrian Tchaikovsky. The audiobooks, published from March 2020, will draw on Penguin Random House's roster of top narrator talent. They regularly top the bestseller charts with titles such as The Handmaid's Tale narrated by Elisabeth Moss, The Secret Commonwealth narrated by Michael Sheen, and Becoming narrated by Michelle Obama.
The partnership also sees Penguin Random House record and produce adaptations of 5 new graphic novels in the 2000 AD series, which will feature multi-voice narration, sound design and original music to bring the stories to life. This is not the first time Penguin Random House has embarked on ambitious recordings of science fiction audiobooks: last year it brought together a groundbreaking ensemble of 50 different voices for a completely immersive full-cast recording of Sylvain Neuvel's Only Human, which was nominated for several awards including the New York Festival Radio Awards.
Available from today, the first title to be published will be Chuck Wendig's apocalyptic epic, Wanderers, read by Dominic Hoffman and Xe Sands.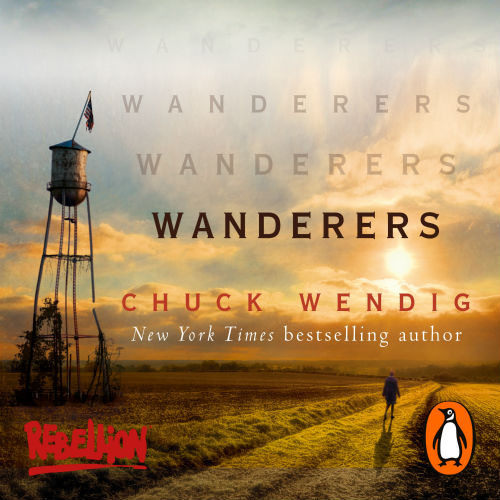 Wanderers
By Chuck Wendig
Narrated by Dominic Hoffman and Xe Sands
Audio Download ISBN: 9781781088319
Penguin Random House ∣ published 19.03.2020