A new small press event is always something to celebrate and ZineZilla, debuting on Saturday September 18th in Bristol, is particularly of note to us here at Broken Frontier given that it's co-organised by our 2021 BF 'Six to Watch' artist Mereida. Full details of this live event in the press release below.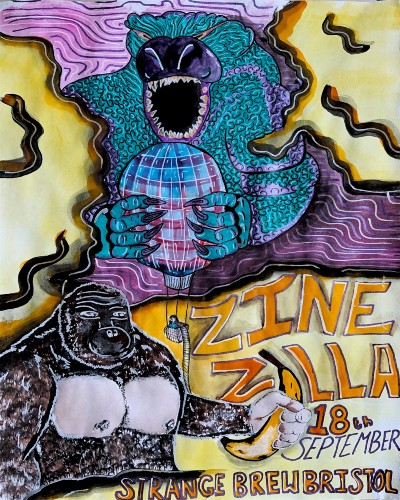 Poster by Amelia Domagala
ZINEZILLA: UWE Illustration + Zine Fair is a brand new event bringing zines back to the streets of Bristol! Mainly featuring work by UWE students, ZINEZILLA aims to reconnect creatives, celebrate incredible work produced during covid and provide a platform for new and exciting voices. Entry is free, and the fair will run on Saturday 18th September from 12pm at the wonderful Strange Brew in city centre.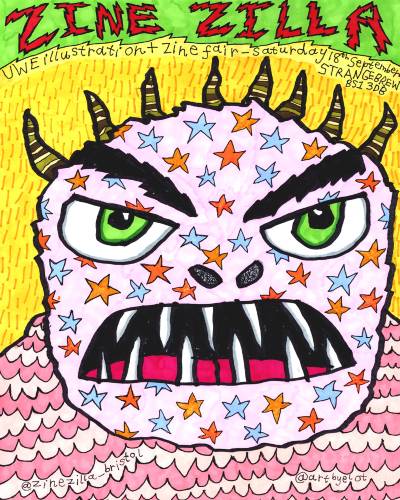 Poster by Elliot Furniss
No matter if you've never picked up a zine before, there will be something here for everyone! We're a zine fair by name but will be featuring all sorts of illustrated purchasables on a wide range of themes, from comics, prints and stickers to t-shirts, incense holders and more. We will also be hosting zine-making workshops throughout the day, so come along to learn how to make your very own zine, or draw a comic, or just get your hands messy. Plus, we'll have live music from 5pm featuring various local acts to feed your ears as well as your eyes.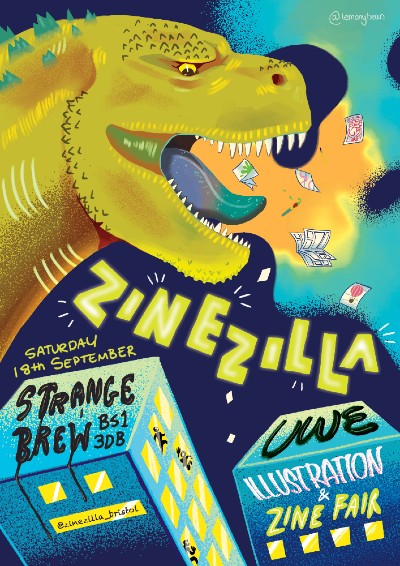 Poster by Em Sawyer
From organisers Mereida Fajardo and Marcy Fraser:
"Hi! We are an enthusiastic young group of illustrators and This! Is our Zine Fair! ZINEZILLA is completely student-run and we've never done this before, but we charge forward with the blind faith and gung-ho energy that comes with your early twenties. More than a year of studying online has meant creative isolation and missed opportunities for students (and everyone to be honest) so we're bursting back into the world to celebrate all this incredible art and engage with Bristol as a city.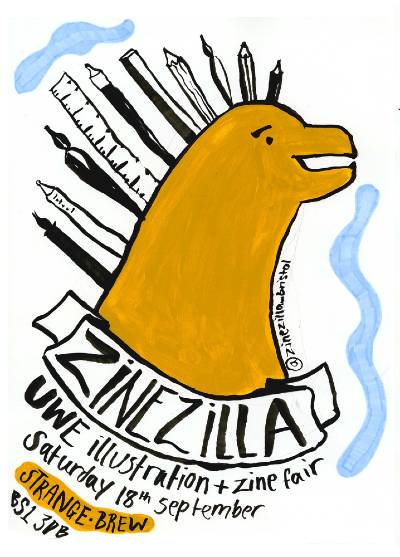 Poster by Marcy Fraser
Most importantly, ZINEZILLA will feature a very special appearance by our inflatable mascot Gordon the Godzilla… but you'll have to come by to find out more. Long live ZINEZILLA!"
Details and updates can be found at https://www.instagram.com/zinezilla_bristol/
ZINEZILLA: UWE Illustration + Zine Fair
Saturday 18th September
Fair from 12pm, live music from 5pm
Strange Brew, Fairfax St, BS1 3DB