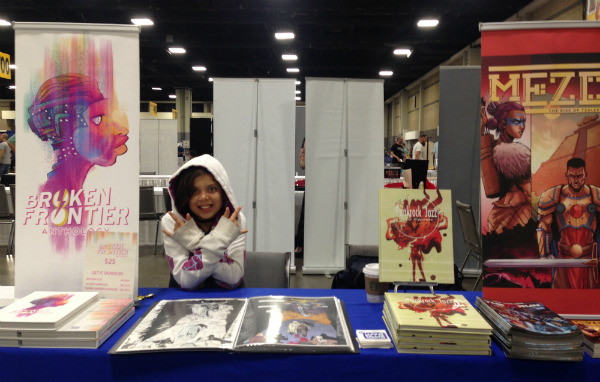 While the Heroes Convention (held in Charlotte, NC) may have grown vastly in size over its 35 years of existence, it's resisted the temptation to expand into larger media or become broad "pop-culture" festival. Instead, it's maintained its focus on comics and pays tribute to the creators and the work that has gotten them where they are today.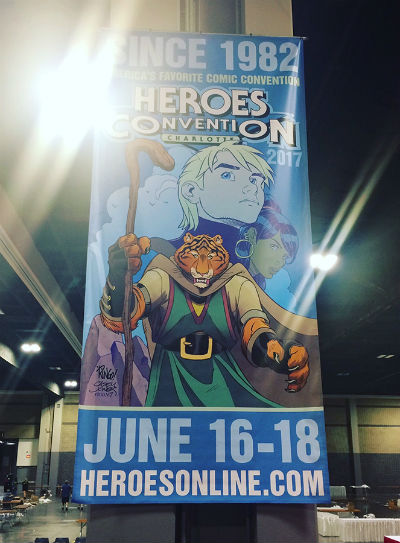 And nothing epitomizes this idea more than the headlining book of the show, the Mike Wieringo Tellos Tribute. Ten years after the tragic loss of Mike, this 2-volume set features the art of over 200 creators paying tribute to the fantasy world he co-created with Todd Dezago. Heroes Con hosted both a panel and a signing with several of the artists in attendance and all proceeds were donated to the ASPCA (American Society for the Prevention of Cruelty to Animals).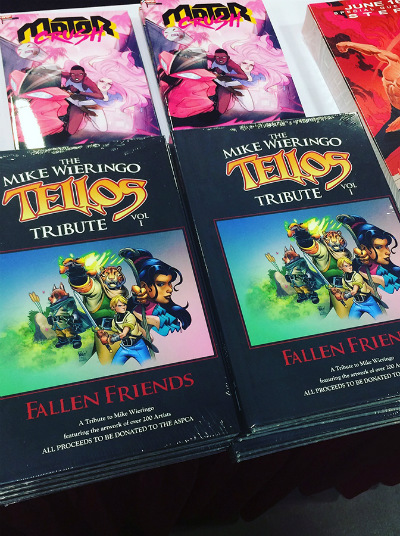 That wasn't the only charity involved with the convention. A Drink N' Draw event was held on Friday night with the proceeds going to Team Cul de Sac to benefit Parkinson's Research.
This led nicely into the larger annual Heroes Art Auction held on Saturday night with attending artists donating pieces of art from projects they've worked on or specialty pieces created just for this event.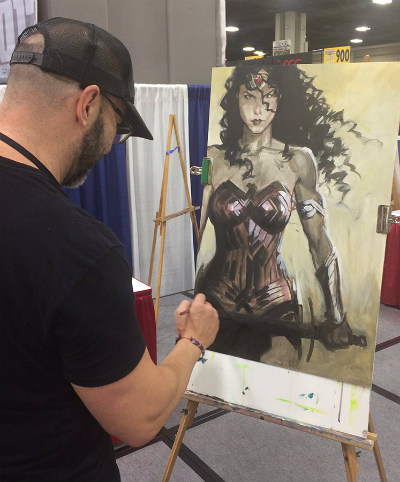 This is one of my favorite parts of Heroes Con and my daughter's as well. We enjoy seeing some of the pieces being created live on the art stage during the show as the artists work on them. Anything that catches your eye can then be bid on later that night. Though good luck trying to afford some of the nicer ones.
I could only stare in envy at the Wonder Woman painting by Andrew Robinson. At least my daughter was lucky enough to hold David Petersen's Mouse Guard and the Skottie Young painting of Eleven (Stranger Things).
As for the show floor itself, it's a nice mixture of comics greats from the past, current big name creators, and indie artists trying to make it in the industry.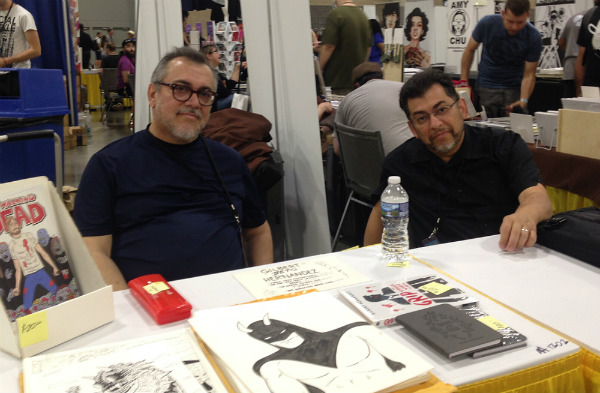 Convention variants included a Love & Rockets #1 you could get signed by both Jaime & Gilbert Hernandez and Motor Crush #1 by Cameron Stewart, Babs Tarr and Brandon Fletcher, all of whom were in attendance.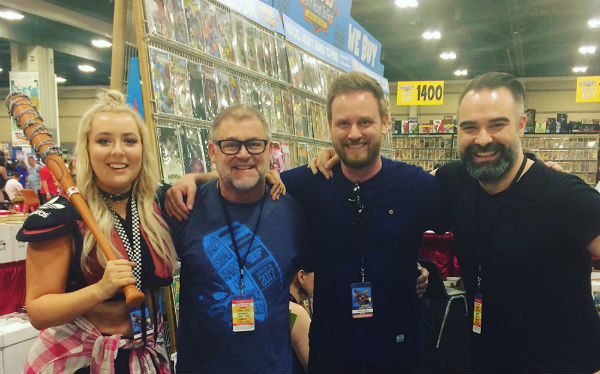 Also, Loose Ends #4 was finally available in the original series format. For those of you that don't know, this title by Jason Latour, Chris Brunner & Rico Renzi was originally published in a larger size format on thick paper stock by 12 Gauge Press. The fourth issue never came out until Image recently published the series in standard size comic form, but those of us who bought the original 3 issues, it was nice to finally complete the set. (Loose Ends team below).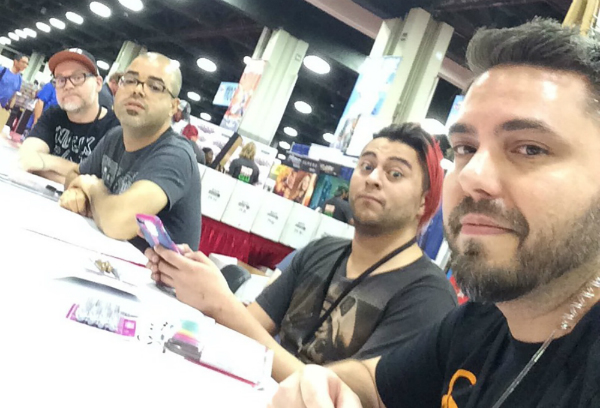 Creators who were there promoting debut issues include Alison Sampson (below) with Winnebago Graveyard #1. She had several variants with her including some retailer exclusives, so anyone interested in those were smart to snatch them up.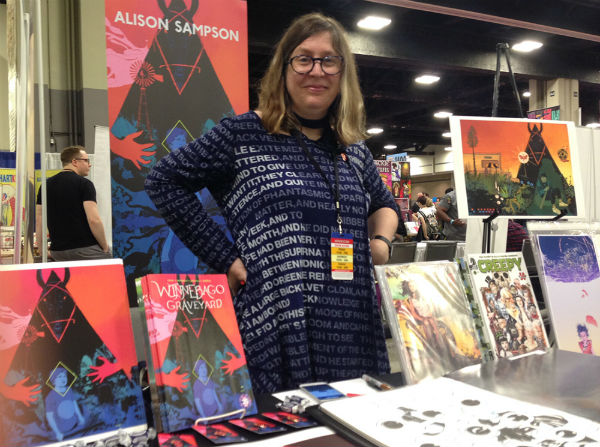 Paul Maybury (below) was there promoting A New Terror, a Latinxploitation comic, due out through Buño Books early next year. He did have mini comics, prints and stickers for those who wanted something now.
One image that really seemed to get people's interest was this one of Wonder Woman and her Nubian sister by Marcus Williams.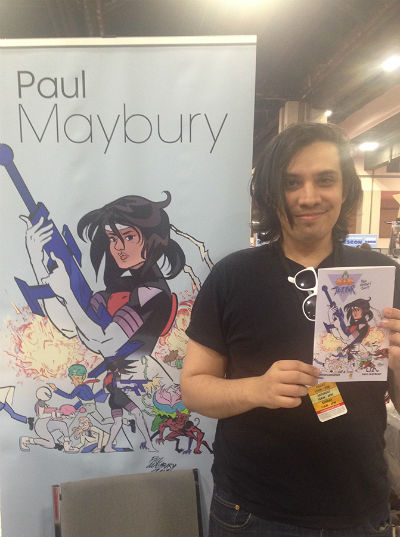 And if you're looking to dig deep and find some quality indie comics, I would recommend checking out the boys at Stock Pile Comics (below). There had some interesting comic series going on with titles like Forever Winter, Man-Gull and Broken Legacy. These are good books that don't look like the comics you typically see on shelves.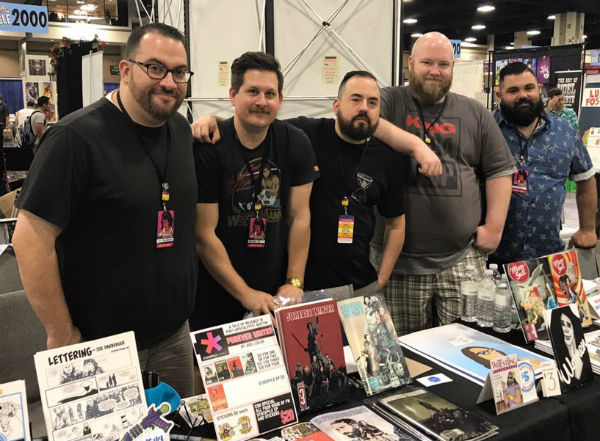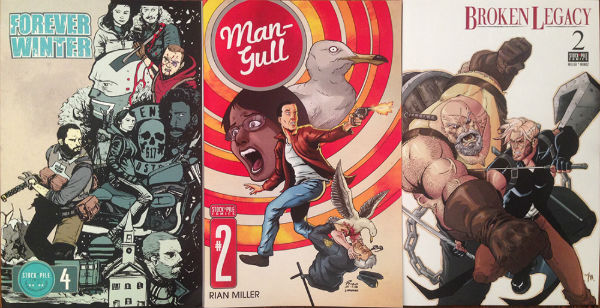 There were way too many amazing creators and fascination projects to cover in just a short recap, so that will have to do for this year. You can bet I'll be back next year, and if you haven't had a chance to check out this convention in person yet, might I suggest year 36 as a good time to start. (Jason Latour and Jason Aaron below).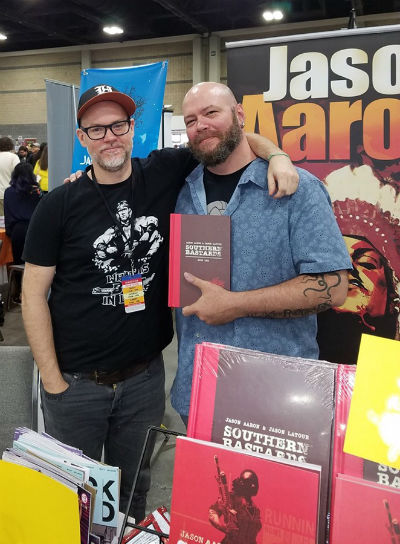 For more on HeroesCon visit the site here.