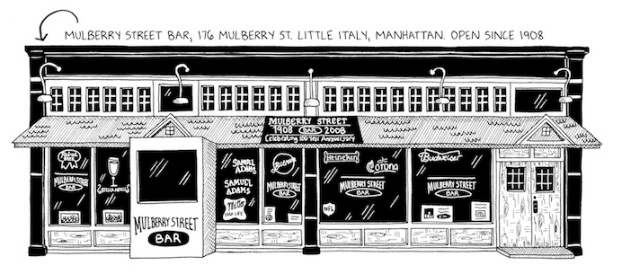 A city is constantly evolving. Walk through any in the UK and you're basically walking through its history, the new is built on top of the old, with Sixties brutalist structures squeezed between Tudor houses and even older cathedrals. This is true even for modern "planned" cities like New York, which has had a particularly accelerated rate of tearing down the existing landscape and putting on a shiny new face as it recovered its mid-Seventies bankruptcy and Manhattan became the glossy tourist destination it is now (soon to be taking the other islands with it). In Tenements, Towers & Trash, Julia Wertz takes a chisel to those renovated storefronts, apartment buildings and subway stations, excavating the lost history of the Big Apple half-concealed beneath them.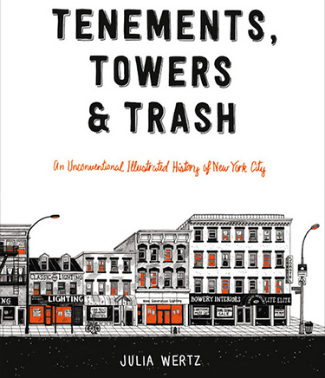 Wertz has been writing and drawing comics for the better part of a decade, beginning with her critically-acclaimed and frequently-scatalogical webcomic The Fart Party. Since then her autobiographical book Drinking at the Movies was published by Random House, her early work has been collected in a number of Eisner-nominated volumes from Koyama Press and Atomic Books, she began a blog documenting her exploration of abandoned buildings, and she has contributed regular strips to the New Yorker, The Believer and Harper's. She also illustrated writer Eden Sher's book The Emotionary and edited I Saw You…, an anthology of comic adaptations of Craigslist 'Missed Connection' personal ads featuring Laura Park, Gabrielle Bell and Sarah Glidden.
Tenements, Towers & Trash, her latest book, is a history of New York's ever-changing appearance, with thoroughly researched — and frequently strange or plain hilarious — stories of video store rivalries, pizza joint politics, and forgotten paragons of social justice and culture, presented through a mixture of prose and Wertz's rich, monochrome cartooning. There are also interludes recounting the author's own period of living in the city, her own reflections on the city and how it's changed, and a paean to the now-lost legendary punk venue CBGB's. Along with some good gags about street food and enforced physical contact with gross, sweaty people on the subway.
BROKEN FRONTIER: Hi Julia! I understand you're actually in New York right now, doing the promotional rounds for Tenements, Towers & Trash. How's the tour been so far?
JULIA WERTZ: Unfortunately, my tour got cut short. The first week of it went great, but then the North Bay fires started , which is where I live, so I had to go back. It was a long week of being evacuated, no power, watering houses and calming my mom down, but ultimately everything was fine for us. However that was not the case for everyone, many lives and homes were lost. It was a tough few weeks but it was really comforting to see the community pull together and help each other out. As for my tour, I'll go back and redo it at another time, maybe early next year.
Were you still living in New York when you were working on the book and, if not, how did that affect drawing and writing about the city's history?
I started the book in 2015, and left the city in 2016. While I was here it was great, because I could find old photos online or at the library, then go to the exact location to take a photo of what it looks like now. Or I'd go to a random lecture at the library and get a good idea for a history comic. But once I left, I had to rely on the internet and books for information, and it became torture working on the book. I left because I was illegally evicted from my apartment, and I figured I'd just finish the book back home in California, not realizing how painful it would be to work on a book about NYC without being in the city. I wouldn't wish that on my worst enemy, it was torture.
What was that research process like?
My favorite part of the research process was the part I didn't even know I was doing until later, which was exploring abandoned places. I quit comics for two years and spent all my time dicking around in old buildings, photographing ruins, collecting artifacts and doing tons of research. I was worried that I'd kinda lost my mind and was wasting my time, but I was addicted to it. I didn't realize until later that it was all research for a future book. (not TT&T, although a few locations appear in that book, but I'd like to do another one that's all about abandoned locations.)
As for the then/now cityscape sections, that was a lot more computer research, and then going on long walks. I used oldnyc.com and the NY public library archives. I'd spend hours combing through old photos of the city, then figuring out which locations had some remaining historical aspects, and then I'd go photograph that space and use the photo for drawing reference. I enjoyed having the research aspects of this book include physical movement, since making comics is mostly just a lot of sitting still at a drawing desk.
What's your favourite oddball bit of New York history? I'm a big fan of pinball prohibition.
Bottle Beach is my favorite bit of NYC history. I won't ruin the story of it by retelling it here, but I'll just say that besides the visual of thousands of vintage bottles and horse bones that wash up on the shore, it encompasses so many aspects of NYC history. My favorite history bits always involve something I can see today either in its natural state or in its original location, such as seeing the old bottles on the shores of Dead Horse Bay, or visiting the ruins of the World's Fair in Queens.
You were previously part of Pizza Island a studio of other comic creators based in Greenpoint. Do you miss that collaborative atmosphere?
I miss it every single day. Working from home is very lonely, especially in the small town where I live now. I really miss having a separate space to work, so home life and work didn't blend as much, and just having my friends there to joke around with. It was a good mix of quiet work time, and then breaks to eat or gossip and just not be so alone all the time. I also lived alone then, so getting out and being around people was very necessary. Seeing people daily keeps me in check, without it I just kind of spiral out into my own nonsense and that sort of unbridled thinking can be dangerous. It's good to have people around to rein me in.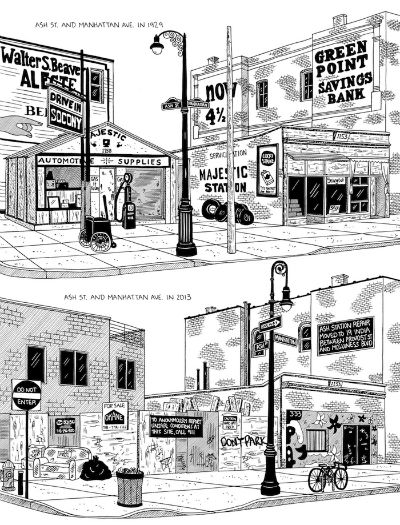 When you were still living there, did you witness first-hand the creeping gentrification of Brooklyn?
I did indeed, because I was the creeping gentrification of Brooklyn. I was a white artist in my twenties living in Brooklyn, so to deny it would be an egregious lie. In some people's eyes, that makes me the villain, but to others, it's just part of what young people always do: move to a city and try to figure their life out. But I do think there's a "lesser of two evils" way to be a gentrifier, and that comes down to how you spend your money in the neighborhood you moved to. Shopping local is vital, especially at independent businesses. If you're going to be part of changing a neighborhood, it's your ethical job to make sure you do the least amount of damage possible. People who move to a place and do all their shopping online are the worst. I'm certainly guilty of online shopping, but I try to limit it to only things I cannot get in my area.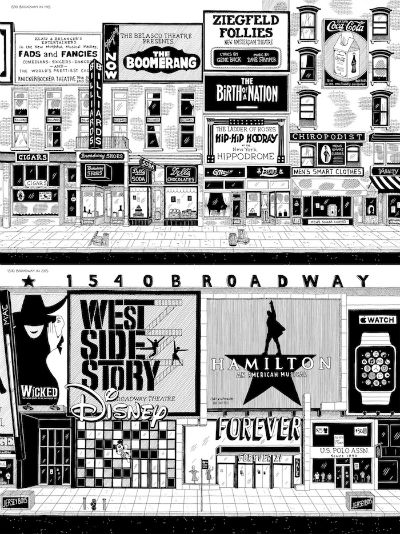 How do you personally think New York has changed over the past few years, and do you those changes are necessarily a good or bad (or neither)? With that new HBO TV show The Deuce airing, people are dredging up old saws about how fun and sleazy Times Square was before it got "Disneyfied."
Change is a vital part of a city, and it can be both good and bad, and I think it's important to recognize what is uninformed nostalgia, and what is necessary progression. By uninformed nostalgia, I mean people who romanticize past decades, without considering the harsh reality of it. Like how in the 1800s, the streets were full of garbage and raw sewage, and disease was rampant. Or in the sleazy decades of Times Square, which had its charm, sure, but would you really want to walk around there at night? Although I have no desire to walk around there at night now though haha.
The type of change that is awful is when no attention is paid to historical preservation. Sometimes an old building is unsafe and can't be made structurally sound, and the city does need housing, in which case, demolition makes sense. But the worst is when an old building that could be preserved gets demolished, and a condo without any affordable housing in it goes up in its place. That's historically, aesthetically, and culturally irresponsible.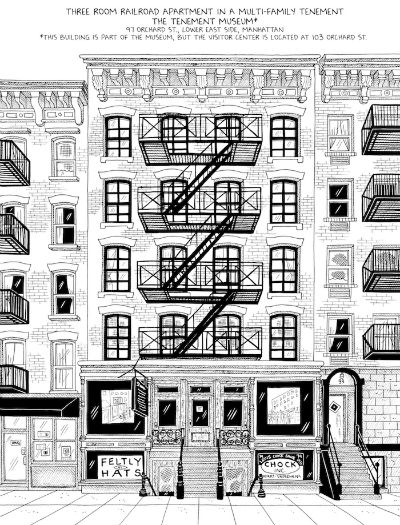 You've mostly moved away from long-form autobio comics, but you did return to put together a collection of strips from 2005-2010 for the Museum of Mistakes book. How was going through all the old work, and have you any plans to return to that kind of cartooning?
I'm actually working on some autobio stuff now, about my last years in NYC. For a while I was embarrassed about my early stuff, but I've come around to seeing its value as the start of my comics career. I've come to appreciate how uninformed, badly drawn and raw my early work was. I can never make comics like that again, so I appreciate that it exists in its own weird, silly bubble.
The personal essay is kind of having A Moment right now (in that literature critics are getting mad about them). Do you see any similarities between that trend and the decade in change of autobio comics that preceded them?
I'm on board with anything that irks literature critics. Who are they to say what's actually good or bad in context to what people want to be reading? If personal essays are popular, it's because there's a demand for them. People want something they can relate to, something they find comforting. Autobio comics have filled that role for many people because many of the stories tend to revolve around the banality of everyday events, which is relatable to many people. Those types of comics became trendier over the last decade, although I really hate to use the word trend, since it implies impermanence, and is also somewhat dismissive, as if implying anything that's trendy can't have real value, or longevity, which certainly isn't the case.
However, often when something becomes trendy, its market eventually gets oversaturated and the trend dies down. But when it comes to creative endeavors, trends can open the door for many creators, and once in, they can use that momentum to establish themselves, and build an audience for their work. Hm, I answered this question more in context to my feelings about trends rather than comics, but that's okay, I'm basically just trying to say that literary critics always have their panties in a bunch about something, and I think it's silly to let that affect creative output.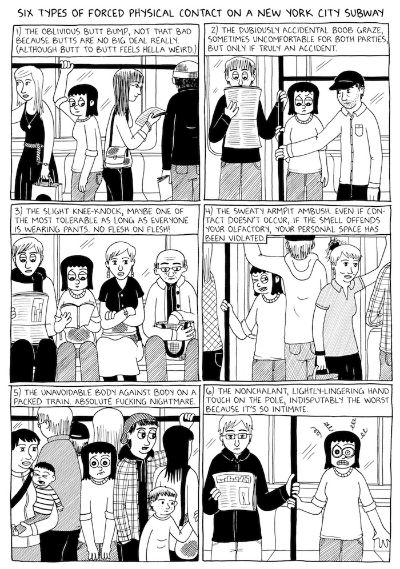 Have you considered tackling any cities apart from New York? Just going through the preview pages of Tenements, Towers & Trash there are some parallels to London (the secret/abandoned subway stations, old theatres given new life etc.)
Yes, I'd like to do a book that takes place in multiple cities, and covers more abandoned things. However, I need a break first. I need to just draw a bunch of stick figure, fart joke comics before I delve back into architecture illustration since it's so labor-intensive.
Is inking still your favourite part of the creative process?
Always. I love when the light comes through the window at an angle and it makes the threads on the paper stand out while inking over pencil work. It's like a form of meditation. But I also like the part of the process that is exploring abandoned places, crawling through tunnels, and climbing over rubble. Like I said earlier, I didn't even know what was part of the creative process until years after I did all that, so I appreciate it mostly in retrospect.
How is being back on the West Coast treating you so far compared to the East? My understanding of the major differences is you surrender good pizza for good Mexican food, and you no longer experience seasons.
I struggle with being back on the west coast. There aren't as many historically significant abandoned places, although there are a few, just not nearly as many as the east coast. I miss hot summer nights, and I miss the snow. I miss the ubiquity of good pizza. But nature is a bit better over here, the forests are bigger, the mountains more extreme. But as a person who favors towns and cities, that isn't really enough for me. I feel like I was supposed to be born an east coaster, I just fit better there. If my family weren't west coast-based, I'd move back to the east coast in a heartbeat.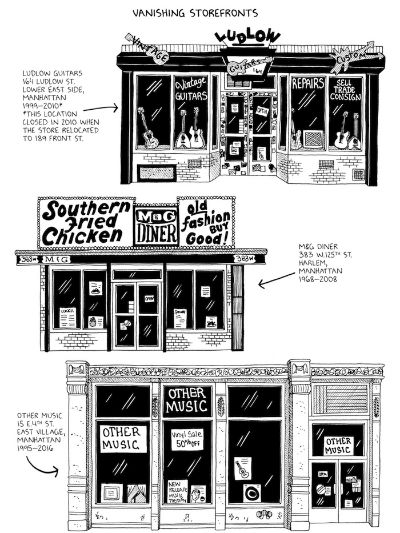 And finally: read any good comics recently?
I read a number of good comics this year, so I'll just list the last few that I really enjoyed that came out in 2017: Going Into Town: A Love Letter to New York by Roz Chast, Everything is Flammable by Gabrielle Bell, Zonzo by Joan Cornella and You & a Bike & a Road by Eleanor Davis.
Tenements, Towers & Trash: An Unconventional Illustrated History of New York City is out now, published by Black Dog & Leventhal. For more of Julia Wertz's work, visit her site here  and follow her on Twitter here and Instagram here.