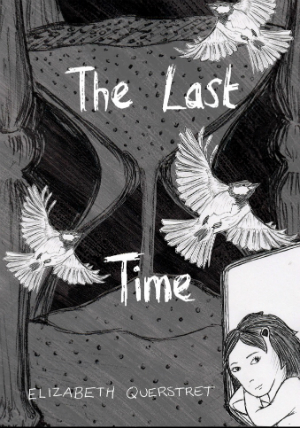 Sometimes the most elegantly simple of premises can contain multitudes of profundity within their environs. Elizabeth Querstret is a creator most known, perhaps, for the speedily captured moments of time that exist in her idiosyncratic yet always engaging autobio comics. But of late Querstret has been branching out and giving us work that is more carefully considered in presentation and construction.
The Last Time – her latest offering which debuts at the Bristol Comic and Zine Fair this weekend – has a notably greater degree of visual sophistication than those spontaneous diary comics and yet it still shares the powerful honesty of that work. It's another example of the artist's unflinching willingness to bare her soul in her short but ever perceptive narratives, albeit this time through an anthropomorphic on-page stand-in rather than her normal direct Querstret-to-reader commentary.
Here we have a gentle reflection on the passage of time and how some of life's smaller moments both define us and yet are gone before we have even realised their passing. It's full of quiet but potent observations that readers will instantly recognise without necessarily having ever considered themselves. Less a narrative and more a catalyst for further individual meditation on its themes, The Last Time invites us to celebrate the importance of those small comforts that we must all inevitably eventually leave behind.
That sense of movement and change is emphasised by a recurring motif of an hourglass in the background of each page but, far more subtly, it's the snapshot and almost photo album-style procession of images on which each series of memories is formed that is most effective in underlining the transient nature of life's ebbs and flows. The Last Time is uncomplicated in concept but its subject matter ensures that it will form an instant connection with its readership despite its brief 12 pages. You can pick up a copy at BCZF this coming weekend.
For more on the work of Elizabeth Querstret visit her site here. You can buy her print comics from her store here. You can also follow Elizabeth Querstret on Twitter here. 
For regular updates on all things small press follow Andy Oliver on Twitter here.