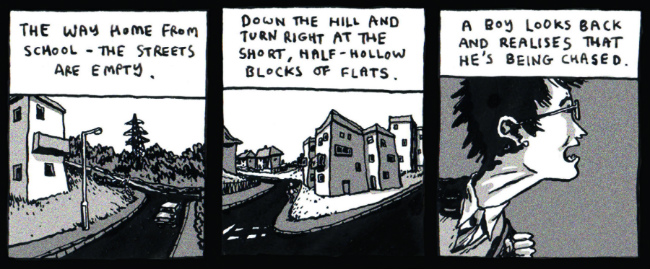 Available at CECAF!
The niggling night terrors of 40 creators bubble balefully to the surface in Keara Stewart's unsettling anthology collection mixing comic strips and single illustrations to bring to disturbing life the dreams and nightmares of an astonishing assortment of artistic voices. Within the pages of this often haunting book you'll find work from some of the most acclaimed graphic novelists in current UK comics (Karrie Fransman, Matilda Tristram, SJ Harris, Gareth Brookes – check out Gareth's memorably pulpy cover below), established and rising stars from the small press scene (Andy Poyiadgi, EdieOP, Mike Medaglia, Danny Noble), and newer names that will have you eagerly searching out more of their work online (Kim Clements, Ruth Collingwood, Mary Blomley).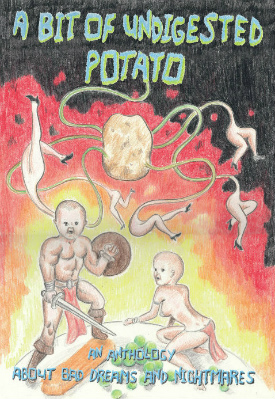 To bring together such a heady mix of creative visions in one anthology is, in itself of course, an amazing achievement. If you're interested in finding out more about the logistics of managing a project like this then I can refer you back to my recent interview with Keara Stewart, the editor of A Bit of Undigested Potato in this very column here a couple of weeks back. Stewart's initial idea was to compile a zine-style publication of one-page offerings. But so enthusiastic was the the indie circuit's reaction to her idea that the book grew into something far more substantial; a handsomely bound publication that will have you flipping back and forth through its page in awe at the names involved.
Unsurprisingly, many of the contributors examine the common, shared anxieties that dreams throw up. As we all know, comics as a form have a particular aptitude for communicating familiar experiences but the connection between author and reader is particularly intimate in some of these stories, exploring as they do quite primal fears. These are slumbertime scenarios we have all walked through in the twilight hours.
Robert Wells, in 'The Struggle' (sample below) for example, combines both the deep-rooted dread of being in public half-dressed with that recurring motif of not being able to reach your destination no matter how long you try. Alex Potts in 'It's Getting Closer' (sample on top banner image above) touches on the terror of being pursued, while Paul Shinn reminds us of the dream state bewilderment of not knowing whether you are awake or asleep. That's a theme that both David Robertson and EdieOP also linger on. But in a far more sinister way…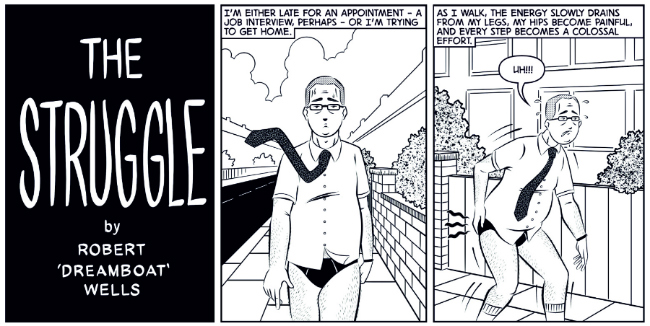 Not all creators are interested in revisiting recognisable horrors, though. A number embrace the peculiar logic of dreams; those twisting narratives that follow a stream-of-(un)consciousness course. Karrie Fransman provides four pages of skewed, oddly claustrophobic cityscapes and morbid imagery. It's an older offering from 2005 yet , as ever with Fransman's work, demonstrates her solid command of the possibilities of the comics page. Rachael Ball also gives us four pages of oblique creepiness in her tale 'Pigs Ears' while Matilda Tristram offers us a compressed rapidfire procession of panels highlighting the non-linear randomness of those fractured narratives we entertain ourselves with during our nocturnal inner journeys.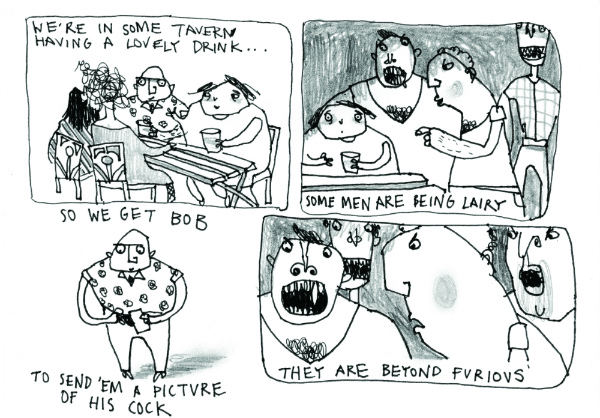 It goes without saying that the thematic heart of A Bit of Undigested Potato means that an arbitrary, even uncomfortable, sense of haphazardness should play a major part throughout. That is the nature of nightmares after all and those splintered snapshots of dream psychology continue to play their part in Danny Noble's wild, boozy ride of a page that combines her usual love of a good knob joke with Latvian folk dancers (sample above). As brilliantly outrageous as ever. Noble is, of course, one of my 'Six UK Small Press Creators to Watch in 2015', as is Rozi Hathaway who, once again, lives up to that designation with a desperately touching, panel-bursting short (sample below).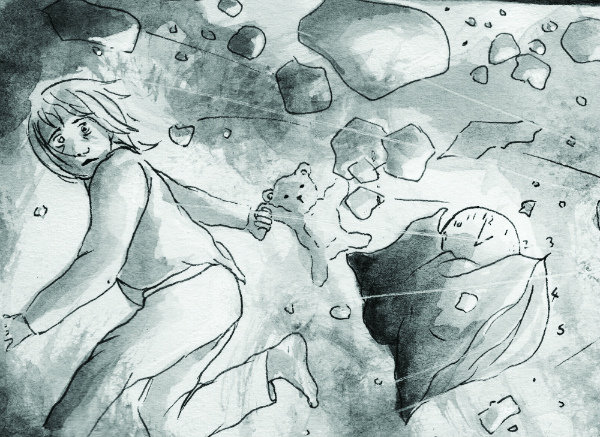 Of those artists you almost certainly won't have heard of (yet) three in particular stand out. I actually pointed out the work of Kim Clements here several months ago in one of this column's intermittent webcomics round-ups. Clements is clearly influenced by children's book illustration and her work has a distinctive identity that is already quite dreamlike in its own right. Her tale of a phobia about maths has a quite poignant underlying tone and I would suggest watching out for her name because – whether it be in comics or another graphic narrative medium – I suspect you will be hearing a lot more of it in the years to come. Ruth Collingwood also provides a succinct one-page entry that readers will no doubt transpose their own similar fears onto, ensuring that its affecting fragility will stay with them long after the page is turned. It's Mary Blomley's terrifying single image that will claw at your very soul however…
Work from Kim Clements, Ruth Collingwood and Mary Blomley (click to enlarge)
The original remit of A Bit of Undigested Potato was to create something that sat firmly in the zine camp as much as it did comics and so there are a number of contributions that are either single images (fine artists Cathy Lomax, Corinna Spencer and Annabel Dover to name three, alongside Wallis Eates tapping into her Mumoirs work) and even a prose piece from Ella Dawson.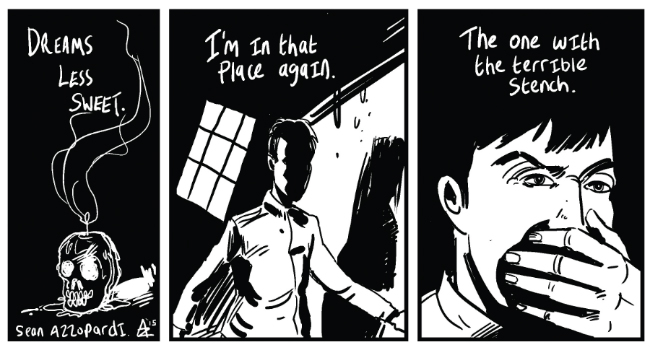 Indeed Stewart herself has a background in fine art and her own offering is a disconcerting study of disconnected helplessness (below right – click to enlarge). But whether it's an unsettling visual parable from Andy Poyiadgi, the brilliant comic timing of Francesca Cassavetti, the ghastly metaphor of Sean Azzopardi (sample above), or the scatological slapstick of Elizabeth Querstret there's more than the odd something within these pages that every reader will associate and empathise with.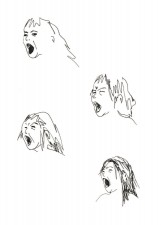 What Keara Stewart has put together here is a phenomenal accomplishment. It doesn't just bring together artists of multiple disciplines but also provides us with a snapshot of the diversity of the UK DIY and indie comics scenes in 2015. Not just a testament to the strength of UK small press comics A Bit of Undigested Potato is also a celebration of UK small press comics community.
For more on the work of Keara Stewart visit her blog here and follow her on Twitter here.
A Bit of Undigested Potato can be bought from her online store here priced £5.00 and will also be on sale at DIY Cultures and CECAF 2015.
For regular updates on all things small press follow Andy Oliver on Twitter here.