Beatrice Mossman has been cultivating a growing audience of admirers over the last couple of years for her tactile, experimental comics that have their roots in horror motifs, coming-of-age standards, and dark autobiographical work. One of our 'Six Small Press Creators to Watch' in 2022, Mossman's self-published comic Daddy was Broken Frontier Award-nominated in 2021. I chat today with Beatrice at BF about the physicality of her comics and zines, approaching sensitive issues in autobio work, and allegorical narrative…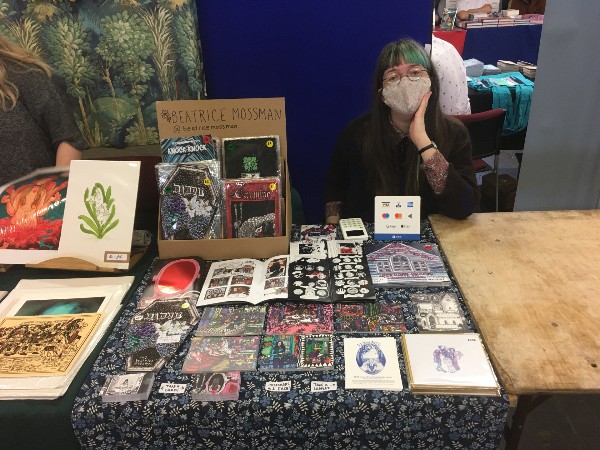 ANDY OLIVER: As one of 2022's Broken Frontier 'Six to Watch' creators it's always of interest to ask what otherwise may be a very obvious question. So what was your entry point into comics and why is it your medium of choice?
MOSSMAN: As a little kid, I used to make my own magazine. I obsessively copied the girls' magazine format, including creating my own fake celebrities whom I would 'interview', and making-up girls' problems for the 'Agony Aunt' pages. These tween girl magazines would have their own little comics (often photo-comics), and I would recreate those too. The comic pages became my favourite part to draw.
However, I really found my love of comics again in my teens. Dame Darcy was a huge discovery for me, her work has been an influence on every comic I've worked on. I love how playful and creative her pages are. I look at Meat Cake whenever I feel I'm becoming too bogged down on panels and not thinking enough about the overall page design. Lynda Barry's work was also a major inspiration. The tactile nature of One Hundred Demons reminded me of those magazines I made as a kid, where I'd strive to use as much glitter and pink gel pens as possible! Tavi Gevinson's Rookie magazine had a similar effect on me.
Broken Frontier was also a definite turning point. Through Broken Frontier, I found out about some of my favourite creators: Kate-Mia White, Jade King, Alice Urbino, Cat Sims (to name a few!). I honestly feel like the small-press stuff is the most exciting part of comics today. Also, I couldn't believe the community that was out there (it's honestly one of the nicest and most welcoming creative communities around).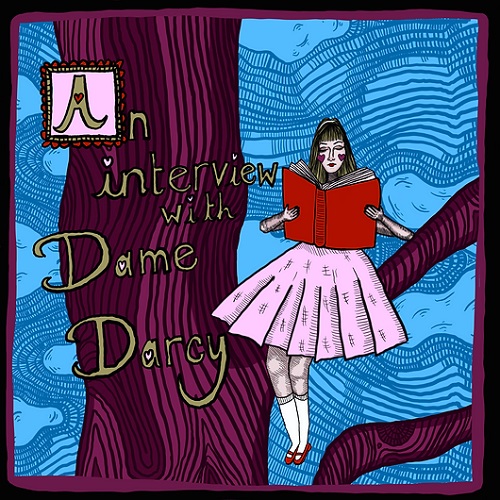 AO: One of the immediate things readers will notice about your work is the tactile qualities of it and the way its physicality adds to its thematic explorations in a way that could never be replicated digitally. Can you tell us about some of those physical aesthetics in work like Daddy, Lure of the Flesh and Hell-Hued and how you used them to enhance mood and theme?
MOSSMAN: Jane Cradock-Watson was the course leader during the first year of my BA in Illustration. Jane is a remarkable book-artist, her work is so tactile and delicate. I was inspired by her books, and the bookbinding and zine-making workshops she – and my tutors Fiona White and Tom Dowse – gave us. They really encouraged us to play and experiment with book formats. I don't know if I would have thought to go beyond the usual A5 zine format had it not been for their classes.
The coffin-shape of Daddy was chosen for a few reasons. I think because my father died before I was born, I always doubted whether he really existed. He seemed just as ethereal and mythical as Darth Vader or Elvis (two figures that appear briefly in the comic). The project started as a need to 'dig him out of his grave', to find out more about him so that he became real to me. The coffin is a kind of second-class relic, it's 'bodily proof' of his existence. As we saw recently with the Queen's death – where people flocked miles and waited hours to just glance at her coffin for about a second – the image of the coffin is an important reassurance and confirmation of death. Thus, the coffin/ book represented a kind of symbolic relic of my father.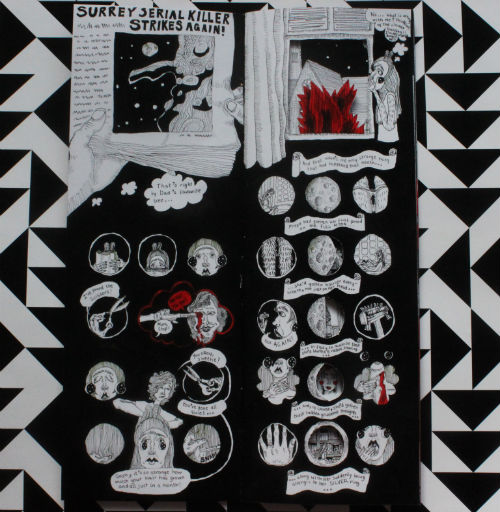 The Lure of the Flesh (above) came out of my want to experiment with cut-outs. Hell-hued was similar – I wanted to create something where the reader could feel involved. My love for cut-outs comes from a childhood favourite of mine: The Book About Moomin, Mymble, and Little My by Tove Jansson. I love the idea of cut-outs being a peephole onto the next page, and how it could add tension and mystery (which can be especially good for horror books).
Again, the encouragement of my tutors gave me the confidence to do something as complicated as cut-outs in the first comic book I ever got printed! I feel indebted to them – as well as my theory tutor James Walker who inspired my love for academic writing (which led me to start an MA in Victorian Studies last year). It's a great shame that whilst I was on the course there were substantial staff cuts. It's horrifying seeing mismanagement affect so many brilliant courses. And I cannot stand our current government's tendency to put down and defund the arts; but then again, what haven't the Tories downgraded during their time in government?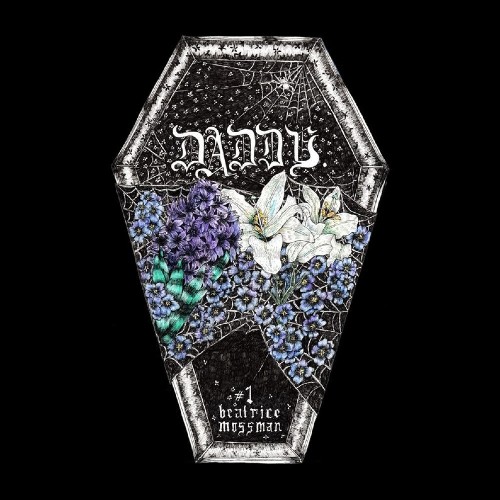 BF: Last year your autobio comic Daddy really caught people's attention on the UK indie scene. For those yet to read this remarkable piece of Broken Frontier Award-nominated autobio what's the subject matter of the comic?
MOSSMAN: Daddy is a collection of autobiographical mini-comics about coming-of-age without my father. My father died before I was born in an accident.
The book is in the shape of a coffin and comes with a floral sleeve. It's split into three sections: Forget-me-not, Lily, and Hyacinth. The comics in each section correspond to the meaning/symbolism of the flowers. I was inspired by the Victorian Cult of the Dead, Victorian floriography, and the Cult of Relics to create something that was decadent and symbolic.
Lavish decorations on mourning pieces are often used to stress the love, grief, and devotion felt for a loved one. I wanted the lavish format and elaborate illustrations in the book – a kind of mourning piece – to emphasise the feelings of passionate hero-worship, mourning, and love I felt for my father as a child and teenager (and still feel).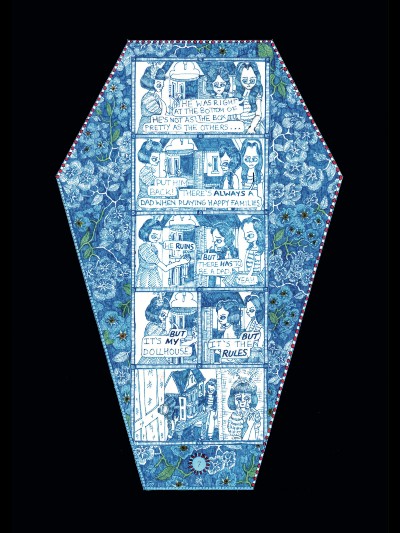 AO: Daddy is such a unique example of the connective power of autobiographical comics. Did you ever have any qualms about committing something so deeply personal to the page and sharing it with an audience?
MOSSMAN: The main thing was that I never wanted to make my family uncomfortable. Especially, as my family were the people who knew my father. All I know is second-hand. To combat the fear of upsetting people, I approached the story more as a coming-of-age story; and focused more on the experience of growing up without a father. I restricted myself from talking in detail about his death or his life. So, that's how I ended up with stories about a teenage me feeling terrified of masturbating, in case my father could see what I was doing from Heaven…
Although the project began as a need for me to learn more about my father, the comic ended up being about growing up never having known my father.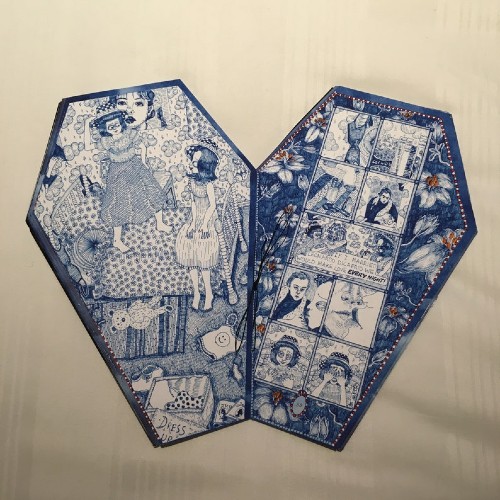 AO: How much of a journey of discovery was the process of creating Daddy for you?
MOSSMAN: The emotions all hit me after I released Daddy. That was the hardest part. I had been working in a vacuum on the project for about 7-8 months. Whilst I was making the book, I felt so stressed about getting it completed, that it made me almost numb to the topic.
I was overwhelmed by the response to the book. I was overjoyed with the Broken Frontier review, and the Broken Frontier Awards nomination. Matt Simmons' recommendation of the comic on The Awesome Comics Podcast meant so much to me; however, I was so overwhelmed that I don't think I ever thanked him.
I'm a shy and socially anxious person, and I have found it hard to know how to thank people for their responses to the comic. I've always been someone who has found social media particularly hard. I can overthink the most mundane post for hours, a short message can take me days (even weeks) to reply to.
After releasing Daddy, I wanted to get straight into the next issue (I started working on it a few times). I will be continuing the series, but I've realised that I need a break from autobiographical work. However, a small comic I had planned for the next issue – a spoof of Victorian orphan tales – has ended up turning into something entirely different, and something I hope to bring out this year.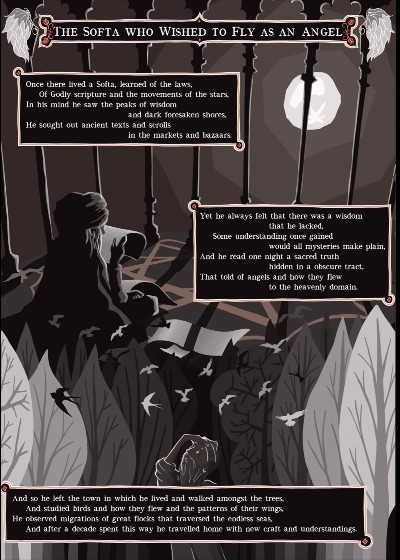 AO: You also edit the previously mentioned Hell-Hued horror anthology. What's the premise for the work that appears within its pages and who are some of the artists who have featured?
MOSSMAN: Hell-hued is an open-submissions horror zine. Each issue of Hell-hued is inspired by a specific shade of colour. I have always loved tasks where the colour scheme was restricted. So, I thought that instead of subject themes, it would be interesting to have a colour theme for each issue.
What I am proud of with Hell-hued is how varied each issue is – there is something for everyone. Enthusiasts of uncanny fairy tales will love Cassandra Solon Parry's doll-house horror story 'Lavender Grange', Richard Butterworth's cautionary comic 'The Softa Who Wished to Fly as an Angel' (above), Roisin Cairney's folk horror comic 'Evergreen' and Linda M. Crate's vampire poems. Becky Coulter, Fiona Oakley, Rowan Wolowacz, and Natalia Slattery's illustrations would also be well-appreciated by fans of dark fantasy!
However, if social horror is more to your taste, then Anna McKenzie's short story 'Parasite', Tom Smith's comics 'Hypnogogia' and 'Red Mist', or Nic Koski's comic 'Blue' would certainly appease you. I believe the short stories by these three creators are a masterclass in short high-concept horror.
If you love body horror, then Olga Skupień's blood-curdling one-page comic 'Religion Class Notebooks' and Melanie Stockton-Brown's short story 'The Periwinkle Crown' will definitely impress/ terrify you! For creature-feature lovers there's the fantastic short story 'The Periwinkle Trailed its Wreaths' by Kevin T. Rogers and Emiliyan and Stanimir Valev's comic 'Bleed'. There's also a fantastic Sci-Fi Noir comic titled 'Dead End' by Ben Couzens (it would be great to have more Sci-Fi and Film Noir-inspired horror comics in future issues)!
I wish I could name everyone, but the thing about Hell-hued is that there are so many fantastic creators involved… I am honoured these amazing creators contributed to Hell-hued and have made it the exciting series that it is.
AO: Your art is incredibly detailed with beautifully rendered page designs. Can you give us some background on your artistic process and the mediums you work in?
MOSSMAN: I pretty much always work by hand, I've tried digital, but it never captures my imagination in the same way. I'm usually working with fine liners, watercolours, and ink. I find that I work best on a small scale, many of the illustrations in my books are actual size. I use the thinnest fine-liner nibs I can my hands on.
I love the intimacy of small, detailed illustrations, I like that only one person can look at them at a time and that they may have to look closer to catch everything. I like hiding little details in my work, like titles of books on a character's bookshelf, or posters on a wall (many of my characters are devotees of Harry Styles and 90s Leonardo DiCaprio).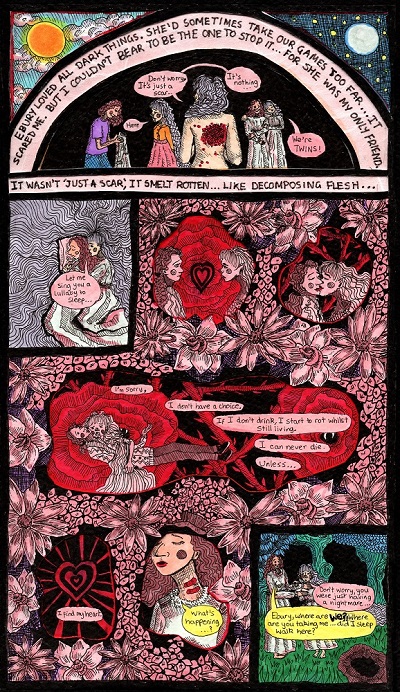 From Beatrice Mossman's A Thorn Amidst the Roses
AO: A lot of your work has a horror or dark fantasy-themed edge to it. What is it about those genres that appeals to you in terms of their allegorical and tonal qualities?
MOSSMAN: Since I was young, I have felt at home with horror and scary stuff. I always loved the grisly fairy tales. I was obsessed with the makeup, prosthetics, and clothes that monsters would wear in films. I often identified more with these monsters than the heroes. When I was thirteen, I dressed up as Snow White for World Book Day, our teacher went around the room and tried to guess who we were dressed-up as… the teacher thought I was supposed to be one of the Ugly Stepsisters from Cinderella. Everyone laughed. Perhaps, that was a turning point in my life? I just know that if teenage me had telekinetic powers, I would have Carrie'd the room that day.
Being a teenage girl was tough for me. I think I'm still grappling with the experience. That's probably why I always end up doing so many coming-of-age comics. And horror is perfect for coming-of-age tales. I believe that the visceral nature of horror is more successful at conveying the emotional trauma of puberty than any realistic take would be.
There is also something so aesthetically interesting about horror. It's seductive and repulsive all at once. Take Dario Argento's Suspiria, or Charles Burns' Black Hole, both are so beautiful and enchanting, even though you're looking at some of the goriest and most disgusting stuff imaginable.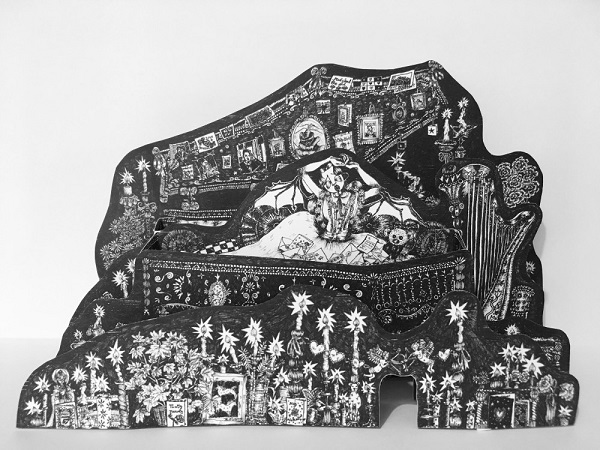 AO: What else are you currently working on? What can we expect in the future from Beatrice Mossman?
MOSSMAN: A book I hope to bring out this year is The Ghoulish Girls of Ghastly High (above). This is the neo-Victorian orphan-tale spoof that was originally a mini-comic idea for the next issue of Daddy. I am even thinking of making it coffin-shaped like Daddy. The main character is also taken from a previous mini-comic of mine titled Down Below (below, this three-page comic first appeared in Frisson Comics' fantastic horror anthology zine Knock Knock).
The Ghoulish Girls of Ghastly High is about a teenage girl whose mother has just gone into hospital, with no telling whether she'll come back. With her father having died before she was born and her mother away, she is left 'parentless' at a vital turning point in her life… Puberty. Strange things start happening to her body – even stranger than normal – and it turns out her mother has neglected to tell her she's part-monster. This is confirmed when she gets a mysterious invitation to start school at Ghastly High, a girls' boarding school for misfits and abandoned magical girls. I like to describe the story as "Angela Carter meets the girls of St. Trinian's".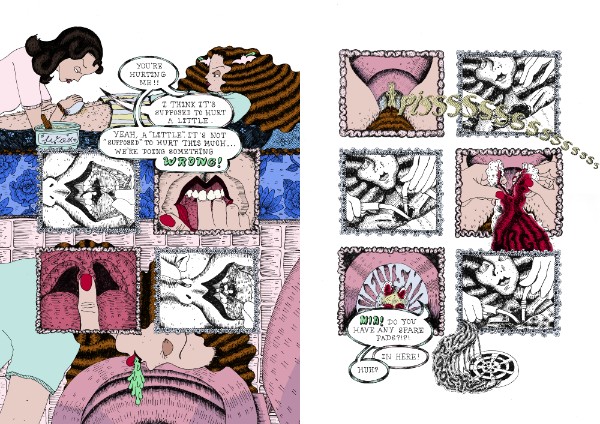 For the first Winchester comics fair, I handed out pop-up cards to promote the comic. The illustration is of the most popular girl in Ghastly High – Grace Valentine. She's a vampire who is fanatical about pretty boys: Elvis, Timothée Chalamet, Harry Styles, etc. Grace also has an unfortunate tendency to eat fellow students – it is forbidden to kill students, teachers, staff, or alumni – so she gets into quite a bit of trouble!
You can visit Beatrice's website here and online store here. Follow Beatrice on Twitter here and Instagram here
Interview by Andy Oliver