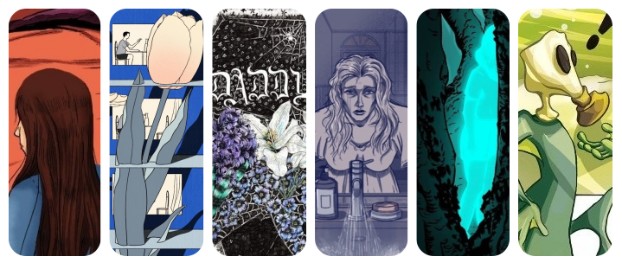 2021 was another year where the self-publishing and small press scene in the UK had to continue to adapt to our changed world, and our annual Broken Frontier 'Six Small Press Creators to Watch' programme was no different. In-person events were at a premium and the shift to digital platforms continued to be of major importance. To accommodate that we took the 'Six to Watch' online, with Discord and Zoom allowing the artists platforms to network, interact with each other, and have a space to share experiences.
A quick reminder for those unfamiliar with the initiative of what the 'Six to Watch' is about. Every year at Broken Frontier we spotlight half a dozen UK-based creative voices and look to provide regular review, interview and feature coverage of what they work on during that time, as well as mentoring should they request it and opportunities to be part of BF events. panels and festival appearances.
This announcement is always one of our most read articles of the year and we can't wait to share the work of these very talented six creators in the coming weeks and months. We have creators already recognised by Thought Bubble and by SelfMadeHero's mentoring programme, another whose Small Press Day Broken Frontier One-Tweet Review submission was pivotal in their selection, a mix of previously featured artists and those getting their first BF coverage today, and a couple whose Hackney Comic + Zine Fair contributions were a huge reason behind their names being on this list. They're, as ever, an incredibly talented bunch and we hope you'll take the opportunity today to also follow them on social media and check out their online stores (links below).
So let's introduce you to our 2022 'Six Small Press Creators to Watch' whose profiles we will be looking to raise this year. Abstract comics, evocative autobio, spellbinding fantasy, experimental storytelling, kinetic cartooning and beautifully structured layouts await you. Remember these names, you'll be hearing them a lot at BF this year.
Alba Ceide
If you're a regular participant in our online Gosh Comics and Broken Frontier Online Drink and Draw then you will already be aware of the dizzying imagination and energetic cartooning of Alba Ceide who regularly comes up with clever and vibrant takes on the evening's drawing prompts.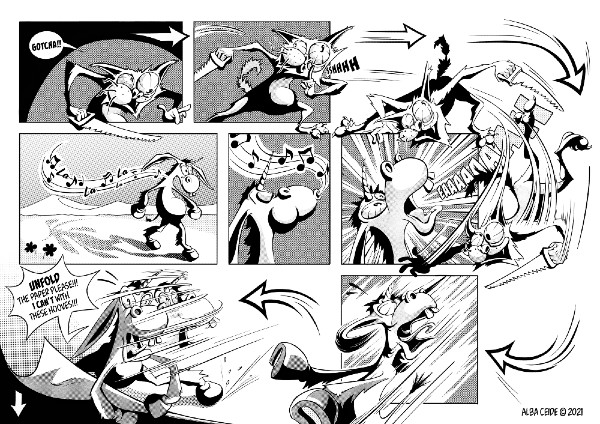 Alba is an artist whose meta and tactile work The Lucky Horn in the WIP Comics Lucky WIP anthology seriously impressed me last year in the way that it manipulated the physicality of print to provide an innovative interactive experience.
Her current work-in-progress is Salamanca Blues, set in Spain in the distant future in a world where humanity has almost disappeared due to climate change. You can read more of Alba's comics including School Walk and Marghera Blues on her website.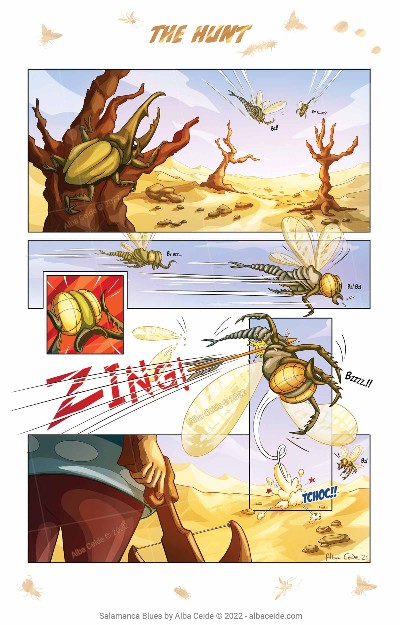 You can visit Alba's website here and online store here. Follow Alba on Twitter here and Instagram here
Beatrice Mossman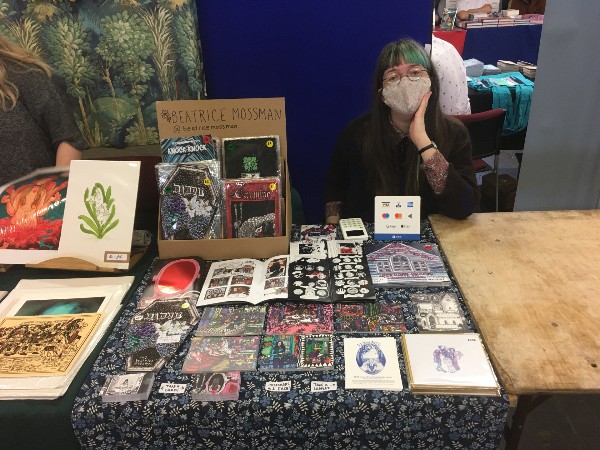 Being asked to put Broken Frontier's name to running communal tables at fairs has often reaped dividends and so it was at the last Catford Comic and Zine Fair where, in that capacity, I discovered the work of Beatrice Mossman.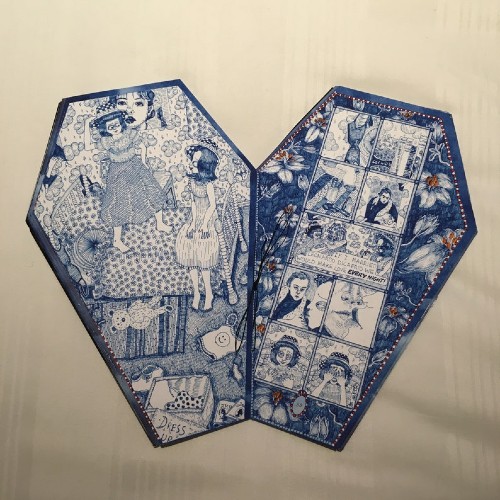 Beatrice's earlier practice had notable horror and fairy tale influences and showed off her penchant for inventive page structures and motif-enhancing tactile elements. Lycanthropic coming-of-age story The Lure of the Flesh, for example, reviewed here at BF. Beatrice also edits the colour-inspired horror anthology Hell-Hued bringing together small pressers for a collection of supernatural stories. Two issues have been released to date.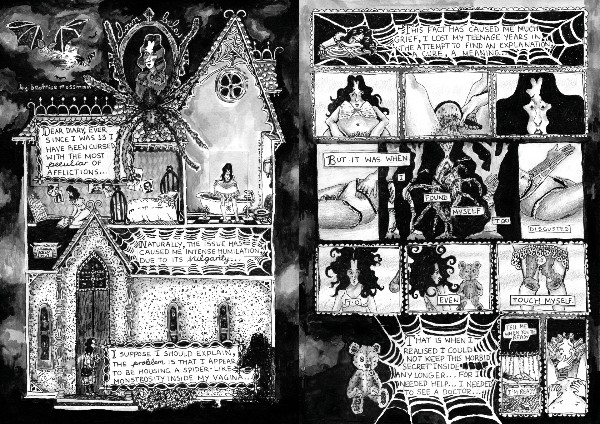 But it's undoubtedly her ongoing comic Daddy (first image above) which will most have resonated with readers. A remarkable graphic essay on the father who died before she was born, Daddy is printed in a coffin-shaped format and was nominated as 'Best New Periodical Comic' in the 2021 Broken Frontier Awards. I said when I reviewed it last year that "Publishers who promote the autobio side of comics need to take note of this because it's a very special piece of storytelling indeed." Beatrice is currently working on the next issue of Daddy and a new story Zom-BFFs (below) on toxic friendships and co-dependency. Her short story 'Down Below' (above) was also published in Frisson Comics' Knock Knock anthology.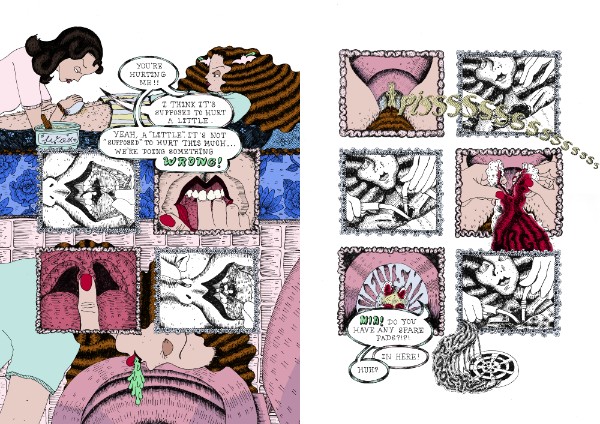 You can visit Beatrice's website here and online store here. Follow Beatrice on Twitter here and Instagram here
Jason Chuang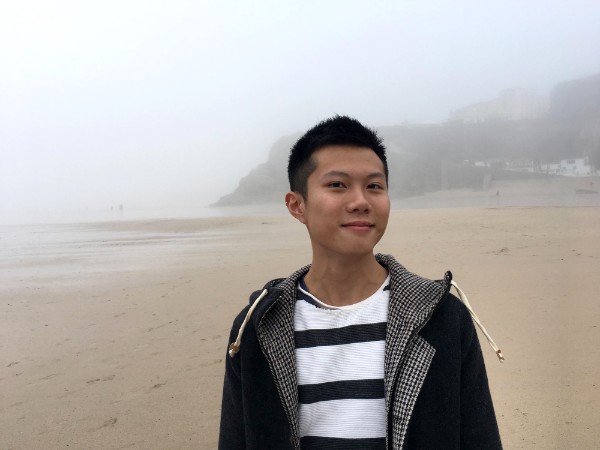 Hackney Comic + Zine Fair introduced me to a whole host of new creators' work in September 2021. No mean feat at all given how invested Broken Frontier is in the UK small press scene and a mark of the excellent curation by organiser Joe Stone and his team. One of those artists was Jason Chuang whose comics I admit to having sat on reviewing for a handful of months so they could be part of this process.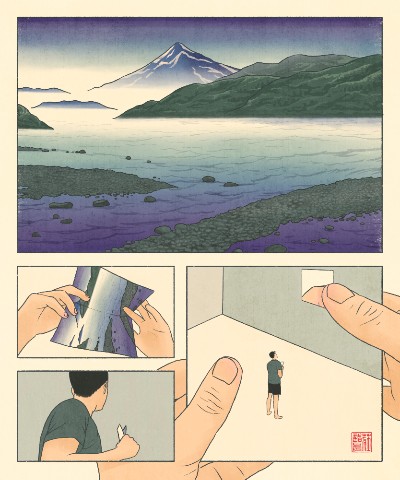 Jason's wordless graphic novel Tide which he describes as "about memories and emotions that come with the loss of a relationship, and the transformation of that emotional landscape" is a stunning example of the pure visual language of the form and a recommended entry point into his work.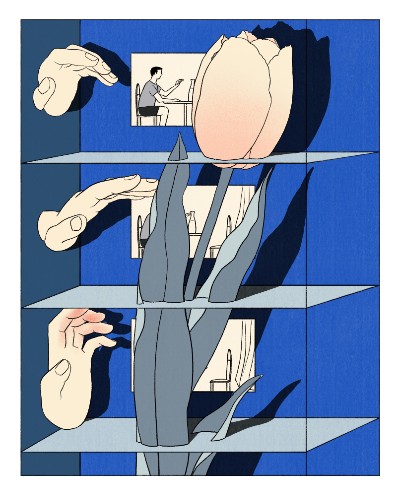 His growing profile on the scene was recognised last year when he was one of the creators selected to be part of the SelfMadeHero Graphic Anthology Programme promoting diversity in comics publishing. His shorter-form comic 'The Guessing Game' was published in the subsequent initiative anthology Catalyst.
I'm looking forward to delving further into the symbolic qualities of Jason's practice in the coming weeks. You can also see his work in the anthology Sanitiser on Toast, collecting the pandemic experiences of twelve RCA students.
You can visit Jason's website and store here. Follow Jason on Twitter here and Instagram here
Kat Cass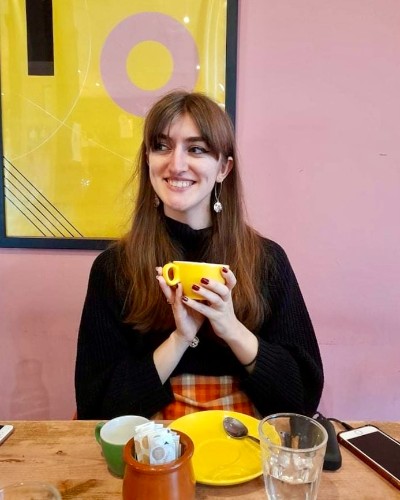 Sometimes you need very little convincing that someone is a major talent in the making. Back in the early days of 'Small Pressganged' at BF, for example, I could see the incredible promise in the work of Rebecca Bagley (now doing great things in children's book illustration) from just one short comic. Similarly other 'Six to Watch' artists like Anna Readman (2000 AD), Sabba Khan (The Roles We Play), and Cat Sims (I Feel Love) were all chosen for the programme on what really amounted to just a handful of actual comics pages produced.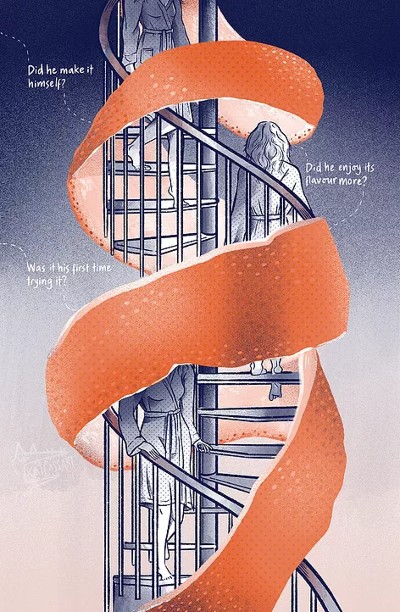 Such was the case with the graphic storytelling of Kat Cass in the pages of Marmalade – a one-shot dark love story comic written by her sister Charlotte Cassidy – that was positively bursting with examples of the unique visual tools of the form. Kat was the first name on my list for this year's 'Six to Watch', months ahead of today's announcement.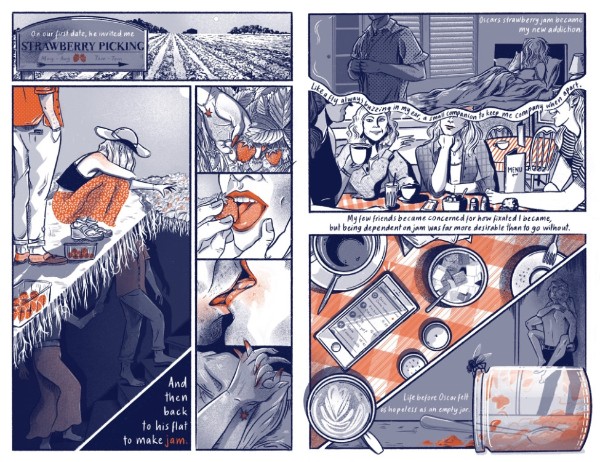 When I reviewed Marmalade I said of it " There's so much thought given to page structure and representational imagery that you'll need at least a couple of re-reads to fully appreciate all the little details." You can see a taster of that in the accompanying images.
Kat's current work-in-progress includes another collaboration with Charlotte in "a ghost story with a colourful twist" and "the very beginnings of a couple of self-written tales that have been whispering to me for quite some time!"
You can visit Kat's website here and online store here. Follow Kat on Twitter here and Instagram here
Manon Wright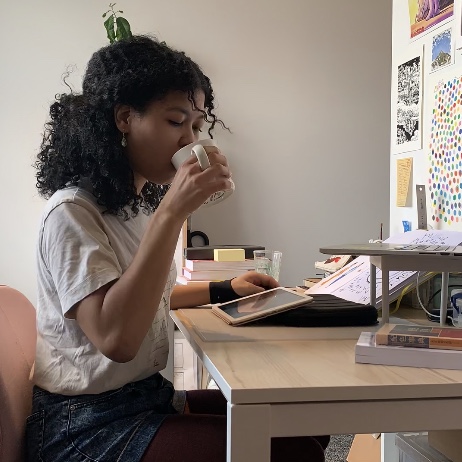 Manon Wright says of her graphic narrative on her website that "the themes at the heart of each story usually centre around empathy and understanding between people across cultures, classes and lived experiences."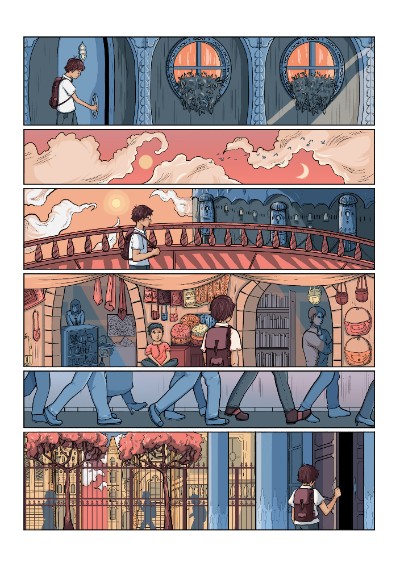 One of the things that drew me to her work when thinking about this year's 'Six to Watch' was her intuitive use of colour to enhance theme and atmosphere, as well as her use of panel structures and shifting perspectives to create a sense of place, environment and time. There's some fine examples of that in the accompanying images here.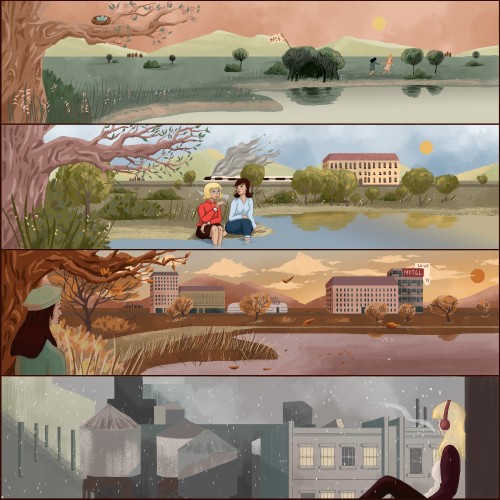 Thought Bubble enthusiasts will also be aware of Manon's success in last year's Thought Bubble Creators' Prize which further underlines her obvious talents. You can read more about that here on the TB site. Manon is currently working on two self-published comics including a sci-fi story "about a sacrificial ceremony and a floating city" which we'll be looking forward to seeing more of at BF in due course.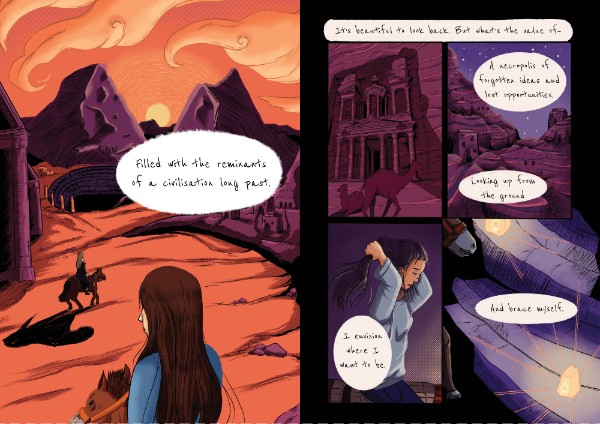 You can visit Manon's website here and online store here. Follow Manon on Twitter here and Instagram here
Sammy Ward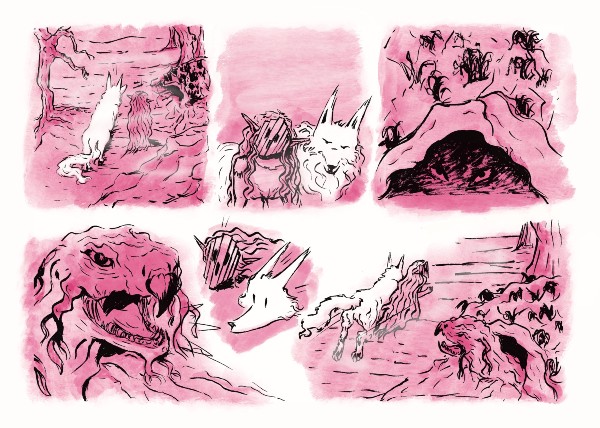 There were two occasions last year when I was mightily impressed by the genre comics work of Sammy Ward. Firstly on Small Press Day when Sammy submitted four pages of her fantasy comic Scavengers, Curse of Ymir (above) to our Broken Frontier One-Tweet Review event on Twitter.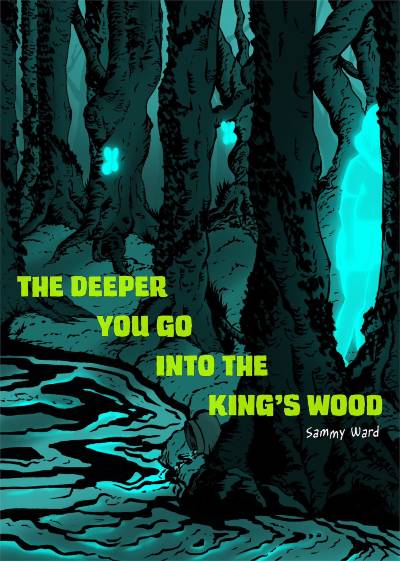 I spoke then not just of her dreamy visuals but also of how we should never underestimate the specific skills needed to carry a story forward without dialogue or narration. That was something that was very evident in Sammy's Hackney Comic + Zine Fair short horror comic The Deeper You Go Into the King's Wood which, as I said in my BF review, succeeded in "immersing [the reader] in brooding and malevolent moments of uneasiness."
Aside from her own solo comics output Sammy has also contributed to the first volume of Shield Maiden, Sprouting and Other Tales of the Curious and Campfire Stories, all of which are available here. Sammy is also currently working on a collection of a collection of short horror and mythology comics titled Divine Nature. If The Deeper You Go Into the King's Wood is anything to go by that's going to be an eagerly anticipated project for sure.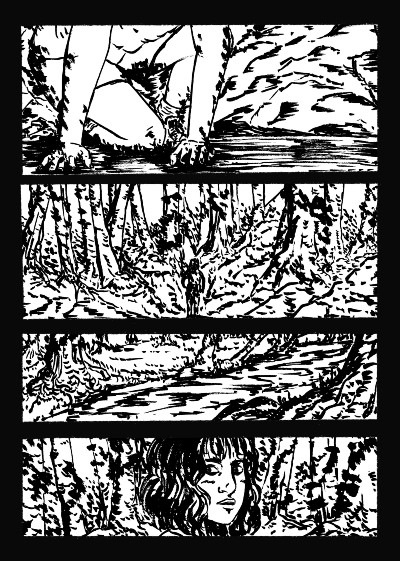 You can visit Sammy's website here and online store here. Her work is also available from Buy Small Press here. Follow Sammy on Twitter here and Instagram here