Beatrice Mossman's The Lure of the Flesh brings together dark fantasy, allegorical storytelling and autobiographical elements in an enticingly unusual physical format. Freya is a young girl who has struggled to come to terms with the death of the father she never knew. Consumed by morbid and near obsessional thoughts about mortality that border on the nihilistic she begins to believe that she may be a werewolf and responsible for any number of local tragedies. With adolescence proving a confusing and troubling time, Freya must come to terms with the nature of the fears that haunt her…
The Lure of the Flesh is a coming-of-age tale that is notable for both its exploration of its protagonist's fatalistic existential meditations and for its most distinctive presentational form. In the first case the narrative is informed by Mossman's own experiences of OCD and intrusive thoughts but channelled into a fairy tale/horror hybrid. Comics, of course, is a medium that is notably effective at communicating personal experience with immediacy and an empathetic candour, but here Mossman weaves in more ornate and fantastical elements to give extra layers to her character's ordeal.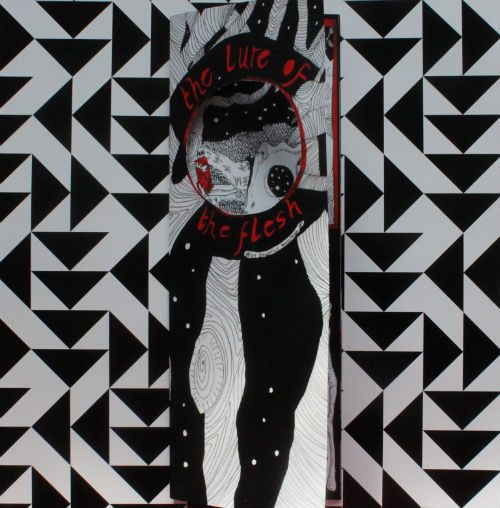 Providing even more depth to the proceedings, though, is the alternative physical feel of The Lure of the Flesh. Published with a narrow portrait-style approach it makes use of cut-out holes in pages with an invention I haven't seen since I reviewed Alys Jones's Beyond the Wire nearly seven years ago at Broken Frontier. These experimental windows in many of the pages become an intrinsic part of the narrative, inviting us to look through as they cleverly signal events to come or reflect or relevant moments past. It's a tactile element that is sophisticated and intricate in delivery and one that makes our relationship with the page, and the comic's central character, all the more intimate as a result. The pronounced blacks and reds of the pages also lend an extra meaning to the subject matter of the story.

Unsurprisingly – given this is very early work for Mossman – there are some naiveties in the storytelling and occasional evidence of an artist learning their craft. Speech balloon placement and lettering is crammed in places and while page structure – imaginatively full of panels nesting within either a wider thematic background or one depicting its recurring motifs – is inventive in realisation it's sometimes a little over-ambitious and doesn't always give her art room to breathe.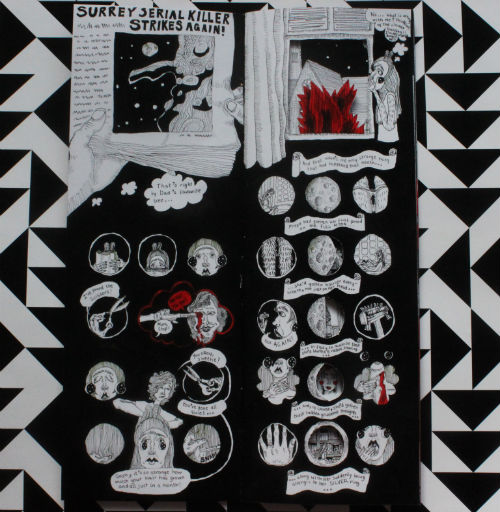 However, that's counterbalanced by Mossman's bold interrogation of the possibilities of the medium. It's always pleasing to see artists thinking about the potential of the page in rarely examined ways. Especially when it's younger creators who are abandoning any preconceptions of what comics should be and instead thinking about what they could be. There's a joy in that kind of investigation that is particularly prevalent in self-publishing and, on the evidence of The Lure of the Flesh, I look forward immensely to seeing what Beatrice Mossman has in store for us next in her explorations of the form.
For more on the work of Beatrice Mossman visit her site here and her online store here. You can follow her on Twitter here.
Review by Andy Oliver