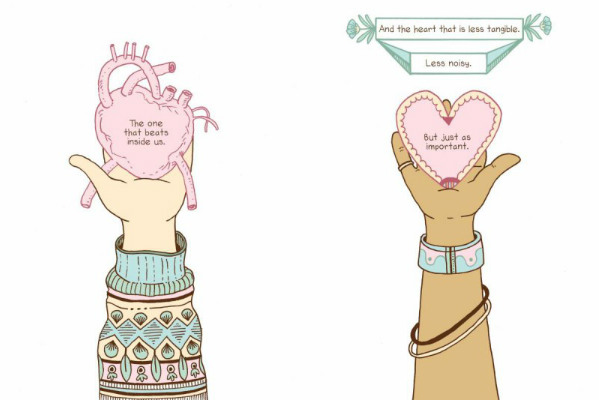 Mindfulness and well-being have become the comics stock-in-trade for artist Mike Medaglia. A creator whose work brings a considered spirituality to the form, we've been covering his output here at Broken Frontier from his early self-publishing projects like the fondly remembered Wu Wei anthology. In recent years he's become something of a crossover phenomenon with his One Year Wiser books.
2017 was an eventful year for Medaglia. Not only was his latest SelfMadeHero book One Year Wiser: An Illustrated Guide to Mindfulness published but he also co-founded a new publishing company Liminal 11 with Darren Shill and still found time to publish two minicomics – Poverty of the Heart and Rushing from A to A – as well.
These compact publications comprise two short, easily digestible meditative journeys wherein Medaglia invites the reader to reflect on their life experience and the ways in which they can live a more fulfilling existence. Poverty of the Heart examines how we can attain an inner richness by opening up our hearts, with Medaglia looking at how embracing compassion and kindness can benefit us spiritually and, conversely, how withholding that consideration for our fellow beings can have a detrimental effect on our souls.
In Rushing from A to A Medaglia explores the intensity of modern living and how stepping back from our overwhelming preoccupation/obsession with the illusion of targets and objectives, and simply enjoying the smaller moments, can allow us to appreciate the true richness and beauty of life.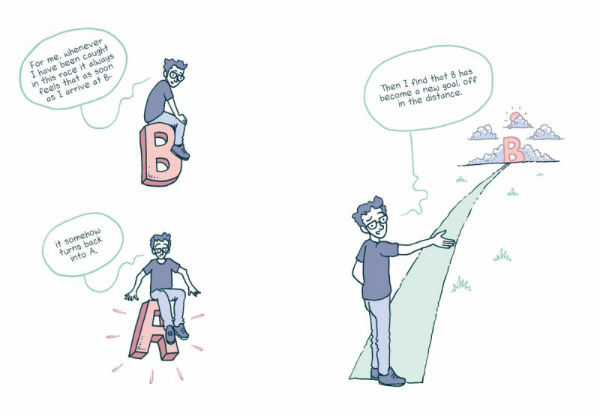 Both books sit somewhere between pure sequential art and graphic narrative using connective symbolism to communicate their messages. Medaglia has developed such a distinctive approach over the last few years, employing visual metaphor with a careful sense of graphic design and an empathetic and calming narrative voice. This is further emphasised by his soothing colour choices and the way in which his efficient use of white backgrounds makes his imagery stand out all the more to the reader.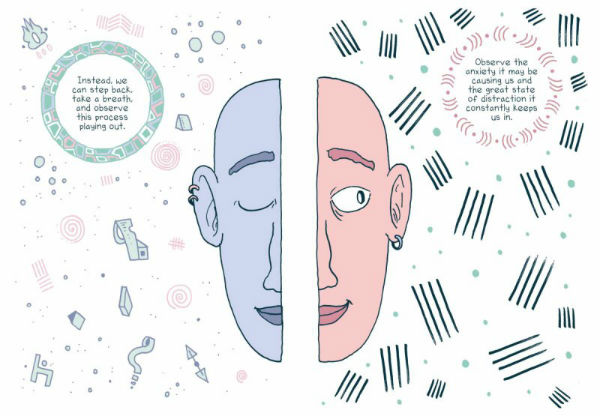 These publications are so effective for their conciseness which, perhaps ironically, speaks volumes. But, ultimately, the reach of these shorts is in the non-judgemental nature of Medaglia's words of wisdom. They come from a place of kindness, are permeated with that same pensive thoughtfulness, and enrich their readership with their message. A singular creative talent, Medaglia asks us to take stock of our lives and priorities with a gentle consideration. These two minicomics are an accessible entry point into the practice of an artist whose work is clearly a true vocation.
For more on the work of Mike Medaglia visit his site here and buy Poverty of the Heart and Rushing from A to A from his online store here priced £3.00 each. you can follow him on Twitter here.
For regular updates on all things small press follow Andy Oliver on Twitter here.
Review by Andy Oliver