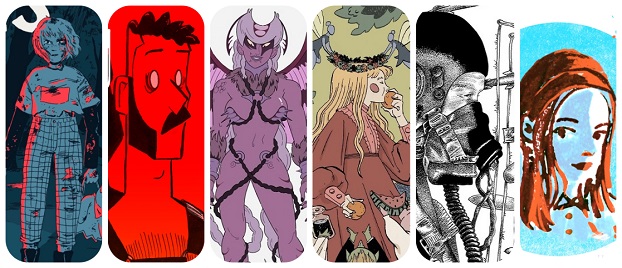 Welcome to our Broken Frontier Six to Watch 2023 announcement! But before we look forward let's quickly look back.
In 2022 the UK small press world slowly began to emerge from lockdown and return, albeit tentatively and cautiously, to in-person environments. This meant that for the first time since 2019 our annual Broken Frontier 'Six Small Press Creators to Watch' programme was able to make some forays into "real world" events, with a big meet-up of Six-to-Watchers at the South London Comic and Zine Fair being a particular highlight.
If you are unfamiliar with the Broken Frontier 'Six to Watch' initiative this is what it's all about. Every year since 2015 we have given a spotlight to half a dozen UK-based creative voices. We look to provide regular review, interview and feature coverage of what they work on during that time, as well as mentoring should they request it and opportunities to be part of BF events. panels and festival appearances. There's also a 'Six to Watch' Discord server where artists from all nine intakes can check out news about relevant events, anthologies/publishers looking for submissions, competitions to apply to, and get advice and support from BF and their predecessors on the programme.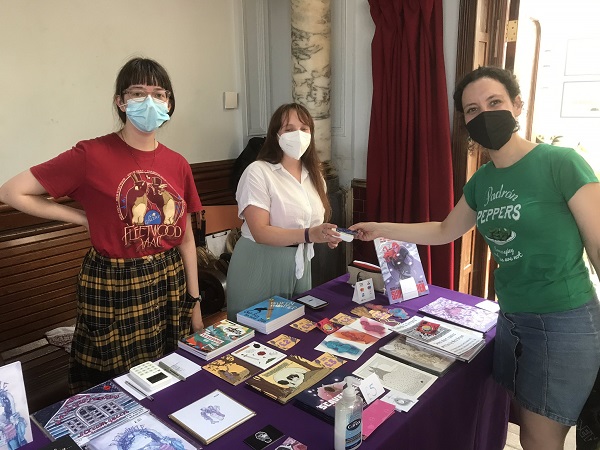 Our 'Six to Watch' artists at SLCZF 2022 – left to right Beatrice Mossman, Sammy Ward and Alba Ceide
Every year this announcement is one of our most read articles, and our supremely talented 'Six to Watch' artists have gone on to be published by such luminaries as Avery Hill Publishing, BOOM! Studios, Faber, Graphic Universe, Icon Books, Image Comics, Koguchi Press, Myriad Editions, Quindrie Press, Rebellion, SelfMadeHero, and more. Seriously, if you want to discover tomorrow's comics stars today then this annual feature is the one for you!
As ever, we cannot wait to start on our mission to raise the profiles of this year's intake. Some have been featured on BF before, some you may be aware of already, and others will be entirely new names to you. Their styles and approaches are all very different, ranging from transgressive abstract experimentation to energetic and quirky genre cartooning. But all of them have one thing in common. They understand that comics is a visual language, and look to both embrace and manipulate that quality to its greatest narrative potential.
Here then, without further ado, are our 2023 Broken Frontier 'Six Small Press Creators to Watch'. Get following them all on social media because they all have huge futures in the medium!
Becca "Beck" Kubrick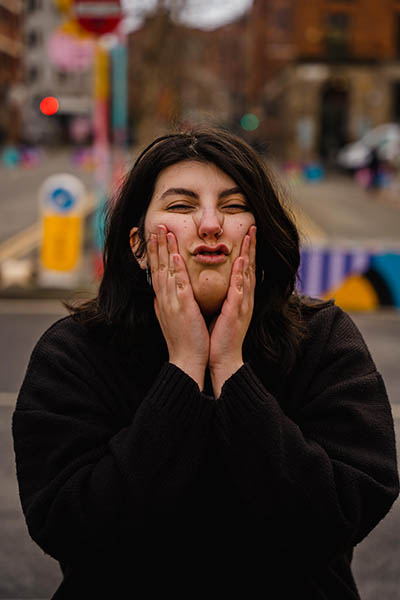 I first covered Becca Kubrick's work at Broken Frontier at the end of 2021 when we reviewed their quirky minicomic Coby, Alone; a supernatural fantasy story with some deft and endearing character interplay. And last year I reviewed Kubrick's collaboration with writer Christof Bogacs on the enticing mystery of Meat 4 Burgers (below), a series set in a fast food restaurant in space where workers awaken with no knowledge of who they are, how they got there, or their past. They also recently contributed to Mad Cave's Lower Your Sights anthology, raising awareness of the plight of children impacted by war.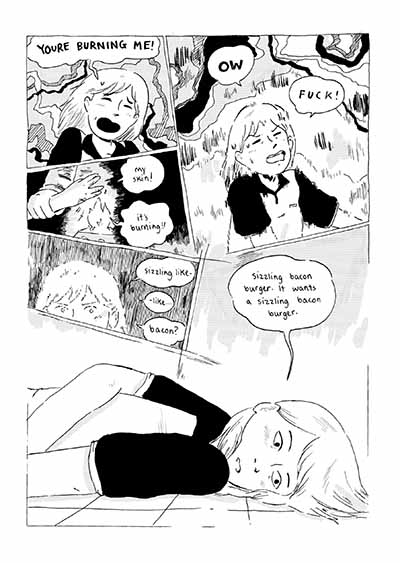 But it was undoubtedly last year's Dead Girls: Beach Day (below) that will have grabbed most readers' attention. This eerie horror story isn't just atmospheric it's also pure language of comics stuff and underlines just how fast Becca has matured as a visual storyteller in such a short space of time.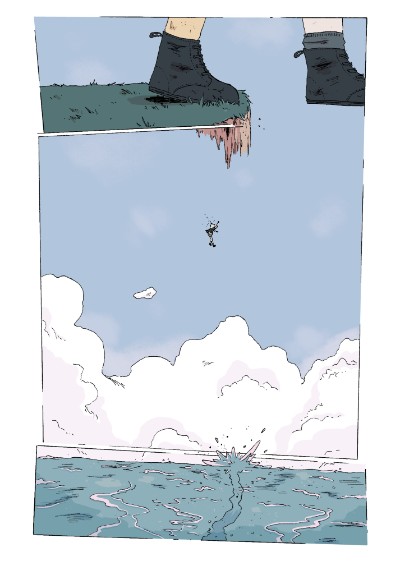 Their current work-in-progress includes the third issue of Meat 4 Burgers, an as yet unannounced graphic novel, and a prose novel!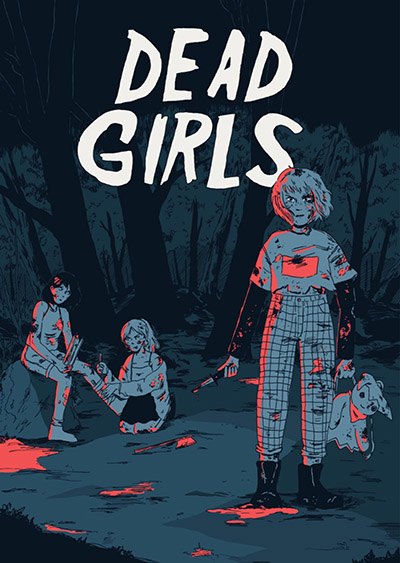 You can visit Becca's website here. Follow Becca on Twitter here and Instagram here. Buy Coby, Alone here in the UK and here in the US. Buy Dead Girls: Beach Day here in the UK. And buy Meat 4 Burgers here.
Ed Firth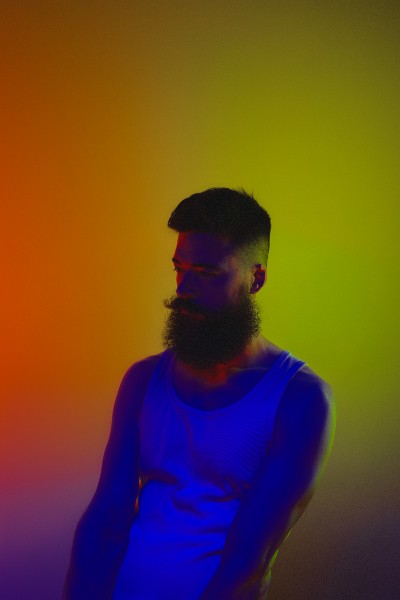 It was way back in 2020 that we first covered Ed Firth's work at Broken Frontier when his short story 'The Nightbus' caught my attention in the WIP Comics anthology Success. A moody and atmospheric slice-of-life story it marked him out as a talent to keep an eye on.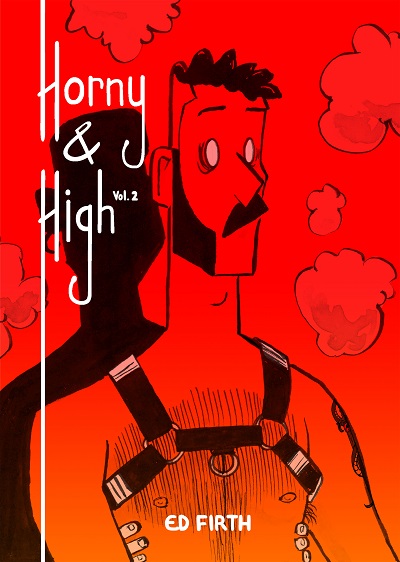 Since then Ed has featured at BF on a number of occasions. After being nominated for the Myriad First Graphic Novel Competition, Ed's longer-form queer comics anthology Horny and High explored gay sex culture and urban life in a series of uncompromising stories. We always like a good headlines pull-quote here at BF and when I interviewed Ed in 2021 his line "one friend said to me I'd written a Daily Mail-reading homophobe's nightmare" was a gift to this editor.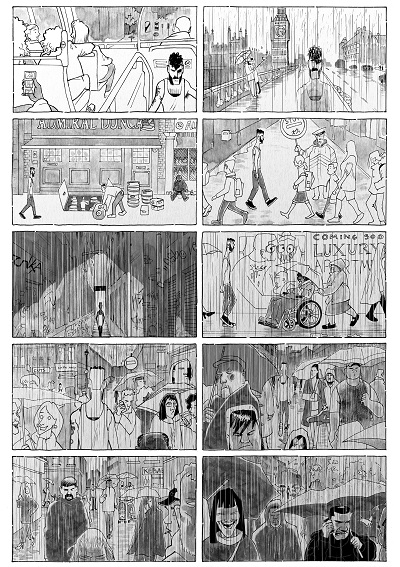 More recently Ed was a runner-up in the Observer/Faber Graphic Short Story competition, only underlining his rising profile in UK indie comics. Ed is currently working on the third volume of Horny & High. He is also developing a Colossive Cartographies release, a collected edition of his Pound Shop zine series, and the expanded US edition of Horny & High Volume 1.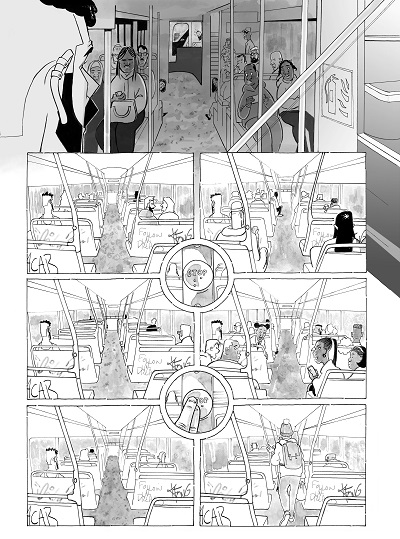 You can visit Ed's online store here. Follow Ed on Twitter here and Instagram here.
J Webster Sharp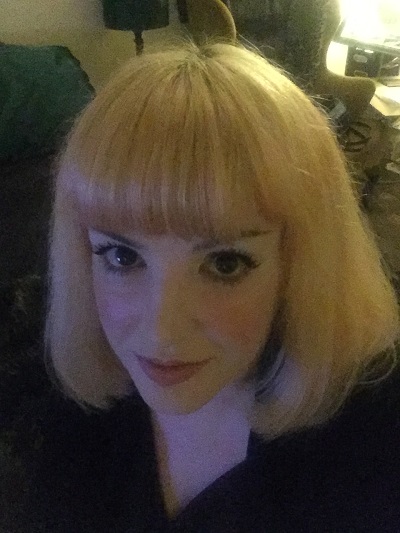 J Webster Sharp's work includes some of the most striking imagery you are likely to see on comics Instagram and, as this delightful anecdote attests to, one whose "entry point" into the scene came at a very young age: "When I was little, the newsagent near my Nana's house would humor me and my sister by displaying our homemade crayon scrawled comics and magazines. To this day I do not know if they sold."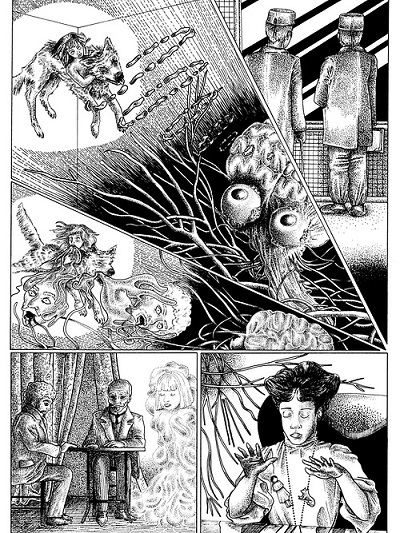 Her comics are a fascinating mix of abstract, surreal stream-of-consciousness and oblique narrative. Last year at BF I looked at the alluringly provocative imagery of Pretty Flavours, saying then that: "Whether this is visual metaphor/allegory or simply a dive into the randomness of terrifying dream logic is up to the individual reader to decide but Sharp's darkly imaginative and, frankly, profoundly disquieting panel-to-panel storytelling is certainly something to behold. Her art has elements of both the organic and the anachronistic to it; a comics equivalent of a cabinet of curiosities with a gritty, grainy line in shading that, seemingly incongruously, has one foot in both reality and the hallucinatory."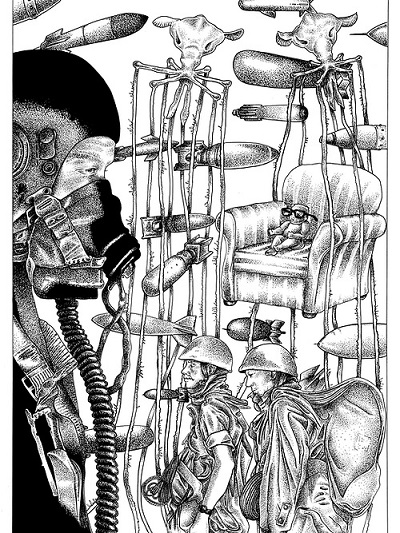 J Webster Sharp is also one of the speakers at the upcoming Cartoon Museum Conference later this month.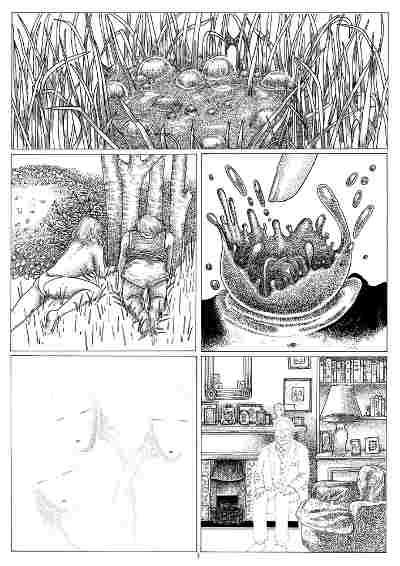 You can visit Jemma's website and store here. Follow Jemma on Instagram here.
Kry Garcia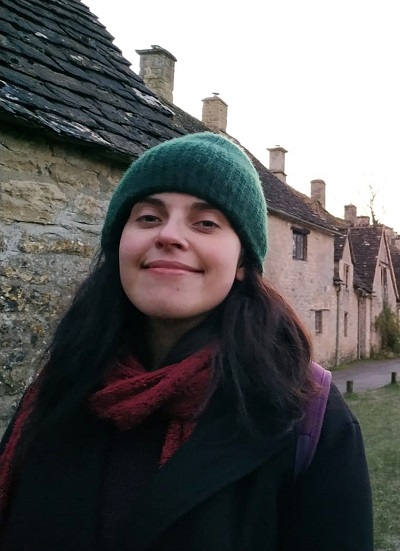 Kry Garcia's work has been on my radar for a couple of years now and she was one of the artists we spotlighted last summer in our round-up of the Small Press Day one-tweet reviews event. Her ability to lend her styles to different forms of narrative and understanding of the canvas of the page were both key factors in choosing her for this year's Six to Watch.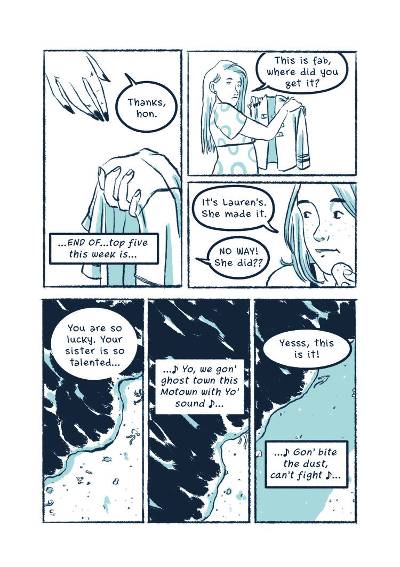 Last Autumn I reviewed Kry's Short Box Comics Fair comic Meteors (above) at BF – a haunting coming-of-age story – and described it as "a story that reminds us of the fleeting inconsequentiality of our lives but also paradoxically of the enormity of individual moments."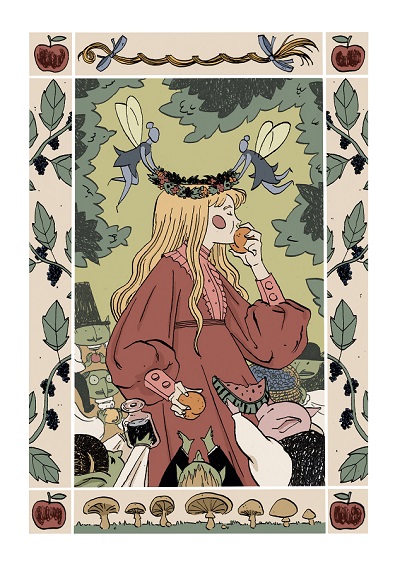 Kry is currently working on a short fantasy graphic novel with a projected release later in 2023. If you check out some of the images in that Small Press Day link above you will understand just why that news is something to be excited about!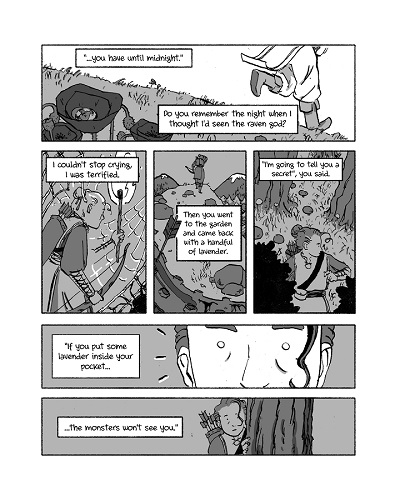 You can visit Kry's online store here. Follow Kry on Twitter here and Instagram here.
Rachel Tubb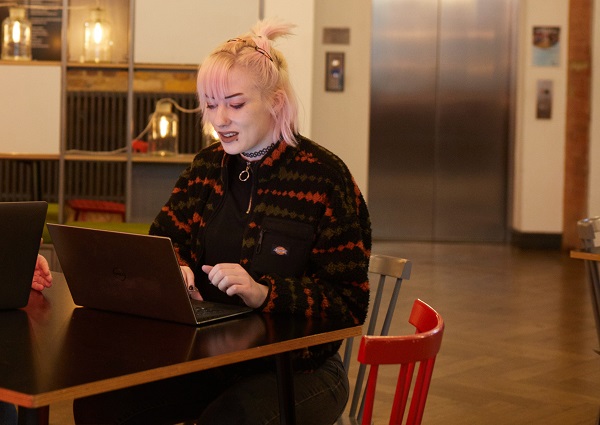 Rachel Tubb is another artist whose work I have been following for a while now, primarily via the ever excellent WIP Comics anthologies. I think I first saw her work back in 2020 in the Success and Failure collections wherein she pioneered the renaissance cat humorous historical fantasy genre.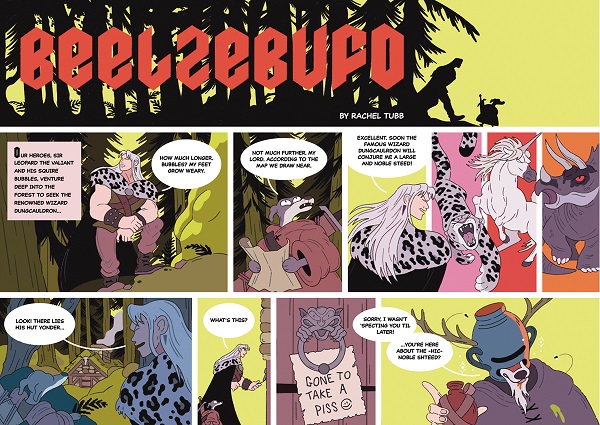 Since then Rachel has contributed to the WIP books Lucky WIP and WiPXL, with her contribution to the latter (above) being a highlight, and of which I said: "Rachel Tubb's irreverent batrachian take on the fantasy genre in 'Beelzebufo' has a genuine laugh-out-loud quality." She also has a rather fine line in building up to splendid punchlines.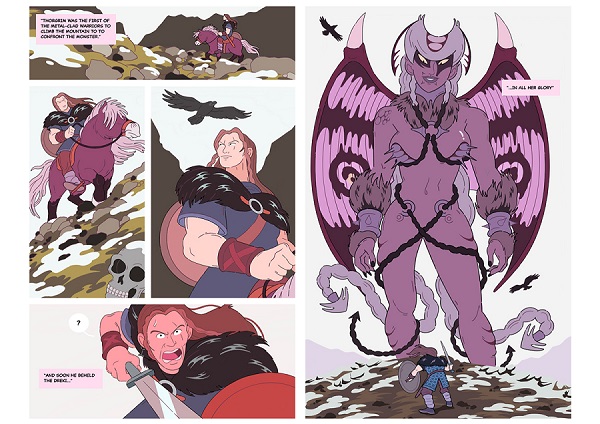 Rachel's fluid cartooning and energetic visuals were also recognised last year when she was selected for the Shortbox Comic Fair. Pages of that short Metal Saga can be seen above and below.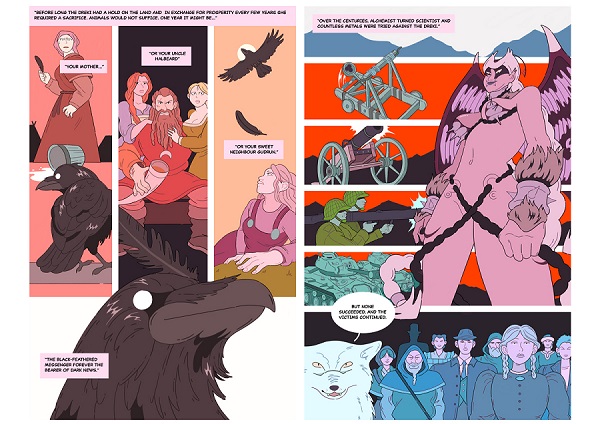 You can visit Rachel's website here and buy the WIP Comics anthologies here. Follow Rachel on Twitter here and Instagram here.
Xiaoyi Hu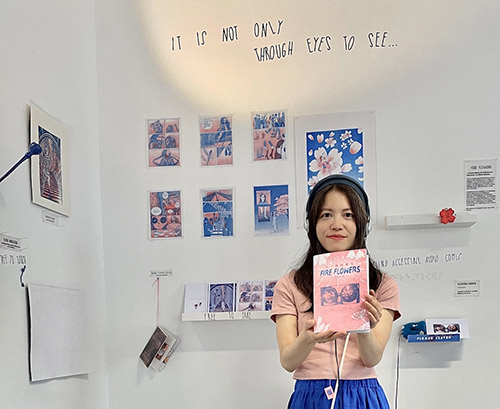 It's always pleasing when talented new names on the comics scene come directly to Broken Frontier rather than us having to discover them ourselves. Xiaoyi Hu submitted her comic Fire Flowers for review on the site at the end of last year and it nearly got lost in the obvious surge of November coverage requests. But fortunately for us it re-emerged from digital limbo to reveal an artist with an innate understanding of the key narrative tools unique to comics.
Fire Flowers (above) is a slice-of-life short story that uses the page in inventive and clever ways to explore ideas of sensory perception and how we interpret the world around us. I will have more to say about it when it's reviewed here at BF in the near future but it was strong enough on its own merits to gain Xiaoyi a spot on this list.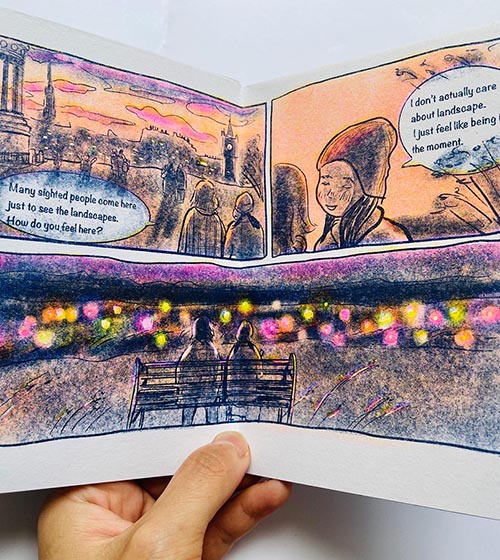 Her other self-published work includes the zines Be Well and Sightfeeling (above), and the handmade book The Beginning. She is currently working on more experimental projects.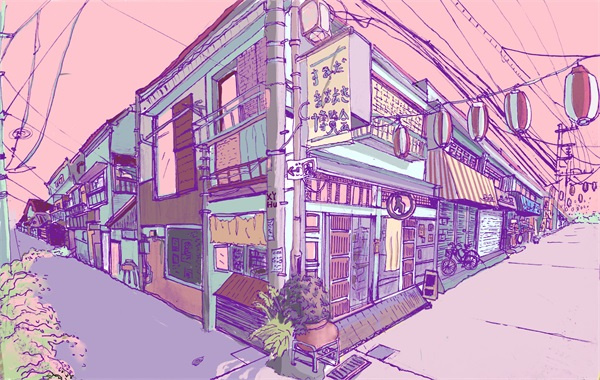 You can visit Xiaoyi's website here. Follow Xiaoyi on Instagram here. Xiaoyi's work is available from Gosh! Comics and Blunt Knife.