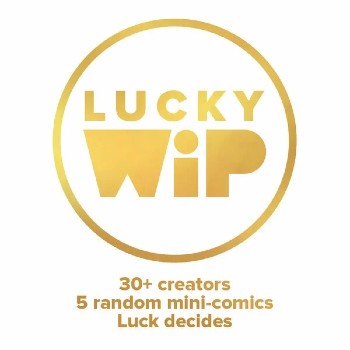 HCZF MONTH! We've featured WIP Comics a number of times over the last few years at BF in terms of both their publishing output and their work in providing a supportive community network of grassroots comics creators. The group's organiser Joe Stone is also, of course, the hard-working force behind the Hackney Comic + Zine Fair so it will come as no great shock that Lucky WIP, this year's WIP Comics anthology showcasing the artistic efforts of its members, is an HCZF debut release. What may come as more of a pleasant surprise is the format of the anthology which really shakes up its presentational style in comparison to previous years.
While it retains its central concept of themed stories (previous years have had comics based around the subjects of Work, Progress, and last year's two volume set Success & Failure) its format is delightfully playful in delivery. As its title suggests it appropriates the idea of a "lucky dip" with your "copy" of Lucky WIP consisting of an envelope containing print copies of five random minicomics and zines. In total 30-plus comics were produced for the venture but don't worry about missing out. Every purchase of Lucky WIP also comes with digital versions of every single offering, meaning this year's WIP book is a heady blend of the tactile and the digital.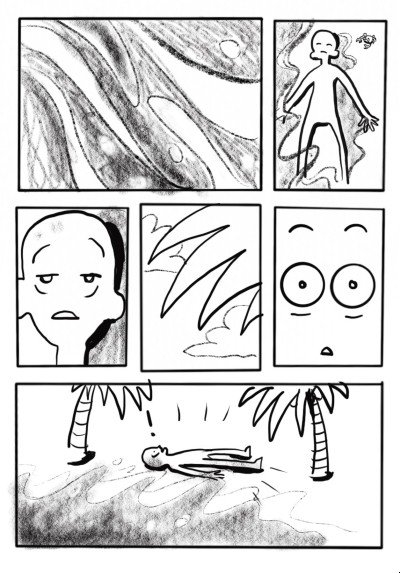 I have to admit that there was something rather gleeful about opening my Lucky WIP envelope to see what was awaiting me inside. Of the luck-themed comics it contained I was particularly impressed with Emily Maher's Rising (above) which takes that old cartoon standby of the shipwrecked man on a palm tree-strewn desert island but then spins it off in a whole new direction. This flight of fancy depicts his attempt to escape that situation with a surreal slant, showing great confidence with page structures and panel compositions for a debut book. Maher's contributions to our fortnightly online Gosh! Comics and Broken Frontier Drink and Draw have always been inventive in their interpretations of the drawing prompts so it was pleasing to see her imagination expanded to a sequential piece.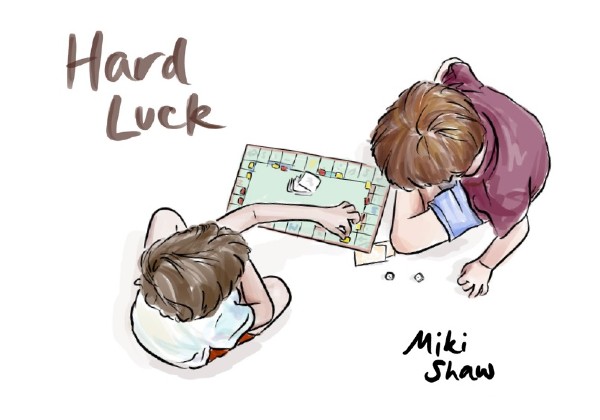 I've enjoyed Rachel Tubb's anthology contributions before but her minicomic The Collector (below) about a hoarder of unlucky and cursed artifacts spotlights her fluid yet intricate cartooning style and builds up to a cracking punchline. And Miki Shaw's Hard Luck (above), centring on two kids falling out over a game of monopoly, perfectly captures that sense of petulant child logic that inevitably leads to conflict and tears.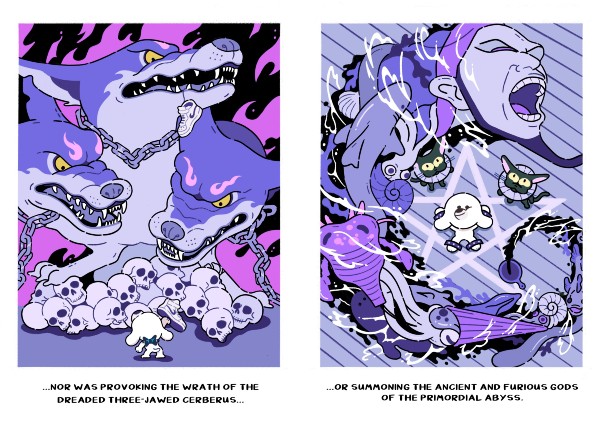 As you can imagine the approaches to the "luck" prerequisite are many and varied ranging from discussions of traditions surrounding the concept, personal stories, and more noticeably genre pieces. Of the autobio/slice-of-life work Peter Morey's A Lucky Escape detailing an unexpected badger attack on a cycling venture to Brighton had a self-deprecating charm. Joe Stone's 08:42 about the fear of being late for work has an impressively animated sense of motion, especially when its protagonist moves through the same elongated panel multiple times as he navigates the London transport system.
I was also impressed with the visual language, "lettering" tricks and colour in Hanna Gwynn's Lucky! (above) to depict converging events and lives. Bruno Stead's O Lucky Man is about a good Samaritan striking up a friendship of sorts with a homeless man who has just been defecated on by a bird. Its bleak humour goes hand in hand with its pensive reflection on the nature and reality of luck.

Havva Bird is another artist whose work I have been following with keen interest over the last year or two and Reggie's Den (above), her short anecdotal account of a possible haunting encounter in a theatre, is heightened in terms of atmosphere by its sepia-stained panels, cramped cursive lettering and historical visual stylings. Social commentary is also well represented, especially in the biting wit of our own Jenny Robins' 7 Habits of Highly Successful People, a simple but scathing assessment of privilege. Similarly Tristan Spill's Who Killed the Planet? with its chilling symbolic rogues gallery makes its point effectively with a concise economy.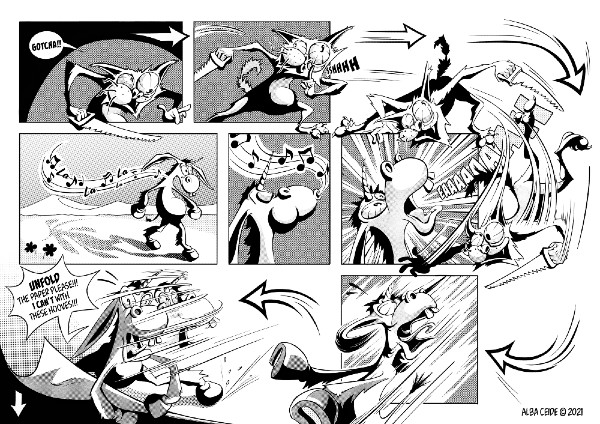 The eclectic range of subjects shows just how widely the creators have interpreted their brief. Lara Callaghan's Substance X, for example, detailing the unlikely origins of chemotherapy, or Mary Bluestocking's meta, form-defying, and panel-busting The Coin Flip with its Schrödinger's cat-inspired premise. On a similarly meta level Alba Ceide's kinetic cartooning on The Lucky Horn (above)positively bursts off the page with a chaotic slapstick appeal, and Nick Bryan and A. Bozi Ske's The Toys of Fate goes full horror genre as we enter a mysterious toyshop on an ill-fated birthday shopping trip. I don't think I have seen Claudia M's work before but Worlds Apart, a sci-fi meditation on relationships, loneliness and the ties that bind uses the colonisation of Mars to poignant effect.
There's one comic I particularly want to highlight here – 2021 Broken Frontier 'Six to Watch' artist Mereida's Naglalamay (above), a story of funeral traditions and last farewells told from a child's perspective. It's a mini-masterpiece on every level from composition, use of colour and darkness, message and narrative structure. Mereida's versatility is quite astonishing and she is, without a doubt, one of the most promising new creative prospects I have ever had the privilege to introduce you to at Broken Frontier. Lucky WIP is worth the entry price for this comic alone. And if you get it in print you are all the luckier!
Perhaps the one drawback here is that having read the digital copies you may regret not getting to see everything in print, especially as in some cases I suspect their tactile qualities would definitely have added something extra to the reading experience. But conversely that would also have undermined the Lucky WIP motif of surprise and discovery which is a delightful part of the interactive process here. An absolute must-buy HCZF offering. You can find WIP Comics in the online Hall One at Hackney Comic + Zine Fair.
Available to buy online here priced £6.00
Follow HCZF on Instagram (@hackneycomicfair) and Twitter (@hackneycomics) for updates, and head over to www.hackneycomicfair.com for more information about the event.
Review by Andy Oliver