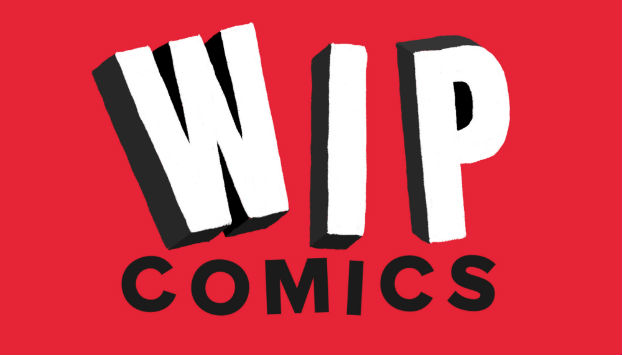 The London-based WIP Comics (work-in-progress) group, overseen by 2019 Broken Frontier 'Six to Watch' artist Joe Stone, exists to provide a mutually supportive community of aspiring comics creators. With monthly meet-ups (now online) and an ever burgeoning membership it's provided a vital network to newer voices on the scene and has published a number of annual anthologies of their work to date.
Stone spoke to us about the work of WIP Comics in this guest blog last year and such has been the success of the initiative that this year they are putting out two inter-related collections of shorts from their members. Success and Failure give the artists involved an opportunity to interpret either theme from their own perspectives, sometimes with a direct specificity and sometimes taking a broader approach. What results from those prompts are two books bursting with small press comics energy and a reminder that the WIP Comics anthologies have become the spiritual successor in the UK to the much missed Dirty Rotten Comics in providing a platform to newer folk on the UK small press circuit.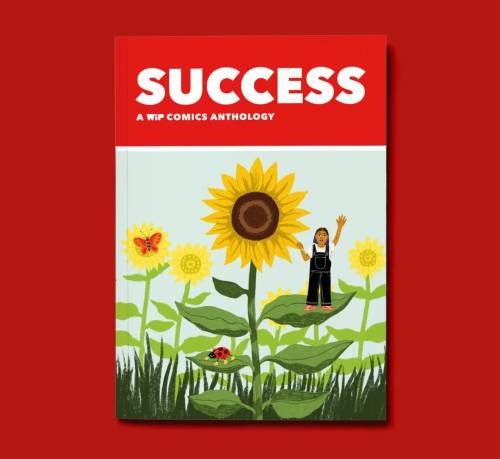 Behind an entrancing, mood-heightening Aleesha Nandhra cover, Success immediately showcases the breadth and diversity of approaches to the form inherent in both volumes. That's perhaps best demonstrated in Joe Stone's own story 'Creative Block' (below) with its whirlwind tour through comics history as an on-page Stone attempts to overcome a momentary inability to commit to the comics page. Clever, meta and full of in-jokes it's one of my favourite offerings from him to date.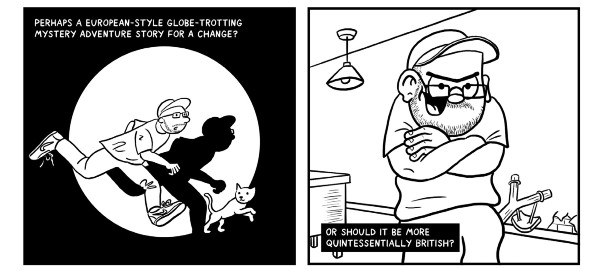 Two examples of allegorical stories utilising visual metaphor also shine. Olivia Sualdea's quietly haunting work always speaks volumes despite its minimal use of words which is very much in evidence in her story 'Success'(below). Meanwhile Mereida Fajardo's meditation on belonging in 'The Girl with a Lampshade for a Head' makes playfully pleasing use of the visual language of the form.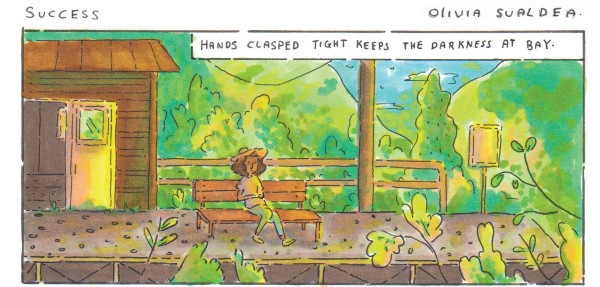 Other notable offerings in Success include Ed Firth's 'The Nightbus' which employs vivid but often monochromatic colouring to imbue its story of break-ups and chance encounters with an atmospheric eeriness. Also on the slice-of-life front, one of UK comics' most underappreciated creators Rebecca K. Jones uses a framed gallery-style set-up to give us windows into some of life's triumphs, both large and small. It's charming in both construction and in sentiment.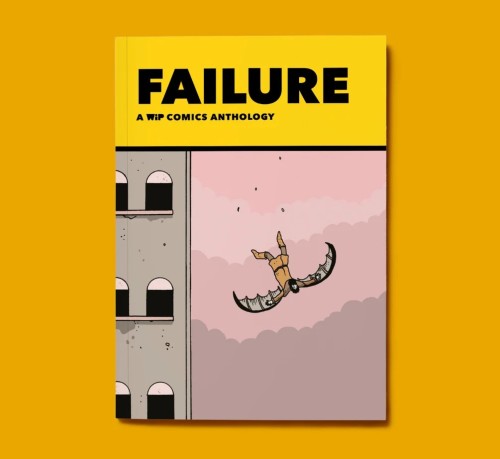 It will come as no surprise that the shadow of the pandemic looms large in the Failure book (sporting a Matthew Dooley cover) with Peter Morey providing two double-page metaphorical spreads on the subject that act almost as endpapers. The first, cloaking current events in the trappings of a knight's quest is particularly effective. Failure is probably the stronger of the two books with some memorable slice-of-life work. Havva Bird's story of exam results day (below) stands out for its incrementally paced use of between the panels comprehension, building up a sense of place, time and emotional tension. It's the best work I've seen from Bird yet with a delicate use of colour that mirrors the fragility of the subject matter.
Other notable tales here include Matt Barrell's account of dependency and betrayal in 'Aliki's Smile', Rachel Tubb's historical fantasy featuring a renaissance cat that ends on a neat punchline in 'Lupelangelo'(below), and Trish Phng Keng Boon's 'Working on Projects' which lends a familiarity to the trials and tribulations of comics creation and rejection. Dotted throughout, Miki Shaw's one-page illustrated anecdotes on parenthood are wearily witty in delivery and have more effect punctuating the longer-form work than they would had they been presented in a block.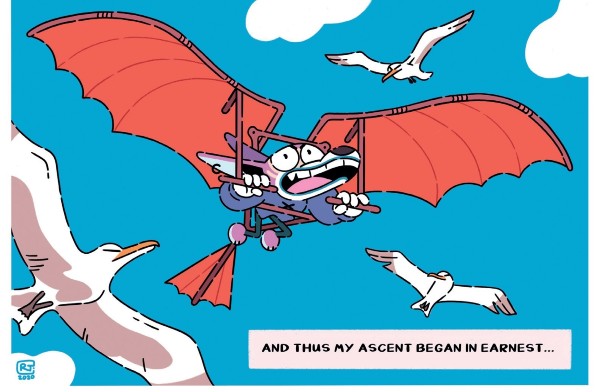 There's work here that ranges from the raw but enthusiastic to the highly accomplished and, as I've said before at BF when reviewing grassroots anthologies of this nature, that is entirely appropriate and actually the point. What WIP Comics is providing here is a space for artists to grow and flourish, to learn their craft alongside their peers and, in some cases, to simply enjoy the art of creating comics whatever the critical feedback. This is a genuine community project and part of that is for the wider small press scene to engage and interact with that process. Where possible for reviewers to give coverage, for retailers to give shelf space, and of course for readers to support with their orders.
Anthologies like this were everywhere a decade or so ago when I first started devoting my review time specifically to self-publishing. They're much rarer beasts now and this year, in particular, we need to be giving them the backing they are due. The next generation of comics creators deserve that much at least. The fact that if you do you get some cracking comics practice at the same time seems almost incidental.
You can find out more about WIP Comics at www.meetup.com/wipcomics, follow them on Instagram and Twitter and visit their online store.
Review by Andy Oliver