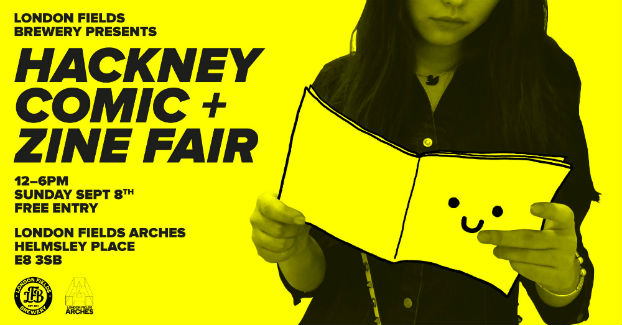 With a number of respected London small press and indie fairs like CECAF, SLCZF and Safari Festival either on hiatus for the moment or having drawn to a close over the last year or two we were in need of a new event in the capital to provide a showcase for the ever burgeoning and vibrant self-publishing and micropublishing scene. This September sees 2019 Broken Frontier 'Six Small Press Creators to Watch' artist Joe Stone filling that void with a brand new event in the shape of the Hackney Comic + Zine Fair.
Those who know Joe beyond his critically acclaimed work in publications like Stutter will also be aware of what a passionate activist he is for our small press comics community. Not only is he organising HCZF but he also oversees the regular WIP Comics meet-ups giving aspiring creators an opportunity to interact with a supportive network of their peers. Hackney Comic + Zine Fair looks set to be a cracking day of sequential art celebration. We have the full press release with details below and don't forget to follow the fair on social media (links below).
Hackney Comic + Zine Fair at London Field Arches this September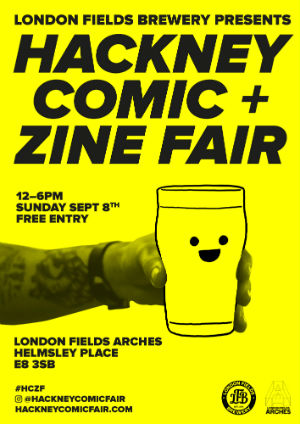 Sunday 8th September 2019, London: Hackney Comic + Zine Fair will be taking over London Fields Arches for a celebration of all things comics, featuring over 40 artists, writers and publishers with a huge range of styles and genres available to purchase.
Presented by our hosts at London Fields Brewery, it will be a whole day packed full of comics, art and beer where people can meet the creators and share the love of sequential art and narrative. No matter if you've never picked up a comic before or if you have boxes full of thousands of them in the spare room at your dad's house (sorry dad, I swear I'll move those someday) then with work on offer featuring everything from autobiographical travel journals, abstract introspection, sci-fi romance and struggles with mental health, there will be something for everyone to enjoy at HCZF.
Event organiser and comic-creator Joe Stone says:
"The small press and indie comic scene in London is incredibly vibrant, and comic fairs are always a great experience for both the creators and fans. I was keen to bring a celebration of graphic art to the Hackney community, and with both established creators like Gareth Brookes, Danny Noble and Katriona Chapman and new and upcoming artists including Amy Browne, Olivia Sualdea and Shango Edunjobi, we've got a line-up full of astonishingly talented people who will do just that.
Also, it's being held in a brewery with a lovely courtyard, two large rooms (each with their own bar) and loads of beer on offer, so it will be a bit like a big comic-themed party and you should definitely come to it."
Follow us on Instagram (@hackneycomicfair) and Twitter (@hackneycomics) for updates, and head over to www.hackneycomicfair.com for more information about the event and venue.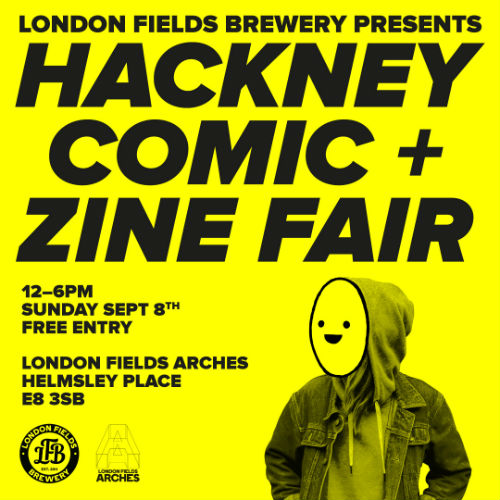 About HCZF:
This year marks the very first Hackney Comic + Zine Fair.
Organiser Joe Stone came up with the idea for the event after seeing that the number of purely comic-focused fairs in London was declining. As the organiser of monthly comic-making group WIP Comics, he decided to go ahead and try to help fill the gap in the scene and provide a platform for both new and established talent alike to interact with their audience and sell their work.
Hackney is the perfect location for it, with an open-minded community already interested in creative arts and easy transport links to central London and beyond.
About London Fields Brewery:
We first brewed beer from the railway arches that sheltered us during the London Riots of 2011. Love not War is our origins; and remains alive in our support for local charities and artists within our diverse community. With a little help from our sister brewery in Brooklyn, we're now brewing flavourful, balanced and accessible beer, while building a spanking new brewery back where it all started, under the arches in London Fields.