HCZF FORTNIGHT!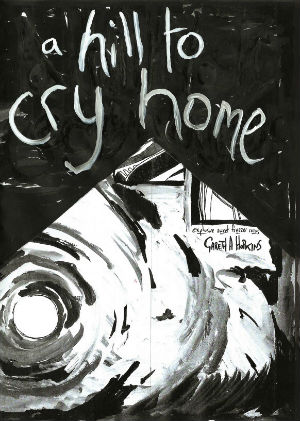 Ostensibly, Gareth A Hopkins' A Hill to Cry Home adapts prose and imagery around Erik Blagsvedt's stream-of-consciousness poetry. But, such is the nature of Hopkins' practice, adaptation seems an inadequate term. Perhaps fittingly for such a pivotal figure in UK abstract comics, I can't quite find one that perfectly encapsulates what he does here. Reimagine? Repurpose? Reinterpret? Retool? None of them quite hit the mark in describing how Hopkins fashions and melds his freeform impressionistic symbolism to create something quite hypnotic in its multilayered construction.
A Hill to Cry Home is a ghost story; one that has a knowing conversational approach, with its unseen narrator delineating the discrete classifications of spiritual entities before reminding us through one disturbing experience of the very worst kind – the ghosts that are always around us, exuding malevolent resentment, channelling the ever present psychic residue, and projecting it back at us.
Abstract comics are, of course, such an intriguing prospect not simply because each reader will respond to them in potentially different ways but because the same individual may react to them completely differently on alternative readings. In that sense they're a strand of sequential art where interaction, immersion and interpretation become the same symbiotic process.
And therein perhaps lies the reason why I've gone back to A Hill to Cry Home on several occasions since my initial notes-taking recce. Hopkins provides accompanying imagery here that contradictorily from multiple perspectives feels both detached from and yet also totally reactive to the text. It's in that paradox that the narrative's haunting qualities are enhanced as its eerie backdrop invites us to comprehend and embrace the disquietingly paced monologue through an unsettling alternate sensory lens.
As the comic progresses to a near nihilistic denouement there are hints, glimpses and flashes of something "other" in Hopkins' artwork. The otherworldly incarnate in all its undefinable glory. Something that is breaking down the walls of reality and perception: no longer lurking but exploding into the moment. Of course your reaction may be an entirely different one but that's rather the point. Work like this seems to me to be about discovering our own truths within its pages and in that regard we're so fortunate in the U.K. at the moment to have such pioneering practitioners as Miranda Smart, Olivia Sullivan, Peony Gent and Gareth A Hopkins working in this area and producing such vital experimental sequential art.
Find out more about the work of Gareth A Hopkins on his site here and follow him on Twitter here.
For regular updates on all things small press follow Andy Oliver on Twitter here.
Review by Andy Oliver
Rob Marland will be exhibiting at Hackney Comic + Zine Fair on Sunday September 8th at Table 26.