In a year when for many simply treading water was an understandable achievement in itself, Ed Firth bucked the trend with a profile-raising 2020 that saw his Myriad First Graphic Novel Competition shortlisting, his contribution to the WIP Comics anthology Success, and a fast-selling first volume collection of self-published queer comics (and our small press spotlight today), Horny & High.
Comprising three tales of gay urban life, Horny & High is a stark and often melancholy compilation. The first story, 'The Nightbus', was one I mentioned when I reviewed WIP Comics' Success last year at Broken Frontier. The nature of anthology reviews mean we can often only provide soundbite mentions of each individual entry and I rather succinctly said then that 'The Nightbus' "employs vivid but often monochromatic colouring to imbue its story of break-ups and chance encounters with an atmospheric eeriness." As many readers will have anticipated, its starting point is that all-too-familiar experience of waking up on public transport after a heavy night out. But from there it quickly progresses into a tale of maudlin self-reflection, seizing the moment, and casual but cathartic release. An appropriate thematic introduction for what is to come.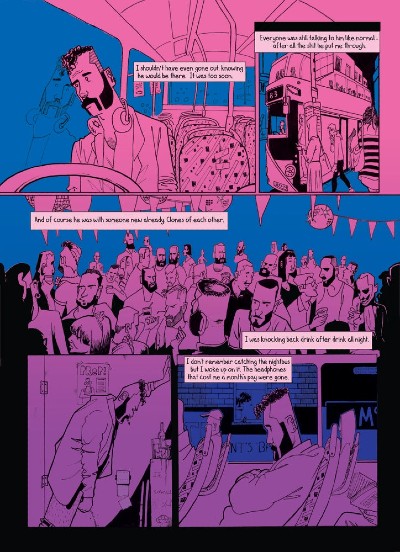 The Myriad-nominated 'Chillout' is the longest-form offering in the book and by far the bleakest sequence. It details both the events at – and the grim aftermath of – a chemsex party, as a group of gay men seek connection without necessarily connecting. This 30-plus pager has a quality of dreamlike delirium to it. There's a fitting sense of indeterminate time here in a story that is a disconcerting cocktail of euphoria and despondency.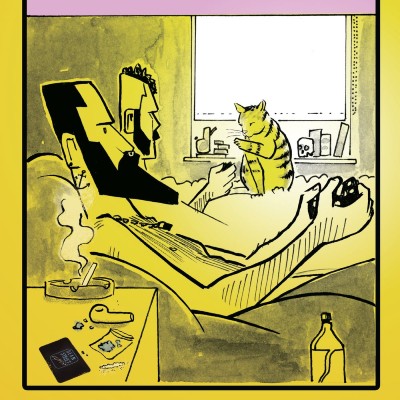 Firth constructs an elaborate character study that is all the more impressive for how little he actually needs to reveal about the cast. It's all there though in the body language and the bantering interactions of the assorted players. His use of lettering devices is also exemplary in intensifying both the emotional range and the excesses of events. But the great strength of 'Chillout' is that Firth ensures our sympathy with this small group of perhaps damaged and self-destructive but ultimately fragile and very human characters, despite their recklessness and sometimes limited empathy.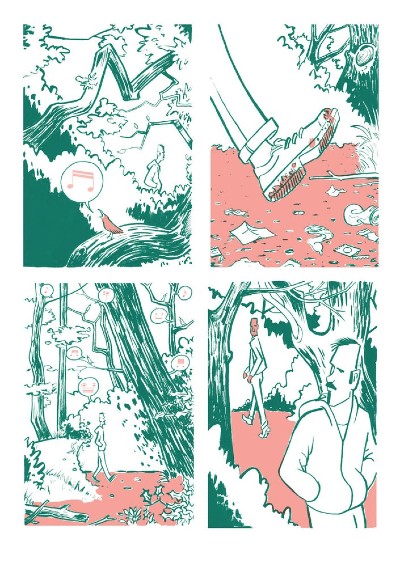 Visually, it's the smaller details in Firth's art that gives it an added slice-of-life authenticity; the personal detritus accumulated by living alone; texting on a cracked mobile phone screen; the dilapidated interiors of a tube train; or discarded condoms underfoot. His pacing, sequencing, use of shifts in perspective and close-ups in the final strip '♬' – an account of cruising in a local park – underlines his confidence with a style of panel-to-panel storytelling that shows without telling, and simply immerses the reader in the reality of the moment without the need for exposition.
It would be remiss of me not to mention that much of Horny & High is openly and uncompromisingly sexually explicit, but it absolutely needs to be given what Firth is exploring in these stories. This is labelled Volume 1, promising more examinations of the darker side of gay sex culture in the (hopefully near) future. Those who come to Broken Frontier looking for exciting work from emerging talents should take note. I suspect Horny & High is going to prove to be a major breakout project for Ed Firth…
For more on Ed Firth's work follow him on Twitter here and Instagram here. You can buy Horny & High from his online store here. 
Review by Andy Oliver